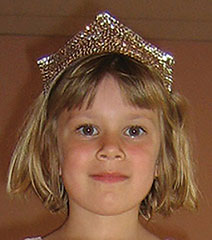 Dear 14-year-old Lucy: the world will take care of you. By the time May of 2019 rolls around, you won't believe in the idea that everything happens for a reason, but you will be a firm believer in the concepts of karma and that the universe provides.
Upon graduation, you'll decide to follow passion, however hard it is. Roles celebrating hard-working women (and a little bit of cannibalism) will push you towards this. High school will be difficult, but you wouldn't trade everything you'd learned for the world.
You might not believe this now, but you'll find your people. Ten shows with Theatre West and four with SPIT plus four years of show choir and two on WSS will give you memories that will last a lifetime. Not everyone will stay, but not everyone is supposed to. You'll be thankful for who stuck around in the end.
Your two staple clothing items will become Chacos and floral print, two things you loathe right now. Chacos are comfortable as heck and you'll wear three floral prom dresses before graduating.
Of all of the painful things you'll have to go through, the worst will be when your favorite bathroom stall door falls off. It never gets fixed.
Senior year, your diet will consist of mostly Pancheros and Bruegger's. And you will love it.
You'll think you're a much better driver than you are and will try to blame your inability to drive on the fact that your car is 20 years old. Shoutout to the Coralville PD for never pulling me over. #sorrymom
Now in all seriousness, please always remember these four things: Life is for the alive, my dear; Your love is your life; To love another person is to see the face of God; and Anything can happen if you let it.