The magic of the market
West Side Story looks at why the Farmers Market has been a beloved fixture of Iowa City for so long.
Mornings in the midwest are often cold and crisp, with a sharpness to the air. Saturdays provide a feeling of happiness and peace as a calming break from reality. The Iowa City Farmers Market combines both, with a paradoxical sense of both business and tranquility.
The people of the Iowa City area gather at East Washington Street every Saturday morning and Wednesday afternoon to enjoy the farmers market and buy from an assortment of unique but local vendors, whose only common trait is selling goods out of the back of vans.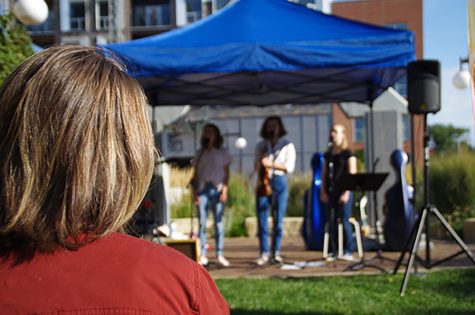 Some of the vendors at the farmers market are there not to sell goods, but instead they attempt to sell people on political candidates. From local city council candidates, like Janice Weiner and Megan Alter, to presidential candidates, such as Bernie Sanders, Joe Biden, and Pete Buttigieg; the popularity of the farmers market has managed to lure them all, with Buttigieg visiting the farmers market just last Saturday.
Some of the candidates have even made their way into the food. IC Pies is a baked goods stand at the farmers market, run by Michael Zimmer, who sells chocolate whiskey crinkle cookies called Buttigiegs.
"I get to have a conversation with the customers about Pete Buttigieg, and try to try to convince them [to buy Buttigieg cookies]," Zimmer said.
For Zimmer, some days his customers take much more convincing.
"I can sell a thing called a carrot cookie sometimes [on a Saturday]," said Zimmer, "but I can never sell a carrot cookie on a Wednesday. There's certain things that people just accept on a Wednesday."
Zimmers stock doesn't just change from Wednesday to Saturday, it also adapts to the season.
"I constantly am changing my items, so some of it's seasonal," he said. "I have plums right now. Probably next week, they'll be over and I'll be going into cranberries and pears." This constant changing helps separate him from other bakers and keeps his customers coming back every week.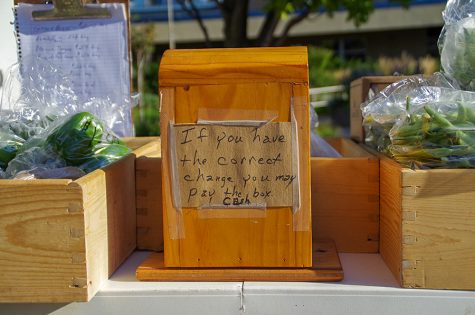 The Iowa farmers market oozes with uniqueness in both its atmosphere and its food. Jodi Loin and her son, Noah, are pillars of that uniqueness. The Loins are chocolatiers who have been unorthodox from the very start, creating their business, Noah's Chocolate, when Noah began making raw chocolate bars.
"The raw ones just mean that they've not been heated and they're sweetened with raw honey." said Jodi, "So there's a different texture and a different nutrient value to these. The other five bars are tempered which means they have been heated and they have a more traditional harder texture."
Their beloved raw chocolate is what they're most well known for, but they've since ventured into new endeavors like hot sauce chocolate, pistachio avocado chocolate, vanilla almond chocolate, and dark chocolate.
"The [hot sauce chocolate is] very interesting because the chocolate really calms down the hot sauce," said Jodi, "it gives a little bite at the end but they're not overwhelmingly hot."
It's hard to miss one of the most important elements of the farmers market, the satisfying supply of smells. With the numerous stands providing ripe produce, fresh baked goods, and rich sugary chocolate, you're provided with a barrage of aromas. When passing by the chocolate samples you can smell the succulent twist of flavors created by the chocolate and peanuts. The cinnamon scent from freshly baked cinnamon rolls is more than enough to make you pause and take a second whiff. These scents may be invisible, but they're an indispensable facet of what makes the farmers market special.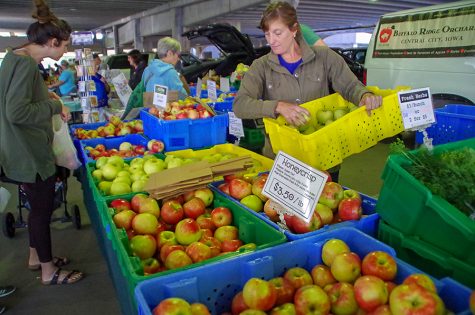 Ultimately the farmers market is best known for, well, the farmers. Shanti Sellz has been running Muddy Miss Farms since 2012 and has grown a dedicated following for her fresh, local, and organic foods.
"I grow a lot of heirloom varieties. So those are fruits and vegetables that are called Open pollinated. They haven't been hybridized at all. So people really like that about the heirloom tomatoes and yellow peppers," said Sellz.
Sellz has dozens of regular customers who come every week to get their Community-Supported Agriculture, a bag of assorted fruits and vegetables that changes every week. Some of her most zealous customers will even dedicate their time to grow the crops that they love by volunteering as hands on Muddy Miss Farms.
Sellz expressed her adoration for the farmers market and the people who make it special.
"The farmers market is great. Really loyal customers will come out every week. People are here to buy food, they support their farmers. They pay us the price that it's worth, and I just love the farmers market."
Leave a Comment