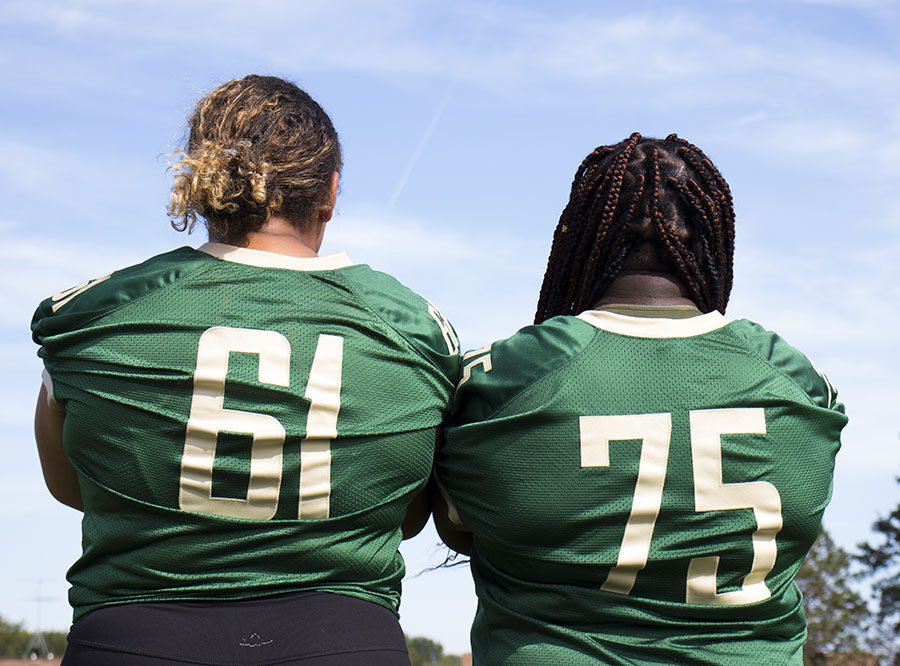 Maddy Smith
What began as a normal school lifting class became an opportunity for two girls to participate in one of the United States' most male-dominated school sports.
Without schedule flexibility for other lifting classes, Phoebe Burt '21 and Salima Omari '20 were told to lift with the football boys before school. Assuming they would be separate and lift independently, they gladly accepted. As two of West High's strongest athletes, the pair quickly stood out to the boys on the team and the football coach.
"The coaches saw us lifting and they realized that our weights were about the same or even more than most of the guys," said Burt.
Shortly thereafter, they were asked to join the varsity team. Already participants in volleyball, track and field, and other sports and extra-curricular activities, the pair was more than ready to take on the challenge.
Burt recalls that she had taken a step back from football after playing in junior high.
"Going into football freshmen year, I would have been the only girl." Burt said.
Together, Omari and Burt have used their friendship and athletic ability to take on the 2019 season.
"The fact that I am stronger than all the boys makes me want to show it off," said Omari. "Also, if I didn't have another female doing it with me I wouldn't feel the same energy towards it."
Over the past several years, West football has had very few female athletes participate in sports like football and wrestling. The acceptance of Burt and Omari to the varsity football team thus marks a great change in the standards of modern athletics.
"They have had some receivers and kickers [in the past], but never female linemen," said Burt.
Under Title IX of the Education Amendments Act of 1972, "No person in the United States shall, on the basis of sex, be excluded from participation in…any education program or activity[…]. " This legislation has supported the growth of gender inclusivity in sports nation-wide.
While objectors to the amendment may imagine that this inclusivity is at the expense of boys sports programs, Burt and Salima's inclusion as equal teammates exemplifies the virtue of diversity and inclusivity in high school athletics. Their presence on the team is not defined by what makes them different from their teammates, but rather how important they are to the team.
"The atmosphere of the whole sport is super supportive…it feels like a second family," said Burt.
This season, both players look forward to getting more experience and more playing time.
"I'm excited for me getting to play more," said Omari. "Also, just seeing what I'm going to be able to do and just play the sport."
Beyond this football season, Omari and Burt will continue to be active members of the athletic community at West High and push the boundaries of gendered sports by participating in wrestling.
The continued discussion around females in male-dominated sports is one that is fueled by the strength and ambition of athletes like Salima Omari and Phoebe Burt. Their historic participation in the 2019 West varsity football season is a landmark in West's pursuit of inclusion.