What to be done?
November 13, 2019
Being a victim of sexual harassment can bring a flurry of emotions along with it. Some feel guilt, convincing themselves it was their fault. Others feel hopeless, thinking that even if they reported it, nothing would be done. These feelings, along with others, cause victims to stay in the shadows instead of reporting the incident. It can be especially hard to talk to teachers and adults about the harassment claims, which poses a problem for West's administration. If students don't report it, then how will we be able to crack down on harassment at West?
Luckily, the administration has a solution. Through a recent training program called Mentors for Violence Prevention (MVP), a few staff members at West have been introduced to a new way to handle sexual harassment prevention.
"The whole gist of the program is to train juniors and seniors how to give lessons to freshmen about verbal, emotional, technological, physical and sexual abuse," said Abraham, who attended the session.
The goal is to have the program in full swing by next year. Juniors and seniors would be trained on the issues, and then teach their assigned freshmen various lessons. The program has the ability to become an immensely powerful tool, especially because of the newly arising challenges regarding social media. Having underclassmen being taught by students who have first hand experience with modern issues could make the experience more relevant and realistic. Not only that, but students in general can easily trust other students.
Abraham recognizes the power of student voices, which is why she's confident the program will help the school climate. "If we ever involve our students, it always goes better because they just step up, show leadership and they know how to talk to other kids," Abraham said. "Kids listen to kids. I think juniors and seniors could do a better job talking to freshmen about these issues than adults can."
"
Kids listen to kids. I think juniors and seniors could do a better job talking to freshmen about these issues than adults can."
— Molly Abraham, Vice Principal
Even though the program won't start until next year, West currently has strict guidelines against sexual harassment. All staff members are briefed on procedures through an online training program. The program quizzes them on how they would react to certain situations, including recieving a report of sexual harassment. According to French teacher Sydney McDermott, who was hired four years ago, sometimes the training isn't enough. "I can probably pass a test over what I'm required to do, but in the event that it happens, that's a whole different story," McDermott said. However, students can be assured that any teacher in the building will be able to help them in some way. The school has a mandatory reporting policy, so if a student reports sexual harassment to a teacher, they're required to report it to the administration.
In order to report an incident of catcalling, the first step is for the affected student to reach out to a trusted adult. After hearing the report, the adult will pass it on to the administration, where the assistant principals will handle it. "[Once receiving a report] I would have a conversation with that person [who was harassing others]," Abraham said. "Lots of times, a conversation is all it takes, actually. Kids will sort of say, 'Okay, oops, I shouldn't have done that.'" If the harassment is a repeated offence, administrators become more involved. The student's parents are brought in, and the harasser may have to speak with the district equity coordinator as well.
Despite these procedures, students are often afraid to speak out about their experiences, especially to a teacher. In recent years, the ICCSD has formulated a response to combat these fears: the 'Say Something' campaign. Since the launch, an anonymous text message line was formed to allow students to report not only sexual harassment, but bullying or assault as well.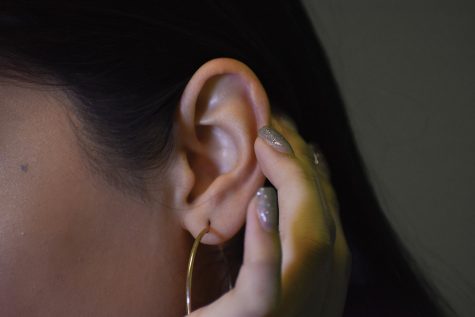 As assistant vice principal, Abraham is copied on these reports, and the procedure in dealing with harassment is often the same: talk to those harassing others about how what they did was wrong. "The difficulty is, all I can really do is have a conversation with the person, because … I can't say you did this to this person on this day," Abraham said. However, Abraham is confident in the program. "Typically, once we start the process, kids do stop."
The introduction of social media has also posed challenges for the administration. Screen names give a perception of safety or anonymity, which can encourage attackers to sexually harass others because they believe they can't be tracked down. "It gets complicated because screen names aren't always … the person's name," Abraham said. "Sometimes kids will say, 'Well, I don't know who that is, that wasn't me.'"
In general, a large part of sexual harassment culture is because of students' mindsets. Often times, harassers don't know what they're saying is inappropriate. "I don't exactly know what the school could do about it. I think even if the school brought it up, it wouldn't make a difference and people would just laugh it off," Furlong said. "They could reprimand students for it, but I don't think the student would respect the request, and the harassment wouldn't stop. The person who reported it might be harassed even more … if people found out [they reported it]."
Despite this, West's health curriculum is trying to combat these issues. By teaching what's inappropriate and what's not, the aim is to help students realize what they're saying has the ability to negatively affect others. "I do feel that oftentimes, young people and adults say things when maybe they're just joking around, and they're not meaning to be mean or hurt someone's feelings, but those remarks are inappropriate and we need to think before we speak," said Paul Rundquist, West's health teacher.
Another issue that promotes sexual harassment is a fear among students of speaking out. "I think that kids are afraid to report things because they feel like they're going to be in trouble, or they feel like they did something that caused it to happen to them," McDermott said. "For example, if a student doesn't feel comfortable reporting behavior because they're not sure what's going to happen to them, that's going to keep that kid from saying anything."
Rundquist believes the key to encouraging victims to stand up is keeping the conversation going. "Hopefully the more we discuss it, the more people will be willing to step up and say something," Rundquist said. "I think it's on us as educators to make sure that we continue to discuss it and discuss the importance of saying something."
"
Hopefully the more we discuss it, the more people will be willing to step up and say something."
— Paul Rundquist, Health Teacher
You can help by speaking out about your experiences. If you or a friend is struggling, make sure to reach out to a trusted adult here at West, or submit an anonymous message by texting @SaySomething to 35134. In your message, make sure to add specific details. For cases involving sexual assault, RAINN's confidential national helpline is availiable 24/7 by calling 800-656-4673. RAINN also has an online chat feature. You can access it by going to online.rainn.org. For more information, be sure to visit RAINN's website. There are also specific hotlines for street harassment, males who have been a victim of sexual assault and more.