"A Beautiful Day in the Neighborhood" encapsulates the wonder of Mister Rogers
Tom Hanks plays the iconic Mister Rogers in the new film "A Beautiful Day in the Neighborhood", a film that highlights every that made Mister Rogers special.
It's been an astounding 58 years since Fred Rogers began hosting a television program for children, and 51 years since the premiere of the beloved show, "Mister Rogers' Neighborhood." In this era Fred Rogers has had many identities in pop culture. People have seen him as a hero, a corny TV personality, a Navy Seal, and the nicest person ever.
In the new movie, "A Beautiful Day in the Neighborhood," a journalist named Lloyd Vogel is tasked with accomplishing what the rest of the world seemingly couldn't. Finding out who Mister Rogers is. Initially, Vogel, who is typically an investigative reporter who exposes the world's problems, believes that Mister Rogers is a corny television personality. But, as he spends more and more time interviewing Mister Rogers, his perspective on both Mister Rogers, and life in general, change dramatically. What's even crazier, is that because of how perfectly this movie captures the essence of Fred Rogers that you might find your life perspective changing in a way that mirrors Vogel's.
"
Mutual caring relationships require kindness and patience, tolerance, optimism, joy in the other's achievements, confidence in oneself, and the ability to give without undue thought of gain.
— Fred Rogers
When it comes to most of what you'd expect from good filmmaking, this film falls pretty short on almost every level. The music ranges from average to distracting; there aren't any particularly interesting shots or camera movements; and the lighting/sets are forgettable at best. However, there's one very unique and unexpected technical feature to this film. If you know "Mister Rogers' Neighborhood," you know the classic look and feel. The grainy camera, the homey-feeling set, the miniature models used for the intro. All of these and more have been recreated, because this movie is presented as an episode of "Mister Rogers Neighborhood" with Mister Roger (Tom Hanks) breaking the 4th wall by coming out and presenting the story of the movie as a lesson for the audience in the first and final scene of the movie. In theory this sounds corny and stupid. In practice, though, it turns out to be a fantastic way of capturing and emulating the spirit of Mister Rogers by having his character teach a lesson to the audience in his signature wholesome style.
"
Having "America's Dad" play the man dubbed the nicest person ever worked perfectly.
— Jack Harris '22
Part of what makes Mister Rogers' style work so well on the silver screen, is the performance of Hanks. Hanks is a much beloved national treasure and has been nicknamed 'America's Dad.' Well it isn't too surprising that having him play the man dubbed the nicest person ever worked perfectly. As a whole this movie is cast and the acting is extremely well-done. Matthew Rhys, who plays Vogel, does a great job pulling off both cynical and emotional scenes. The most surprising performance of all comes from Chris Cooper, who plays Lloyd's estranged father. Cooper fits the role perfectly and delivers possibly his best performance since 2003's "Adaptation." If you've seen a picture of Chris Cooper you know he looks looks the part of an absent father. In "A Beautiful Day in the Neighborhood" he channels that style but doesn't let it define his performance. His performance is instead strongest in his emotion and the desperation in his delivery as he tries to win back his son.
"
It can sometimes be easier to forgive our enemies than our friends. It can be hardest of all to forgive people we love.
— Fred Rogers
The most unique, and greatest, aspect of "A Beautiful Day in the Neighborhood" is how it almost mirrors Vogel's article that inspired the movie in the way it profiles Mister Rogers. It shows his perspective on life as well as explaining why he acts the way he does, and how he maintains it. It shows Mister Rogers as a human, but also how his beliefs and attitude are unwavering. What makes the viewer feel closest to Mister Rogers is how they watch him, out of the pureness of his soul, the goodness of his heart, the beauty of his spirit, and the determination of his mind, help Lloyd repair the life of his entire family, and forgive his father. There's a Mister Rogers quote that perfectly encapsulates his role in the movie: "There is no normal life that is free of pain. It's the very wrestling with our problems that can be the impetus for our growth."
Leave a Comment
Donate to West Side Story
Your donation will support the student journalists of West High School. Your contribution will allow us to purchase Scholarship Yearbooks, newsroom equipment and cover our annual website hosting costs.
About the Contributor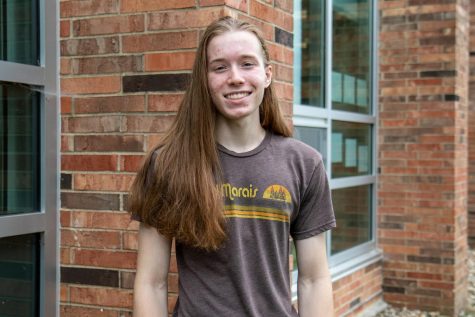 Jack Harris, Online Copy Editor and Arts Editor
(he/him) Jack is the online copy editor & arts editor for WSS. He's a senior at west and is also involved in the west high Orchestra as a cellist....