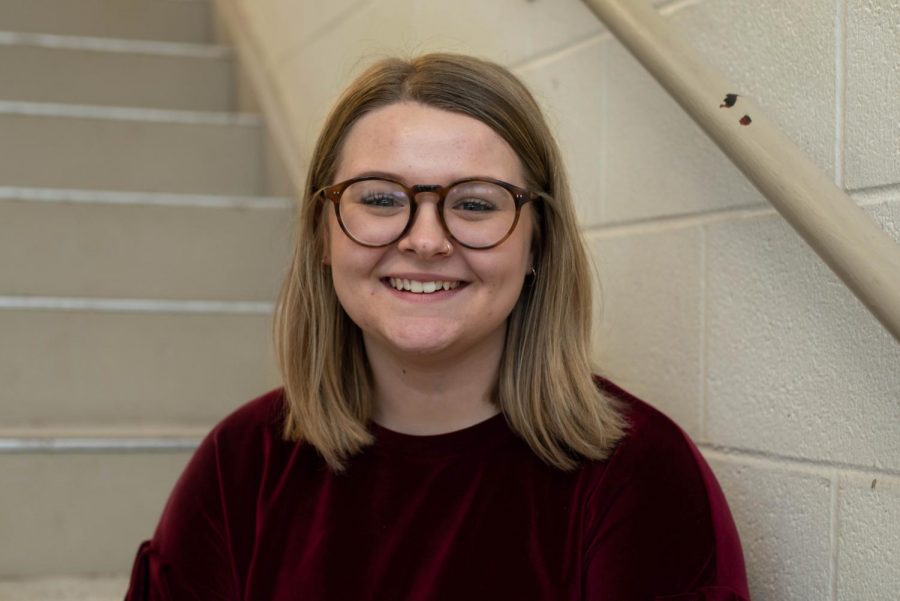 Caroline Barker
Six speeches and 11 productions. This is the number of performances Grace Hinrichs '21 has been involved in. While this may seem like a daunting amount of time and effort, Hinrichs loves every aspect of it, whether it be participating in a crew or actually acting.
Hinrichs moved to Iowa City mid-summer from Marion, Iowa to be closer to her mom's work. Hinrichs knew theater would be a great place to find new friends, and she found solace when she met Sarah Dickens '21, another West transfer and theater enthusiast on the first day of school.
"We were both a little frazzled and that was super comforting just to meet somebody else who's in the same position as me," Hinrichs said. "I made friends through classes and through theater, and they just keep coming."
Hinrichs also met another student performer on the first day of school and immediately clicked with her. Niyati Desphande '21 recalls their first conversation and remembers their immediate connection.
"The first conversation Grace and I had was about theater and different musicals we liked, so I knew we were going to be good friends," Deshpande said. "It's fun that we bond over music and theater because they are such big parts of our lives."
Before Hinrichs was a performer on the stage, she was a performer on the field. Hinrichs participated in soccer and softball but ended up abandoning both.
"Throughout middle school, and right up to freshman year, I did softball, and I really enjoyed it for a while and then something happened and I just wasn't really connecting to the team I was on and I felt really isolated," Hinrichs said.
This isolation pushed Hinrichs into the world of theater, with encouragement from her mom. Hinrichs recalls her mom suggesting that she stay involved and recommended a theatre camp during spring break. From there, Hinrichs flourished.
"The people who ran that camp encouraged me to audition for their next show," Hinrichs said. "I got cast as a lead and that was my first big performance and it was really cool."
Hinrichs mother was a big supporter, attending each performance every night. This support extends to other family members as well.
"My brother definitely has kind of looked up to me in that as now he's joining theater at the middle school," Hinrichs said. "It's really cool to see my family supporting me and even being inspired by it."
Both Deshpande and Dickens describe Hinrichs as a very passionate performer and deserving of each role she plays.
"She pours her heart into every role she plays, and it's very plain to see. She's believable as any character she takes on and is always super fun to watch," Dickens said.
Hinrichs also notes that being apart of crew has been an important part of her theater career. At her previous high school, casting was based on seniority. Hinrichs was not cast and so she eagerly joined crew.
"You gain so much of an appreciation for crew because people tend to overlook it," Hinrichs said. "There's so much work that goes into behind the scenes."
Since coming to West, Hinrichs has quickly earned a high position in the 2020 SPIT production. Cast in the comedy portion of the show, Hinrichs earned the lead role. Hinrichs was also cast in the upcoming play, "She Kills Monsters," as a narrator.
Although Hinrichs is only a junior, she has many goals for her future, including joining a community theater here in the Iowa City area.
"I definitely want to get more into community theater too, because working with people of different ages is really eye-opening," Hinrichs said.
Looking further into her future, Hinrichs would like to have the presence of theater for years to come.
"I am definitely thinking about majoring in college and not necessarily Performing Arts, but in directing and casting and producing, because I want to continue theater as my career in any way that I can, even if it's not being an artist myself."