The birth
December 9, 2019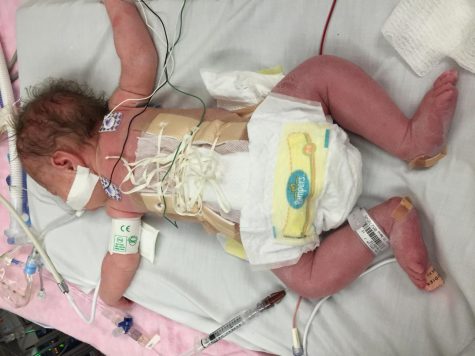 Emilia "Emmie" Jane Boylan was born on April 23, 2015. The next day, she had the hole in her back surgically closed up. A week later, the doctors put a valve in her brain to drain the cerebrospinal fluid, or fluid of the brain and spinal cord. Cerebrospinal fluid normally cycles through the neural tube, but with spina bifida, it cannot cycle properly. When the hole is closed up, there is nowhere for the fluid to go so it builds up in the brain. Having fluid in the brain is known as hydrocephalus, and it is a common symptom of spina bifida. Leaving hydrocephalus untreated can lead to nausea, poor balance, seizures or even death. Hydrocephalus needs to be constantly treated with a shunt or a valve.
The valve failed the next week, so Emmie had to have a shunt put in. The shunt is composed of a tube that is inserted into her brain cavity and a machine run by a magnet in her brain. The tube connects to her stomach and drains the fluid so it can be processed and expelled.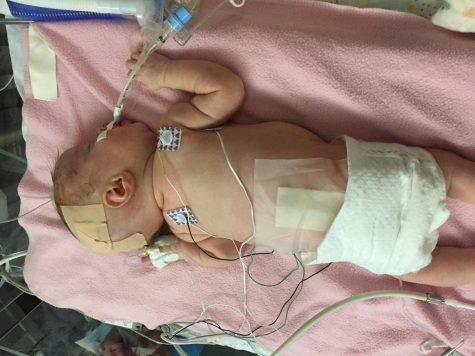 Emmie spent a total of one month in the neonatal intensive care unit (NICU) after her birth. When she was born, she failed the Apgar score, which is a series of tests to check infants' health. She didn't open her eyes until she was three or four weeks old.
"I remember thinking that was weird," John said. "But I'm medically illiterate so I knew none of this. My wife is a nurse and she knew immediately like, 'Oh, my daughter failed the Apgar tests' …. And I was like, 'Oh well she just had these big surgeries and so she's just coming out of sedation. That's why she hasn't opened her eyes, or that's why she's tired or that's why she doesn't squeeze my hand.'"

Infographic by Gwen Watson
The doctors do not know why her case is as severe as it is. One of the biggest realizations came when Emmie was around seven months old when John and Sarah took her to see a neurologist.
"[He] had done a brain scan," John said. "And we're like, 'Well it's weird she's not doing any of these milestones that we assumed she'd be able to do.' He's like 'Well obviously not, she has brain hemisphere interdigitation,' and we're like, 'Wait, what, what does that mean?' And he showed us the scan. I'm sure even in like biology class you've seen the two brain hemispheres … Hers is just a big clump and there's these jagged spaces and there's not a division of hemispheres."
Brain hemisphere interdigitation, also known as gyri interdigitation, is when the two hemispheres of the brain are not fully separated. Interdigitation refers to the shape fingers make when linked together. While interdigitation is very rare, it is commonly found with Chiari II malformation.  Chiari II malformation occurs when the brainstem and the cerebellum protrude into where the spine connects to the skull. This leads to problems with balance, speaking and breathing.
"
I would say it took me probably six to eight months to really realize like, 'Oh, she's gonna live a very different life than I had imagined she would live.'"
— John Boylan
Through the diagnosis of Emmie's brain hemisphere interdigitation, it became apparent that she would be greatly affected by MMC.
"I would say it took me probably six to eight months to really realize like, 'Oh, she's gonna live a very different life than I had imagined she would live,'" John said. "… In some ways it was clarifying because it's easy to second guess yourself and be like 'What am I not doing right,' so to say, like, 'Oh, you can be trying to do everything right and she might not make progress because her brain [is] not functional in a lot of ways,' but it's also kind of hard because that means that you have to kind of accept that it's not."
"I think the hardest part is that it's so far beyond your control. And I never liked not being in control, but if there's one thing I wish I could control, it's my daughter's health, the thing that I care most about," John said.