The brain bleed
December 9, 2019
Just as they were figuring out the diagnosis was different than they had expected, around Thanksgiving of 2015, Emmie's shunt for her hydrocephalus failed. It is not uncommon for shunts to fail; in fact, around half of shunts fail within the first two years of being implanted. However, Emmie's surgery to get the shunt fixed led to a brain bleed. Emmie had a ventriculostomy to drain the blood from her brain. A ventriculostomy involves opening up a ventricle of the brain and placing a shunt in to drain.
All of the blood needed to drain for her to survive and it could take multiple weeks. The Boylans knew the risks of brain bleeds, so they requested to meet with a palliative, or end of life, care team. Sarah had been working on a palliative floor at that time and had seen a lot of patients have to make the same decision. Some families had had invasive surgeries performed even though the patient had no chance of recovery.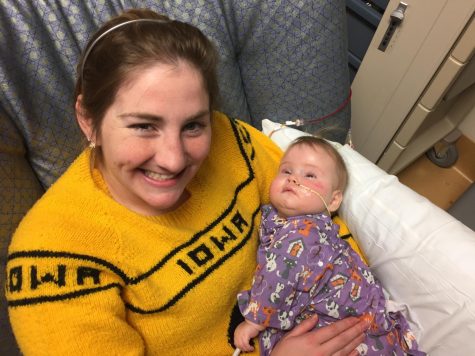 "We talked a lot about whether we were going to proceed with [the surgery] or let her pass more peacefully without another surgery," John said. "My grandpa had also died a couple years prior after falling and having a head bleed, and when my wife told my family [that] she didn't think they should make him go through this intense surgery. My family didn't listen to her and my grandpa ended up suffering quite a bit and dying a pretty undignified death, which haunts my mom still since Sarah had warned about it. We just didn't want that for Emmie."
They decided to go through with the surgery. She had too much of her life ahead of her and enough of a chance to survive. They also learned that she would not be able to pass peacefully.
"If we didn't proceed, she was going to have a pretty miserable death because she had these quickly increasing brain pressures and she would have trouble breathing and spike a fever and all kinds of stuff. It's not like she would have been able to die peacefully in her sleep, and I don't think I could be witness [to] that kind of suffering and know I hadn't given her a chance," John said.
The brain bleed took around a month to drain but she recovered fully. During that time, West High was completely supportive of the Boylans.
"
It was my first year at West so I had no sick or personal days built up, but when I told Molly Abraham the situation, she supported me completely and told me not to worry about anything at school."
— John Boylan
"It was my first year at West so I had no sick or personal days built up, but when I told Molly Abraham the situation, she supported me completely and told me not to worry about anything at school," John said. "The English department made care packages and some of the teachers came to the hospital to visit us. I remember Jeff Finn and Katy Nahra and I think Peggy Dolson maybe, she's at Liberty now, ended up coming on a really horrible day when I was completely broken and they managed to support me without intruding, which is a really hard balance to strike."