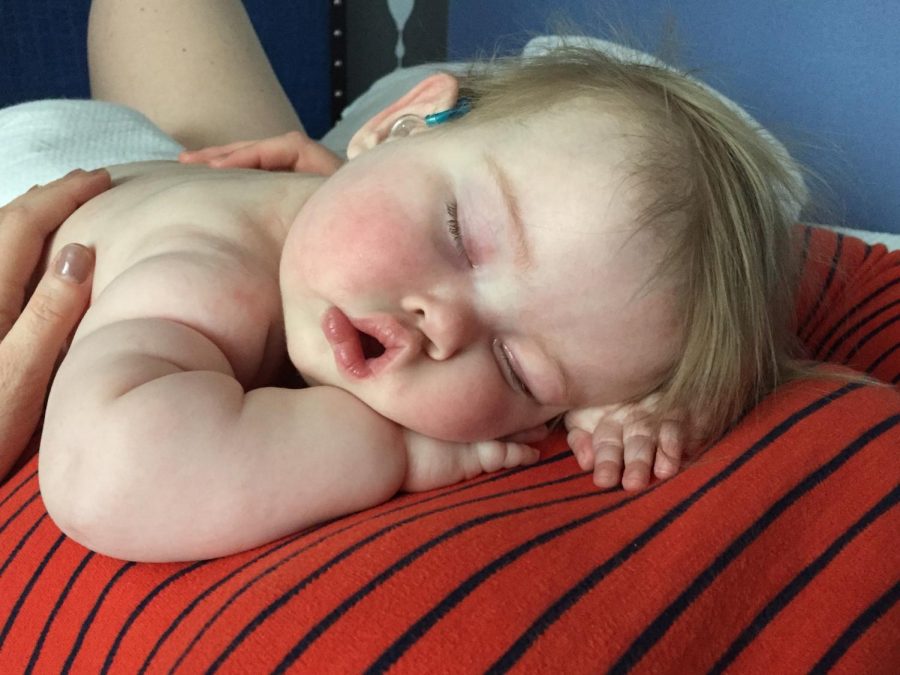 Photo courtesy of John Boylan
The Boylans have used multiple different technologies to help Emmie communicate. The first one they used was just a large trifold with velcro pictures of different objects. They would hold up two photos and ask Emmie which one she wanted. To choose, she looked at the one she wanted. Over the years, Emmie has gotten new devices, but all of them had their drawbacks.
However, at the beginning of the school year, the Boylans got a Tobii Dynavox 13. The device has icons that correlate with certain words and phrases. It uses eye-tracking software to determine what Emmie wants to say and then verbalizes it for her.
"If she looks at one that says 'I am happy' it will say, 'I am happy.' She can look at all kinds of stuff and it does the work of flipping through the flipbook together," John said. "So she says, 'I want to do an activity [or] I want to read a book.' And then it takes you to another page."
The device is known as an Alternative-Augmentative Communication (AAC) device. AAC is any form of communication that does not involve speaking.
"We all use symbols to communicate our thoughts. Most of us use words as those symbols, and we speak them so that others hear our message. Sometimes, we have students who need other supports to represent their thoughts and communicate with others. Alternative-Augmentative Communication is a way for those students and people to utilize a different system of symbols to communicate," said Ali McCue, Emmie's speech-language pathologist at Weber Elementary during the 2018-2019 school year.
McCue worked with Emmie on increasing how much language she uses. Emmie was very good at asking for things but she often did it through crying or laughing, not using a device. Their focus was to increase how much she used the device. However, when McCue was Emmie's speech-language pathologist, she did not have the eye gaze device yet.
"Emmie had a 'light tech' system last year. It was a binder with a hole cut in the middle. There were pictures around the outside of the hole. Emmie had to use her eyes to look at the symbol she wanted to use. We worked on increasing her speed at finding words, learning new words, and using words as much as she could." McCue said.
The Boylans originally had the Toby Dynavox 13 for just a trial period, but as of the week of Nov 17, they officially own one. Their goal now is to help her learn what the different icons mean and where they are on the device.
"All of our communication with her now has to happen through the pod," John said. "So I ask her questions but then I say back what I'm thinking, or if we're reading the characters in the book, I would say, 'Oh, I think the monster feels sad, Emmie, because he doesn't have any friends.' So then I would find the monster button and then find the sad button and you basically have to narrate everything."
Teaching Emmie where to find what she wants to say through the device is known as modeling. Modeling is used by everyone when they are learning to speak. Parents or other people show babies the right way to use language by speaking.
"We do the same for our students whose language learning is delayed. For students with AAC, we use their symbol systems to show them how to communicate with it. We model what the symbols mean, where they are in the device, and how a student might use it." McCue said.

While the Boylans don't know how much letter recognition she has, Emmie loves to read books. Some of Emmie's favorite books include "Pete the Cat and the Four Groovy Buttons" and "Brown Bear Brown Bear". She has these memorized to the point where she knows what happens on each page. The Dynavox also helps her read books with her parents.
"She could theoretically, go to Brown Bear Brown Bear and click like 'What do you see?' with her eyes, so I could say, 'Brown bear brown bear,' and then she would say, 'What do you see?' And then I would read back [to her]," John said.
The device is completely customizable so the order of the icons can be moved around. Currently, they are alphabetical, but they can make a hot button page for the icons Emmie uses the most. She also has an About Me page that she can use at school. The eye gaze device has improved her autonomy drastically.
"Emmie's progress has been really amazing," McCue said. "From what I saw this summer, Emmie's independence, autonomy and quality of what she could say drastically increased with her high-tech system. She went from barely meeting her goal to almost meeting it in a few weeks. That was the power of finding a system that was more in line with her needs and a team that is constantly problem-solving to help find the best for her. I can't wait to see how much she's grown when she comes to Kindergarten."