Relocation
March 5, 2020
West has always been an attractive school for out-of-state and in-state transfers looking to better their academic and athletic careers. The recent success of West High's athletic programs coupled with the high-achieving academic performance of its students has drawn athletes like varsity defensive end and wrestler Anu Dokun '20 to wear the green and gold.
"We looked at the schools [in the ICCSD] and started touring a couple of them," said Dokun, who is originally from Memphis. "For my thing, it was who had the best football team and West [had] been to the playoffs the last few years."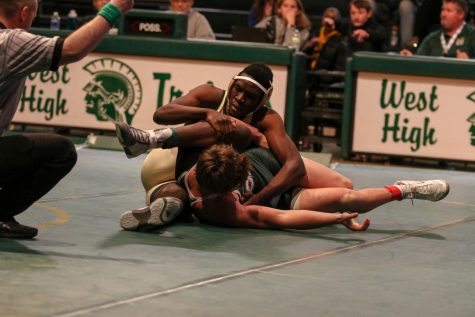 For these students, transferring into West is a simple process. As long as the student's family physically moves and relocates into the West attendance area and can complete the required eligibility checklist proving their residence, the student is immediately eligible for varsity athletics.
This rule also applies to students already living in Iowa. If a student moves into the West attendance area, even if they previously lived as close as North Liberty or Solon, they are immediately eligible providing they can prove their family is "physically present in the district for the purpose of making a home and not solely for school or athletic purposes" as outlined in the IAHSAA's General Transfer Rule.
In order to prove this, the family must provide documents such as new driver's licenses and utility bills to substantiate their new place of residence.