While the state sets rules for athletes who transfer across school districts, those with multiple high schools are given the flexibility to adopt their own policy. As outlined in the IAHSAA's General Transfer Rule, "A school district that has more than one high school in its district shall set its own eligibility policies regarding intradistrict transfers."
Up until 2018, the ICCSD enacted harsher transfer policies than the state by requiring students who transferred between ICCSD high schools to sit out 180 days before competing in varsity athletics. Assistant ICCSD Superintendent Matt Degner and the rest of the secretary administrative team modified the rules last year to match the state's policy of 90 days after recognizing the disadvantage for students transferring within the ICCSD.
"We just felt like that was a safer ground for us to be in," Degner said. "In theory you would be punishing students in your own district a little bit more than kids coming from say Solon or West Branch. That didn't feel right."
While the state does not influence districts' decisions on intradistrict transfer rules, most districts around the state adopt the 90 day policy to stay consistent when dealing with open enrollment.
"[The IAHSAA] gives them the local control to decide how they want to determine how student-athletes can move from school to school," Tharp said. "I think it's pretty consistent that all of [the districts] follow the same rules of the state for the 90-day ineligibility requirement."
West has been the primary recipient of most of the ICCSD's intradistrict transfers this year, with eight varsity athletes across five different sports transferring to West from Liberty.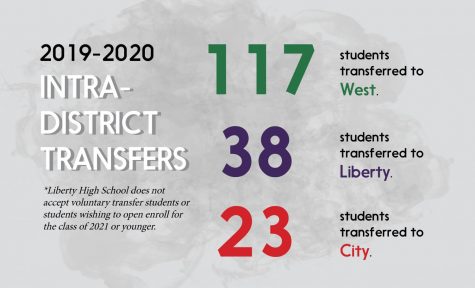 The volleyball team experienced a revolving door of transfers this year as they added Kearsten Lenth '22 and Rylie Baldes '21 from Liberty while also losing last year's starting setter Rylee Fay '20 to the Lightning.
While Lenth led the Women of Troy with 2.22 assists per set, Baldes was unable to compete this season due to the district's policy regarding intradistrict transfers.
"It was tough sitting out the whole season, not being able to help on the court," Baldes said. "I'm looking forward to being able to play and be a leader next season."
For Fay, the decision to leave West High was not an easy one. Leaving friends and teammates behind was hard, but perhaps the biggest deterrent was the stigma that came with being labeled a 'transfer.'
"I've seen the hate others had gotten for transferring, and I was scared that would happen to me," Fay said.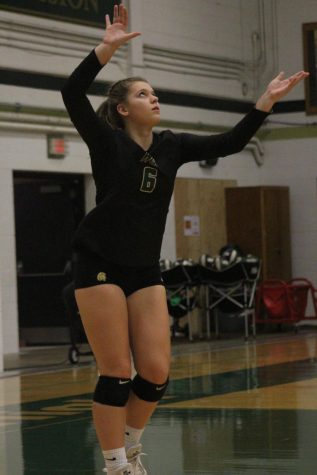 Aside from Liberty's successful volleyball program, Fay also cited smaller class sizes and a familiarity with the Lighting's head coach Randy Dolson, who coached her as a freshman at West, as reasons she made the switch.
"For those who didn't know the real reasons and just assumed it was just for volleyball, there were many reasons why I [transferred]," Fay said. "Liberty was just a better fit for me."
In the spring, boys soccer fans can expect a fresh face playing up top for the Trojans as Liberty transfer Kolby Godbolt '21 works his way into the star-studded West lineup. Godbolt led the Lightning in goals scored and assists last season, but decided to transfer to West this year to better develop his skills in the hopes of playing collegiately in the future.
Godbolt initially intended to transfer during the middle of his sophomore year, but decided to wait until his junior year after realizing he would be forced to sit out for over half of the soccer season due to the district's 90 day ineligibility requirement.
Similar to Fay, Godbolt felt some hostility from former teammates but feels this decision is best for both his soccer career and overall well-being.
"I think I just did what's best for me," Godbolt said. "Their opinion doesn't really matter; I just wanted to be happy. I felt like West was a good fit for me, and I enjoyed being here."