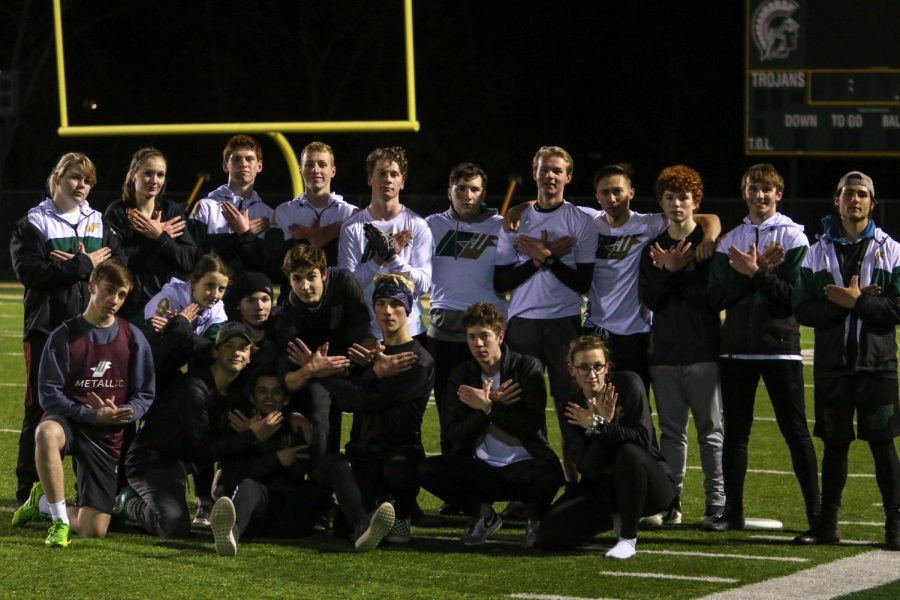 Owen Aanestad
You've probably thrown a frisbee around with your friends. 
Maybe you tossed it up into the wind and sent the disc flying down the street, or underestimated your curve and nailed an innocent bystander on the sidewalk. If you're really ambitious, you might have even tried a forehand throw, a maneuver known to ultimate competitors as "the flick."
For members of Iowa City West's Metallic Wings ultimate team, however, the throwing and catching of plastic discs is much more than simply a way to pass the time between classes. Ultimate frisbee, also known as ultimate, has become one of the most popular club sports at West for students like team captain Schuyler Houston '21 who are looking to have fun and compete in the spring season.
"I knew how to throw a frisbee because I went to summer camp and frisbee was a big thing there for some reason," Houston said. "It is totally different when you start to learn that there are kinds of offenses and plays and stuff like that instead of just running around and [throwing] it as far as I can."
For high schoolers competing in Iowa, ultimate frisbee is played with seven players on each team consisting of five guys and two girls. Despite being a non-contact sport with no officials, the game is similar to rugby or football with the objective being to score by catching the frisbee in the end zone.
Watch this video for an explanation of the basic rules and spirit of ultimate frisbee.
Although many have seen the flashy green and gold Metallic Wing jackets in the hallway, most are unaware of the program's history of sustained success. Since the program's inception in 2012, the IC Wings have claimed six state titles from 2013 to 2018. The team's last two titles in 2017 and 2018, however, are still highly disputed amongst members of the Iowa high school ultimate community.
"My freshman year in 2018 is still lowkey under protest," Houston said. "We won the tournament, but they said [runner-up] Waukee…had everyone registered so they are the winners now. We're still under protest but we won the game so we count that."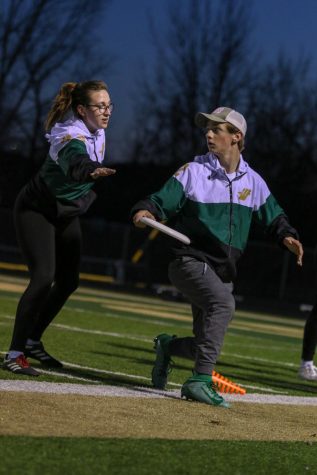 As one of the core members of the Wings dynasty, Dillon Crowell '17 was a member of three straight state championship teams and captained the 2017 IC Wings team that qualified for nationals. After such a successful run as a player, Crowell, now a member of the Iowa Hawkeye Ultimate Club team, decided to come back and coach the program that helped him create so many long-lasting memories as a competitor.
"We ended up making nationals [my senior] year and our two coaches weren't interested in coaching after that and I was the captain of that team," Crowell said. "I didn't want to see the team that I was a significant part on just die because no one wanted to coach it a year after."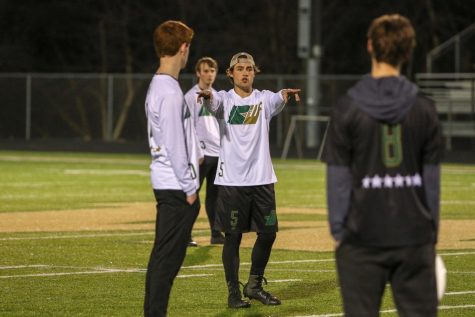 This season, Crowell has entrusted three returning members in Houston, Ed Dowling '20 and Emily Hill '20 as captains of the team. With such a diverse skill set, this year's captain core has all of the pieces in place to make another run at the state title.
Whether it's designing and ordering equipment, demonstrating and executing skills or recruiting new members for the team, the trio is not afraid to do the behind-the-scenes work to make the Wings successful.
"Our job [as captains] is primarily to get numbers to practice and do a lot of the tedious work especially since our coaches are both in college," Houston said. "This past Saturday when we had practice it was just me and Ed running it…our captain core this year has really been at practice consistently."
As one of the captains, Dowling decided to attend an ultimate frisbee skills camp over the summer to enhance his skills and take back some strategy to the Wings. 
Dowling, who plans to attend Carleton College and compete for their national title-winning ultimate frisbee team, has grown up around the game despite only starting to play for Wings last year.
"I have a couple of second cousins that attended Carleton college, I've kind of grown up surrounded by it," Dowling said. "They kind of introduced it to me and then I fell in love with it after that."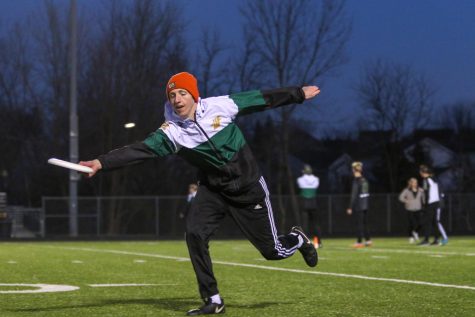 With the knowledge Dowling has brought back to the team, the Wings are looking to expand their playbook and test out some new strategies on opponents this season.
"I think a lot of what they taught was some pretty advanced strategy…I think a big thing for us Wings is not clogging the space too much, because spacing is really important," Dowling said. "If we can learn how to cut effectively we can do some good things."
Aside from strategy, the team captains have been working throughout the offseason to rebrand Wings as a more determined team as opposed to a recreational club. 
"It's certainly gotten more competitive. Last year it was kind of like 'hey let's just have a good time' but obviously we [wanted] to win state. Didn't happen, that's fine," Hill said. "This year I definitely feel like we're amping up, we have a lot of good players."
In the past, the team has typically been comprised of a tight-knit group of male upperclassmen that could seem intimidating to outsiders wishing to join. Houston and the rest of the Wings are hoping to change that this season.
"We're trying to change the culture because it makes it easier to get younger people on the team and by the time they're seniors they're just filthy at ultimate," said Houston, who joined the team as a freshman. "It definitely helps parents when the culture has changed because when I was a freshman my parents were not about me playing ultimate."
Another huge part of this year's cultural change is the increased number of girls on the team. Hill has been working to recruit friends and female athletes from around the school in order to broaden the team's skillset and put an end to the stigma of Wings as a 'boys club.'
"I decided to join because a lot of my friends were already on the team. Emily Hill forced me to come to a practice and it was really fun," said current member and volleyball player McKenna Proud '21. "Practices are laid back, but we get through a lot of drills. It's good cardio and I'm getting abs from laughing."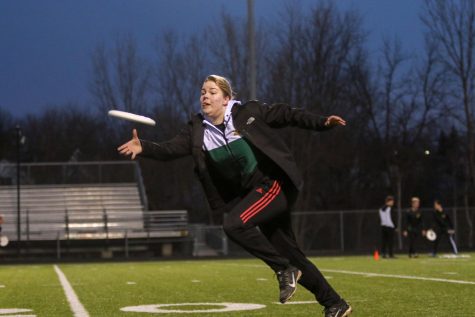 Before the coronavirus outbreak suspended all spring sports, the team planned to compete in roughly ten competitions throughout the state.
COVID-19 has forced all regular season games for the Wings to be cancelled, but the state tournament, hed in Ames on June 6, is still on for now. Once West's spring sports begin reorganizing, the team will resume their practices while also playing intrasquad scrimmages once a week.
"We're planning on giving everything we have for state this season since we've worked so hard and improved so much," Hill said. "State is the one chance we have to show people what Wings has become and so I really, really, hope that we can take state in June."