On March 15 Superintendent Steve Murley sent an email out to teachers and parents announcing the ICCSD would be closed until April 13. The decision, he said, did not come as a surprise to most.
"I think people expected [school closure] at that point in time," Murley said. "They'd seen the closures happen in other states, so I think that there was some anticipation that we were moving in that direction here."
What came as a surprise to many however, was that school closure meant no required education, online or otherwise.
"The programming that we offer has to be accessible to all kids, and that certainly is a challenge for us," Murley said. "We've been working with the state to better understand what their expectations are for us to provide free and appropriate public education."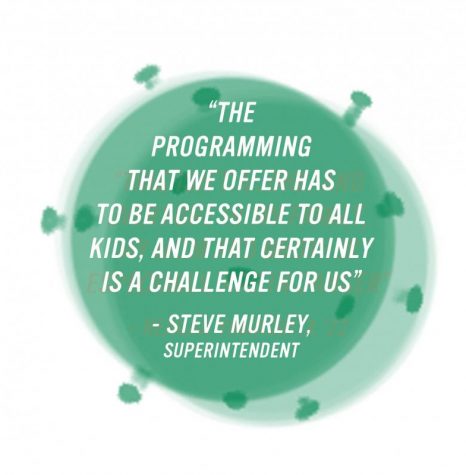 Gov. Reynolds extended school closures until the end of the year on April 17. This extended time away has left many vulnerable, not only to those who previously received free and reduced lunch, but to those who were losing their jobs.
In response, the district began offering 16 meal pick up sites in locations that best met the needs of the community. Meals offer a full breakfast and lunch.
According to Nutrition Services Director Alison Demory, sites are chosen based on the community's need, and 20,232 meals were served by the end of the third week.
"We know there are many students in the community who count on school breakfast and lunch and we wanted to make sure that was still available for our most food insecure," Demory said.
As for education, schools must be accredited in online instruction in order to provide online courses to students. A process that, according to Murley, can take up to two years.
"Obviously, we do not have two years to get things up and ready for kids, so if the Department of Education holds us to that standard that puts us in a position where we have very little flexibility to offer online learning to students during this closure," Murley said.
To combat this issue a task force has been put together by the Department of Education composed of educators from around the state.
"We hope that the outcome [from the task force] is that they will provide guidance to us on how we can provide online learning opportunities to students that may not require us to go through that full accreditation process," Murley said.
School closures and state guidelines have forced teachers to get creative with methods of online enrichment activities.
"The faculty has been ready and willing to do whatever they are asked, including learning new skills in order to provide students both academic learning and social emotional learning," said Principal Gregg Shoultz.
For now, faculty is corresponding with students once a week via the video conference service, Zoom. The guidelines for teacher-student correspondence, however, changes by the week.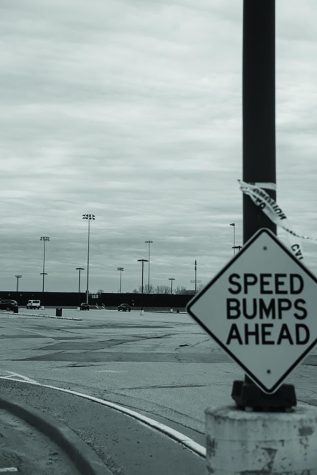 At first, teachers recorded Zoom meetings to be posted online later. However, because of the unreliable technology that could unintentionally record what is happening in students' homes, and some behavioral issues on the platform, this is no longer allowed. Teachers are now asked to use Screencastify to record lessons and upload them online.
"Although the Zoom technology is very good, it was developed for the business world and not the world 14 to 18-year-olds inhabit," Shoultz said. "While almost all of the West High students have been great, we have had some students take advantage of the open nature of Zoom."
Stacy Noble, who teaches AP Government, strives to support her students with check-in emails.
"As far as reaching out to students, I think it is important they know we are still here," Noble said. "My emphasis has been about [their] well-being and safety, and that continues to be the case, even as we've added moving forward with content."
Noble has received varying responses on how students are feeling.
"I have heard from some that do find it difficult to concentrate on school, while others have said diving into the work has been helpful in providing a structure," Noble said.
Despite varied opinions on voluntary learning, according to Murley, if they do not find an alternative education method, it could have severe consequences on students' education.
"If we're not able to provide education for kids … we're going to have a learning gap that takes place. One of our significant concerns is that some of our students with the greatest educational needs will suffer the most under this scenario," Murley said. "We'd really like to see some level of flexibility by the state when it comes to giving us options to provide online learning to students."
Alexandra Curtu '22 is also concerned about a potential learning gap for next year, but thinks teachers are handling it well so far.
"I think West High and the ICCSD are doing the best they can to handle the situation and I appreciate my teachers saying they will post study tools to help us, because a few of my classes are prerequisites for AP classes I want to take next year, and there is still a trimester of information that I need to know," Curtu said.
Others have been impacted by the cancellation of the ACT. Izzy Paulsen '21 had a plan to study six weeks leading up to the exam. She only got through the first three when COVID-19 began to spread, and the test was canceled.
"When I heard the ACT was going to be canceled, I was super disappointed because I had already put in so much work and now there will be less chances to get my score up if I am unhappy with the score I get," Paulsen said. "That being said, I also knew that it was a necessary measure in order to prevent the spread of coronavirus."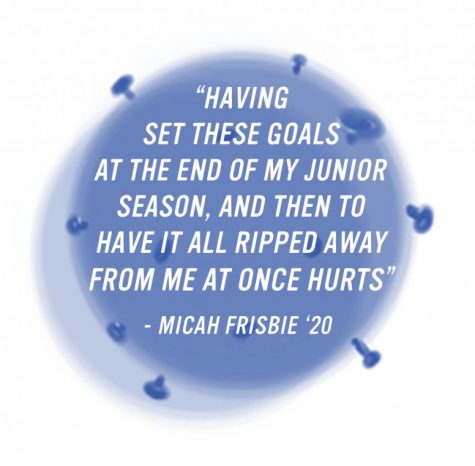 Not only that, but the class of 2020 is missing out on their final high school memories and milestones such as a traditional prom, senior sports season or even graduation.
"As a senior, I'm devastated that I don't get to do the things every other senior has gotten to do," Chia said. "I understand our problems seem minuscule to other problems around the world. However, these are things every senior looks forward to after four years in high school. Everyone needs to be aware of the other problems around us but us seniors should be allowed to feel bad about this too."
Micah Frisbie '20 is also missing out on some of his goals as a senior on the soccer team, such as making First-Team All State, as well as refining his leadership skills.
"I was actually excited to feel the pressure of being a senior and knowing that not only the team, but coaches and even our fans, know us seniors are the big leaders on the field," Frisbie said. "Having set these goals at the end of my junior season, and then to have it all ripped away from me at once, hurts."
Despite all the challenges during this troubled time, ICCSD administrators believe it's crucial for the community to band together.
"I think more now than ever it's important that we stay together as a district," Murley said. "Even though we are social distancing, I'm encouraging people to find ways to connect with others so they don't lose that social emotional bond that really is such a strength of the district."