Testing process and ELL classes
April 26, 2020
The first step for a student to get enrolled into an ELL class begins with home language survey questions that every student is asked upon registration. If a student marks a language other than English as their primary language, their English proficiency will be tested. Students are tested every spring using the English Language Proficiency Assessment, also known as ELPA 21, which provides a benchmark of their knowledge by assessing reading, writing, listening and speaking skills. After they are assessed, the students are recommended a place in the ELL program, which they can choose to accept or deny. Assuming they accept, students will be placed in ELL classes that are appropriate for their proficiency level. These courses go beyond just learning the language.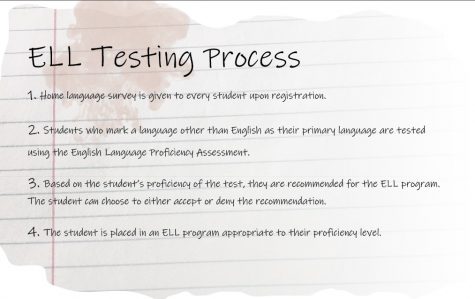 "At the beginner levels, the process of getting them familiarized with the American culture is super important. But on all of the levels of ELL, we focus a lot on their English language development," said ELL teacher Cat Haxton.
The ELL classes take advantage of the technologies that are offered in the district. By using online resources such as GimKit, Quizlet, Kahoot and Google Translate, it supports the students' learning.
"We read texts together, use pictures to support the text, include videos to support their learning with concepts and use Google Translate for words or key ideas," said ELL teacher Sarah Heenan. "Students can work with partners or peers to help with their learning [as well]."
While technology can be a useful resource for the students to help expand their vocabulary and develop their English skills, getting support from their West High peers is just as important.
"This school year we have had the opportunity to work with students who are working on their Seal of Biliteracy and they worked on French or Spanish while also helping the ELL students work on their English," Heenan said. "It was a great partnership to help both groups of students."
Unlike non-ELL classes, ELL classes focus on each students' English development throughout the school year.
"[We] teach them vocabulary, grammar, reading strategies engaged with texts that are at their level to increase their comprehension," Haxton said.
For Hussein Mohamed '21, the ELL program impacted his overall English development.
"I like everything about the ELL program," Mohamed said. "It helps me learn [English] faster [and] my teacher teaches me a lot."
At West, there are science and American studies courses that are offered for ELL students to have a better understanding in the topic accomodated for the students to fit their English proficiency level. According to the ELL program coordinator Sheila Neels, as of two years ago all Iowa City Community School District schools have an ELL program.

"Even [in] districts that might have one or two English language learners, there needs to be a program in place in order to support their needs," Neels said.
There are over 70 different languages represented within the ICCSD. To ensure that ELL students develop their proficiency in English, it is crucial to know their backgrounds as well.
"[The key to develop the student's proficiency in English is] kind of just knowing that not everybody is the same," Neels said. "There are a lot of different dialects in different languages too. It's just kind of being familiar, but that comes with getting to know families and having conservation with families and just being aware of the students and their background."