Seeing improvements
May 21, 2020
While others may feel anxious during this unpredictable time, Teya Kerns '20 has found it to be a way to reset herself.
"Regarding my anxiety it has all been positive, but I expected that. I always do better when I'm not at school, but if I'm missing school and everyone else is there then I start to worry about that. It's really a never ending cycle. I always say that I just need the world to freeze for a bit, so I can catch up and figure things out," Kerns said.
"
It's really a never ending cycle. I always say that I just need the world to freeze for a bit, so I can catch up and figure things out."
— Teya Kerns '20
The Iowa City Community School District originally offered optional learning and enrichment activities for students who wished to participate. Starting April 27, the district switched to a mandatory learning plan. Since classes and school work have been shifted from the classroom to online, it has been convenient for Kerns.
"With COVID-19 moving everything online, my anxiety has improved so much. On Zoom calls I can turn off my video so I know no one is watching me, and I can learn without my head buzzing about all the people around me," Kerns said. "I always get frustrated in school when teachers just ramble during class time. Having limited class time, I just have to listen to a lecture, and then I'm able to do the work at my own pace. Making my own schedule has allowed me to build in more time to take breaks when I start to freak out, and being at home I'm able to get up and leave when I need to."
Student Family Advocate Jamie Schneider believes the absence of school in students' daily lives can lift some weight off a student's shoulder.
"We are seeing kids that we would see almost on a daily, sometimes weekly basis [at school], their stress is not as high as it is if they were in school seven periods a day. The drama with friends, the drama with boyfriends and girlfriend[s], just the overall stress that high schoolers have in their day, kind of just went away overnight," Schneider said.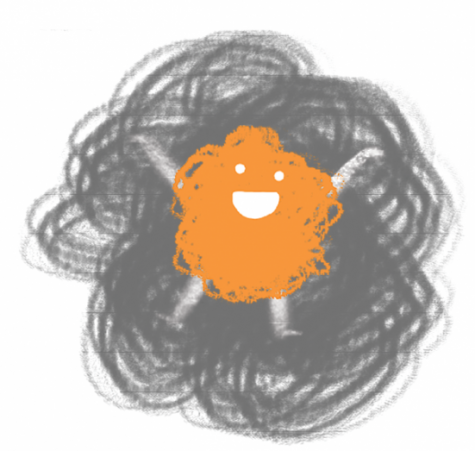 According to Assistant Principal Molly Abraham, the ICCSD avoids adding additional stress to students by having a flexible curriculum and asking teachers to reduce the amount of work for mandatory learning to three hours for each subject per week.
"We really wanted teachers to focus on the essentials that were really important. We didn't want to overwhelm kids," Abraham said. "I think everybody's trying pretty hard to be flexible with kids and understand we have to meet kids where they are and what they can do in this strange setting."
This adaptability the district is offering is something Kevy Huynh '23 recognizes and appreciates.
"I know a lot of teachers are already being supportive of students, and they're trying to assign a doable amount of work without overwhelming us. That's something I'm really thankful for, it shows that teachers understand or are doing their best to understand our situations," Huynh said.
Dr. Patricia Espe-Pfeifer, a clinical professor of psychiatry and pediatrics at the University of Iowa, believes improvements in anxiety symptoms during this time is not out of the ordinary.
"We also have some kids that struggle with anxiety symptoms that now that they're at home, surprisingly, [are] doing pretty well. They may not have the stress of school, since a lot of it has been optional. They're able to kind of navigate on their own, so [mental health situations] just really depend," Espe-Pfeifer said.