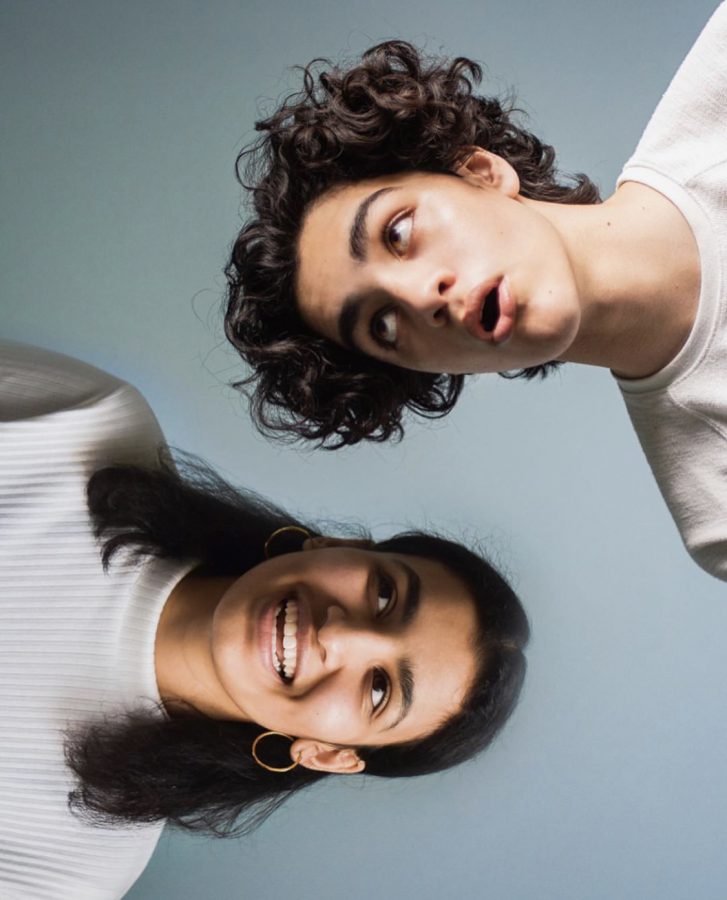 What prompted you to run?
"Throughout our time in the Student Senate, we have seen a variety of successes and failures on the part of efficiency and making actual change. We know that we will be able to work together effectively and make time to hear the most student voices to inform all of our initiatives."
What makes you qualified for this position?
"As experienced members of the Student Senate, and active participants in a variety of clubs and extracurriculars, we feel prepared to stand up for what the student body wants and to involve as many voices from a variety of communities in the conversation about improving our school."
If you have been in the student senate before, what have you learned from being involved and how will that inform your leadership if elected?
"Our combined four years on the Student Senate Exec Board has provided us with a space to practice delegation, debate, and execution of our ideas. Having a platform to be heard from is a privilege and a responsibility that we have learned to take very seriously and it empowered us to value our ambitions and speak out about what matters to West High students."
What would be your main mission if elected?
"If elected, our main goal is to involve every student's voice in an active push for change. Although the presidents represent the student body, there is nothing more valuable than all of our voices together. Regular public discussions about school issues with students and teachers, a Senate floor open to any student with an idea for change, and an open path for initiatives to be taken to the school board are the top priority for our term.
Another pressing issue is our value of student well-being. Especially in a time with so many unknowns, we want to make mental health resources more known and more available to students, and we will push for a more progressive discussion of mental health in every class."
How would you make being an involved, successful student at West High more accessible for students of all backgrounds?
"One of our goals for 2020-21 is to expand the effort to make information about course registration, high school planning, scholarship applications, and post-graduate decision making into more equally accessible resources. Every student at West has great potential to succeed and it is the responsibility of our teachers, counselors, student senators, and administrators to ensure that no one makes a decision about their future at West with incomplete information. By providing students with details about the workload of each class, and the variety of ways they can get involved, we will level the playing field for student success.
Additionally, all students will be provided with information regarding post secondary education options, scholarship, and other relevant college opportunities. This equity will help to make our course offerings more inclusive and get more people involved in enriching activities and classes.
Additionally, we will push for more funding of Clubs from the Student Senate. The Senate's grant program will grow to provide more funds to more clubs and will focus on supporting efforts that make clubs more interesting for their members. By promoting clubs, we will ensure that every student can find their niche and thrive in a positive environment."
What makes you proud to be a West High student?
"We are proud to be a part of such a diverse team of students and teachers. West High students are not afraid of change, and we are lucky to be able to be a part of the conversation about how to make our school a better place."
What areas of West could use improvement, and how do you plan to improve them?
"Student knowledge of mental health services, the lack of diversity in honors and AP classes, the inequitable distribution course information and college prep materials, and environmental sustainability at West High are all areas that need improvement. More specific outlines of our plans can be found in our candidacy statement, but we plan to improve by taking initiatives to the school board, working with counselors and teachers, and focusing on student equity."
What's one thing your peers should know about you?
"We are always open to critique and ideas for improvement. We can't wait to work with every student to make the most effective presidency in West history!"
What do you believe the role of the student senate president is?
"The role of the Senate presidents is to serve as a bridge between the student body and the administrators in our district. Those in positions to make change must hear the student perspective and it will be our job to advocate for what West students need."
Read Bassuk and Borde's candidacy statement below.
Who they are: Paras Bassuk '21 served as the Student Senate Vice President this school year. As President, Paras hopes to enact the change the school needs with a focus on student well-being and mental health. A participant in journalism, music, and art at West, Paras looks forward to supporting all extracurriculars and ensuring that every student has access to the physical, mental, and creative outlets they need. Aditi Borde '21 has acted as the School Board Representative, serving as a bridge between the West High community and the school board, and as the Event Coordinator on the Student Senate Executive Board. Additionally, she has held leadership positions on the Editorial Board of the newspaper, FTC robotics, and as the co-director of Walk it Out. Aditi is determined to approach each issue through the lens of equity to ensure all members of the West High community feel represented and heard. Using their experience in the Senate and other school organizations, Paras and Aditi plan to actively push for change on the school and district level starting before the school year begins. Changes to the structure of the Senate, the support of club funding, an emphasis on mental health, the pursuit of equitable policy, and a lens of sustainability will define the Bassuk & Borde presidency.
Student Mental Health: Amid the pressures of school work, the complexities of home life, and countless other stressors, West High students are susceptible to high levels of anxiety that may not always be manageable alone. Recognizing the necessity for support, Paras and Aditi hope to bring the topic of student mental health to the forefront of our administration's attention. They will ensure that every student knows where to go for help and how important people like student family advocates, trusted teachers, and counselors can be if you need support. Adults in the building also need to be informed about the intricacies of student mental health. This administration will hold regular Student-teacher group forums and discussions to ensure constant communication between adults and students at West. Bassuk and Borde will also improve the way mental health is discussed with students. Re-examining the district health curriculum and standardizing the procedure for a student to get help with anxiety, depression, or trauma are at the top of their agenda for 2020-21.
Club Funding: West High clubs and extracurriculars are an important part of uniting our school community. In office, Paras and Aditi hope to ensure that every student has access to the activities that they find interesting. This year Paras, Aditi, and the Executive Board pushed for the creation of a new Student Senate club funding grant program. They successfully funded resources, events, and travel plans for clubs like the Colors Club, CreaCo art show, Walk it Out, and The Grapevine. They will redouble this funding effort in their presidency next year by supporting fundraisers for clubs and continuing the existing grant program. With the ultimate goal to make every club self-sustaining and prosperous, they look forward to investing in the tools West clubs need to succeed.
Keeping students Equitably Informed: Bassuk and Borde believe that every student deserves the same resources no matter what classes they're in or who their counselor is. One of their successes this year was the Course Fair and Course prep week this January. In response to the restriction of valuable resources to ELP students only, Paras and Aditi pushed for a level playing field in the school's registration process. Beyond continuing to inform students about all of their course options at West High, Bassuk and Borde will schedule crash courses in scholarship applications, essay writing, FAFSA application, and other skills led by teachers, counselors, and upperclassmen to create a more equitable system of post-graduate preparedness at West.
Going Green (and gold): The environment is an extremely relevant issue to Paras, Aditi, and many other students at West. While our building has made great strides towards a sustainable school, there is more work to be done. Ending the use of paper plates at lunch and reducing the amount of paper used in classrooms are two attainable goals for sustainability at West.
Hearing Your Voice: As President and Vice President of the Student Senate, Paras and Aditi hope to serve the students of West High and make your voices heard by altering the structure of the full Senate to meet weekly rather than monthly and opening the Senate floor up to any student with an idea for school improvement. By providing you with direct outlets to the full Senate, our administration, and the School Board they hope to make the 2020-21 school year as progressive and effective as it can be.
Thank you for considering Paras Bassuk and Aditi Borde for Student Senate President and Vice President!