Cancer Summer
September 28, 2020
"At some point, I bit my tongue and it didn't heal," Dannye said. "I didn't really think anything weird about it, but I went to [River City Dental Care] … And they're like 'The funny thing is, if I didn't know better'—because I was 37 and vegetarian and I ran most days and I was pretty healthy—'if I didn't know better I would think that this was cancer.'"
Just to be safe, Dannye made an appointment with Oral Surgery Associates of Iowa City to get a biopsy on Oct 2, 2014. The results came back negative. Concerns alleviated, and with the sore gone from surgery, it was written off as a strange injury.
Except the sore came back during the summer of 2015. Dannye went to the dentist again, who told her to get another biopsy. It barely even crossed her mind that it might be cancer this time.
"The first time we were all worried about it," said my dad, Aaron Frerichs. "And then the second time, when the first one had come back negative, we weren't even really concerned."
Dannye ran an in-home daycare from 2013 to the summer of 2020, and she had just put the kids down for a nap on June 24, 2015, when she got a phone call from Dr. Chad Pfohl, her surgeon at Oral Surgery Associates.
"Dr. Pfohl called me and I didn't realize why at first," Dannye explained. "I started saying that I was feeling much better, and then it dawned on me that they had already called me on Monday to see how I was. It's funny, last time I was so freaked about it, and this time I didn't even give it a second thought. And I said, 'You had a bad result didn't you?' He said yes, and that they wanted to see me immediately."
She called Aaron and had him come home from work. Only a few hours later, Dannye met with an oral surgeon. 
"We went to the oral surgeon and he said he was so sorry for us, he said it was really unlucky and it was so funny we both laughed," Dannye said. "It hadn't set in yet for Aaron and me I don't think. We just talked about whatever."
The doctor explained that she had a tumor growing on her tongue and that the margins of the sample were still active, meaning they hadn't gotten it all. He had already made her an appointment with otolaryngology—treatment of the ear, nose and throat—that following Monday.
"I think he said something along the lines of, 'this will consume the rest of your year' and we didn't really believe him then," Aaron said.
"
I think he said something along the lines of, 'this will consume the rest of your year' and we didn't really believe him then."
— Aaron Frerichs
My parents came home from the appointment and told Rosalynn, Rob and me that Dannye had cancer. My sister and I were 12 and my brother was 14 at the time, so when they told us not to worry, I didn't. They told us they had caught it early, and that Dannye wasn't in any danger.
"It wasn't life-threatening, so I never really worried," Rosalynn said. "I remember [my therapist] asking me, 'Oh wow, that must have been scary,' and I was like, 'No.' Because there was never really anything that was like, 'Oh my God, it's the end of the world.'"
Along with telling us, Dannye also told our family, and then eventually posted the news on Facebook.
Aaron and Dannye went to the otolaryngology appointment a few days later. During the appointment, they found that the tumor was at stage two. For oral cancer, this means that the tumor was between two and four centimeters large and had not spread yet. Preparing for surgery and treatment involved getting a tumor board of specialized doctors to go over possible treatment plans. Dannye also had to see radiation, anesthesiology, and a speech pathologist to find out what would happen to her voice. The surgery to remove the rest of the tumor was scheduled for two to three weeks later.
The day before surgery, we went out to eat at Trumpet Blossom, and—since surgery would make it impossible for her to sing for a while—Dannye sang Serenade in Blue at the restaurant.
Dannye's parents and brother came to visit the day of surgery, and her brother, Mike Seager, decorated the hospital room that she would recover in. Her parents had driven down from Cedar Falls, and Seager was lucky enough to be in the area for RAGBRAI.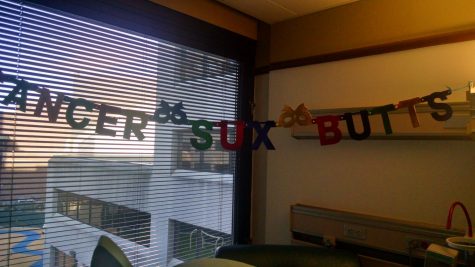 July 17, 2015, was surgery day. I don't remember what I was doing on the day of surgery, but Rosalynn had her last day of College for Kids and Aaron went with her.
"I didn't want them to miss that," Dannye said. "And I was just going to be in surgery, he'd be back by the time I woke up. And so I told him to go and he was a little unsure about it but I was like, 'No, go. We're not losing this too.'"
Dannye kept a very positive attitude about the whole situation. She even startled her surgeons by being so upbeat about it.
"I walked in and was like, 'Hi, I'm Dannye, I'll be your patient today' and they were all like, 'What.' … I also told them a joke because I heard it was good luck," Dannye said.
The surgery went smoothly, they took about a third of Dannye's tongue, her lymph node in the left side of her neck and the lymph node underneath her chin. None of the lymph nodes were cancerous, but they took them as a precaution anyway. They performed the surgery through the neck but were even able to hide the scar in the natural folds of the neck. She lost feeling around a large portion of the neck, her tongue and part of her jaw. They had ended up having to move a nerve in her face so her smile was lopsided for months after.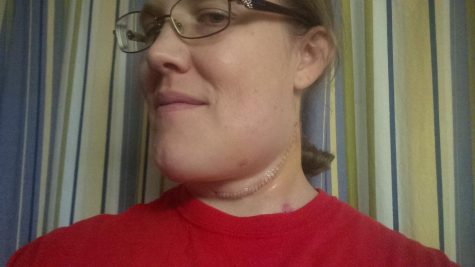 "I was so happy: no reconstruction, no skin graft, no feeding tube, no trache[ostomy]," Dannye said. A tracheostomy opens up a hole into the front of the neck to create a direct airway to help with breathing. "A trache I was really really worried about because I thought they'd damage my throat. In fact, I asked them to be as careful as possible with a breathing tube during surgery and they said they'd use a smaller one if they could."
Later that day, we visited Dannye in the hospital. She had drains in her neck and her tongue was swollen, but she was able to talk to us. Because Dannye was a lot younger than most oral cancer patients, a lot of what the doctors told us to expect ended up being different. Being able to talk right away was just the beginning of the differences.
"I remember visiting her in the hospital," Rosalynn said. "That wasn't a lot of fun. But it wasn't horrible, I wasn't grossed out or anything."
Dannye stayed in the hospital for three days, and then things went back to normal. We went camping with our grandparents and the only thing that was different was that Dannye had to be extra careful about sunburns. About a month after surgery, she started radiation therapy.