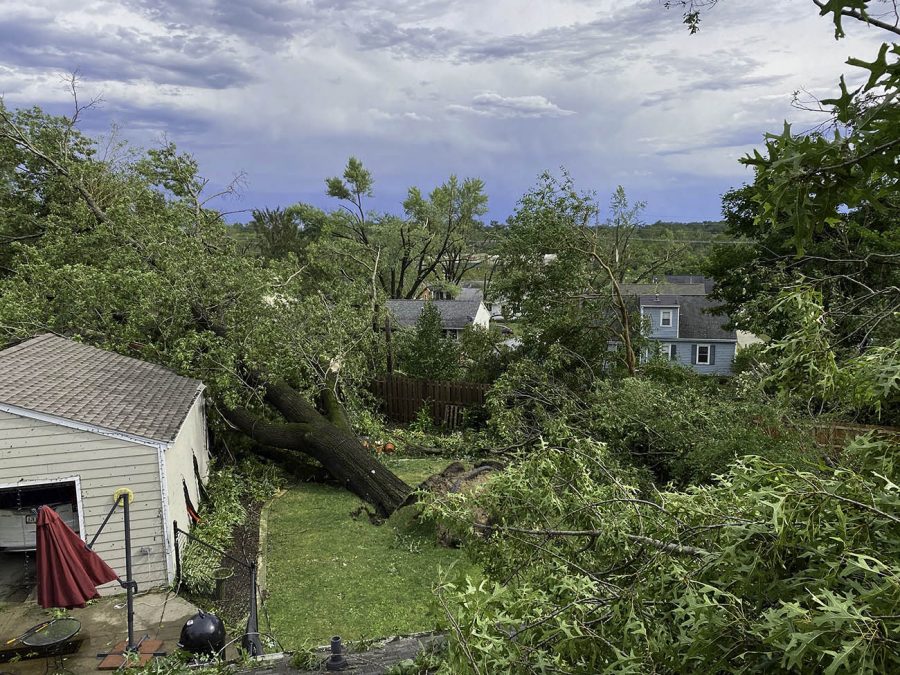 Trees crash down as the forceful winds blow debris into the streets. The thunder booms, and the rain falls like shards of glass. Many stay indoors, but the power of the storm may be too strong for the people of Iowa. 
"I felt really scared honestly, it was almost like seeing the world end," said Himani Laroia '23. 
This hurricane-like storm was classified as derecho. SciJinks, a website that encourages middle school and high school students to learn about weather, describes derechos as "fast-moving bands of thunderstorms with destructive winds." The winds from derechos can be extremely fast and sometimes are as fast as tornados. 
Thousands of people were without electricity for days or even weeks after the storm. Many buildings and houses were damaged as well. 
"It was the worst storm I'd ever seen. The sirens went off maybe 15 minutes before it hit, and then the first gust snapped my neighbor's 40 foot tree in half…After the storm was done, our streets were completely impassable, and the five lane road by my house only had 2 lanes open," said social studies teacher Andrew Bloom.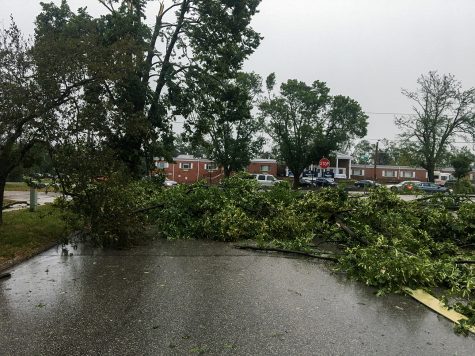 Up in Cedar Rapids where Bloom lives, the electricity went out for a week while the internet was gone for 37 days.
"I had to go to lots of different places to work, and there wasn't much to do at home, but I started reading books with real paper again and went to sleep when the sun went down, so it offered a nice change of pace," Bloom said.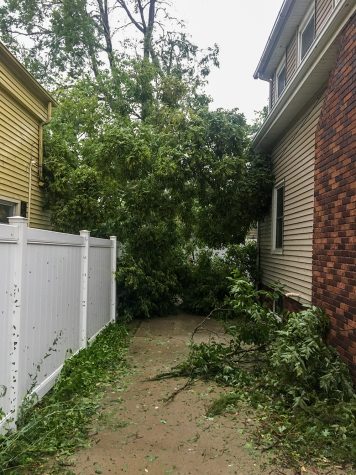 Jon Welch, the West High orchestra teacher lives on the south east side of Cedar Rapid and was also severely effected by the derecho. 
"Our giant oak tree in the front of our house lost the majority of its limbs as they crashed into our roof and landed in a nearly 30 foot spring loaded pile in our driveway. Our roof has many holes in it including one that goes clear through our ceiling. Water rushed into our living room and into our basement. I watched into our backyard as our 150 year old oak tree collapsed from the wind and destroyed our garage. It just didn't let up," Welch explains. 
Welch also explains how he and his family were able to stay at a friend's place in Muscatine and stock up on supplies. Over the next few days Welch helped clean up the knocked over trees while his wife and son went to Kansas to stay with family. 
"I learned how to chainsaw, patch a roof, and after a week, I learned how to live off of a generator. In all, we were without electricity for two weeks and we finally got an internet connection after three," said Welch.
Although Cedars Rapids may have had the worst of it, many people in Iowa City also felt the wrath of the derecho.
"I had only one tree snap in my backyard, but other than that I had no damage. But trees in my neighborhood were falling like crazy, huge trees in my cul-de-sac fell down and almost hit people's houses. Luckily no one was hurt," Laoria said.
"I was not allowed to go clean up any damage because of the coronavirus, but instead we donated food and extra clothes for people strongly effected by the derecho." 
The damage the derecho has caused put many people in very difficult situations, especially the Congolese community. People are without essential items like food, water and shelter, and this is where Alka Walter comes to help. 
Walter is involved with an organization called the Congolese Health Partnership. This organization helps new Congolese patients who have recently come to America with things like health insurance and other medical needs.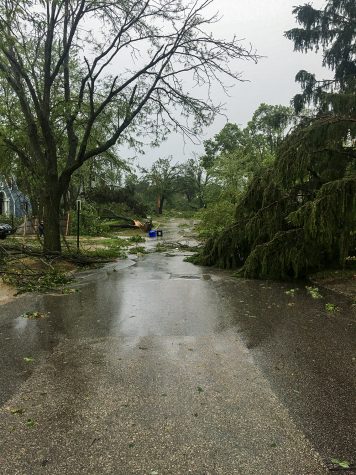 The Congolese community was hit very hard by the derecho and many lost their homes. Most people could not get donations because of the language barrier and because they just didn't know where to go. 
A colleague of Walters who also is involved in the Congolese Health Partnership organized trips to help people who need supplies like food, blankets and warm clothing.
"I asked friends who were interested in helping out and [we] gathered supplies…[We] met with some of the families and spent time finding out how they were doing and brought them some of the stuff they [would] need." Walter explained. 
Overall the derecho has definitely brought many people's lives to a halt, whether they were strongly or mildly effected by it, but it also brought the community together.
"There was a true sense of community that came together from this traumatic event as people saw the humanity in each other…There are many people that do not have the ability to get out of their situations. Many are still homeless and hungry…It's going to take a long time until things get back to normal…For many of us, this storm is still here," said Welch.
Although the storm may have pushed us back one step it is our turn to help the people around us and leap three steps forward.