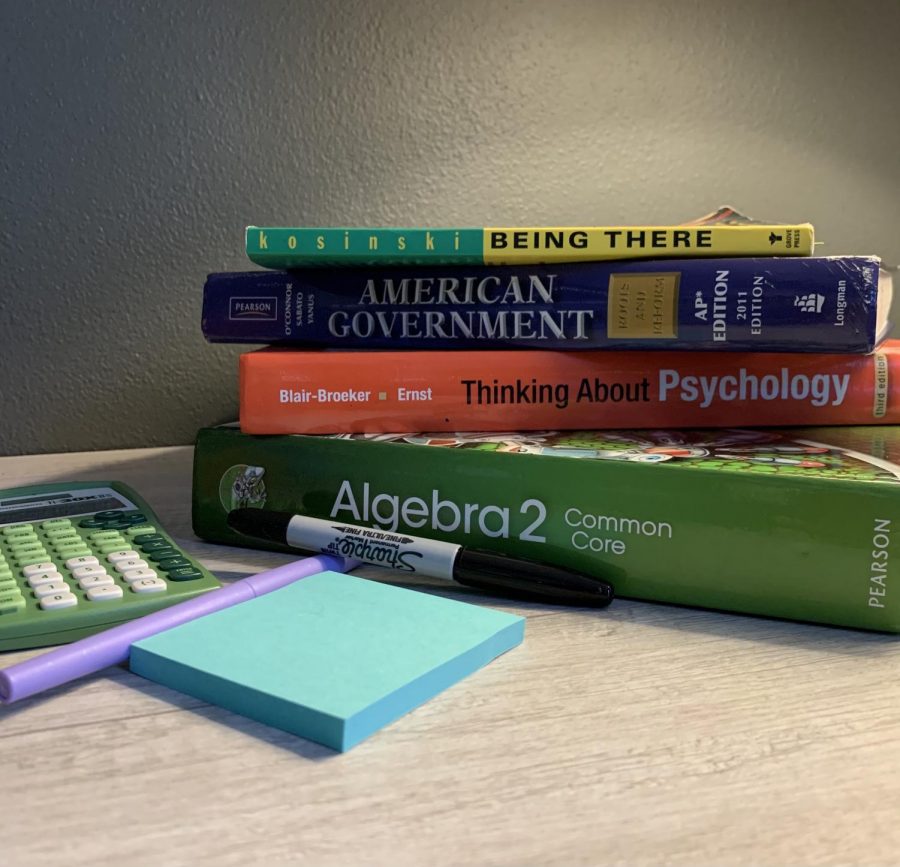 Zoe McLaskey
The students in the ICCSD weren't the only ones who had to choose between the online or hybrid model; teachers also faced this weighty decision, many taking weeks to mull it over. 
The importance of this decision caused many to reflect on their values as educators. Many sat down and talked to their family about how to plan, while others distracted themselves from the thought.
Spanish teacher Ashley Lorsung normally waitresses as a part of her summer routine. The pandemic affected her ability to work, but it also gave her more time to settle into planning for next year with fellow Spanish teachers.
"Honestly, I prepared by doing the most preparation I've ever done in my life," Lorsung said. 
In making their choice, they also had to decide not only what was best for themselves but also what was best for others during these tough times. Due to his health, psychology teacher Travis Henderson opted to teach hybrid.
"I am young, healthy and don't have kids. Everyone in my household is the same," Henderson said. "So, I decided to do hybrid so that others with more needs could take the online sections to protect themselves and their own families." 
Adjusting to this new way of life has been a challenge in and of itself, with everyone experiencing mistakes and successes. For the first few weeks of the new school year, West was fully online. With online classes, came Zoom meetings. 
Teachers are also having to Zoom in order to communicate with each other. Strange background noises are a common occurrence when teachers leave their mics unmuted, and the incidents bring some much-needed laughs.
"Having moments like that are important because it makes us realize that in the end, we are all in this together, and still have times where it's okay to laugh," said social studies teacher Brendan Aitken.
Zoom can have its moments of technical difficulties, but the connection between students and teachers still stands. 
"All of us teachers get into this to connect with students. It's to interact and watch [students] grow and learn and, you know, become good citizens so doing these weird little squares on Zoom has been tougher," Aitken said
. 
Classrooms are often the main reason for connections between students and teachers. Now that there are new rules and regulations, the classroom dynamic has changed. 
 "[Changing my classroom] one really hurt," Henderson said. "Last year I had a great time changing my classroom experience to be more of a collaborative learning environment. So, we got rid of desks and brought in tables. We spent a lot more time doing collaborative learning tasks, getting to know each other, sharing our thoughts and perspectives. It was such a great experience."
Switching up classrooms can be a difficult change to make, especially if group activities will be limited in accordance with social distancing guidelines. 
At this time, it is more important than ever for teachers and students to stay connected. Every teacher has their advice to share about reaching out to teachers. 
"Communicate, we all want to help you. We all want to be flexible and provide you the best learning experience we possibly can," said Henderson.
"I think to [hybrid and online] students I would say to be strategic about everything this year. Things like taking care of ourselves with good foods and good sleep, organizing our Google Drive with folders for each class, using Google Calendar to make sure all my classes have a teacher to go to," Lorsung said. 
"We all need to be patient with one another for sure. Teachers want you to reach out to us, to teach issues, ask us for guidance. We're doing what we can to help. We don't want you to feel like you are alone out there," Aitken said.