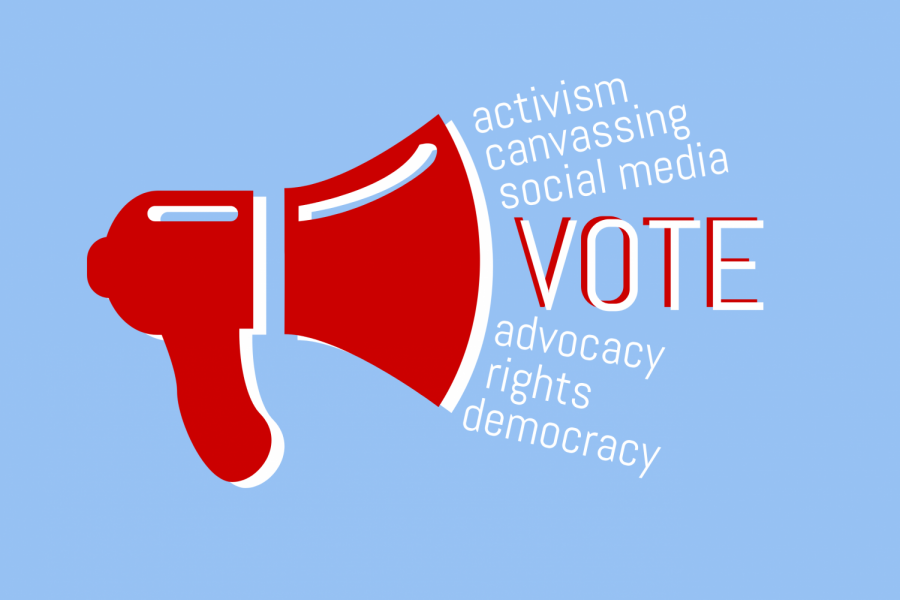 Alex Carlon
This year's election marks the first that millennial and Generation Z voters will equal the number of baby boomer and older generation voters. With young people playing such an integral role in the outcome of this year's election, West students have not held back when it comes to fighting for the issues and candidates that are important to them.
"I've been so proud to see that many of my fellow classmates have been extremely active in advocating for voting and social justice issues," said Grace Hinrichs '21. "It makes me hopeful that our generation will be the generation to switch up the narrative on youth voters."
Hinrichs' birthday falls just before election day, making her eligible to vote on Nov. 3. Though many seniors will have to wait four more years to cast their first votes, Hinrichs is hopeful that youth voters at West and across the country can make a difference.
"I believe that if we show up and use our voice, we will make a big change which is desperately needed right now," Hinirchs said. "There is so much at stake."
Like 30% percent of West students surveyed, Hinrichs values equality and human rights as an important factor in this year's presidential race.
"We have a long way to go before we reach total equality, and in order to get there we need an administration in office that educates and enforces equal rights for all people," Hinrichs said.
The importance of one's vote can make choosing a candidate a daunting decision. For Hinrichs, the potential for change on election day outweighs the anxieties.
"I feel so blessed that my 18th birthday fell in the month of a very important election and I was able to do my part to evoke change," Hinrichs said. "I'm anxious to see the outcome of this election but I can see a faint light at the end of the dark tunnel these past four years have been."
Claudé Clark '21 also voted in this year's election. In other years, Clark would have preferred to vote for a third party candidate, but felt as though voting for a Democratic candidate would be the most impactful choice in 2020.
"This year is very unique in that I felt like I had to vote for a Democrat," Clark said. "This year, this election is very important and it's going to affect a lot of my life and the coming years. I felt like … if we really want Trump out of office, if we really want to get the U.S. to be in a better place for all types of people, then we need to vote.
Clark cited the removal of President Donald Trump from office as a major motivation for voting in this year's election.
"I want Trump out because I want a president that doesn't hate me because of my skin tone," Clark said. "There's a lot of other stuff that I didn't think he was doing very well about, like race and sexuality. Those main factors were what made me choose my candidate."
Kathleen Washington '21 is not old enough to vote in the election. In spite of this, she echoes Clark's sentiment, arguing that this year's election transcends politics.
"In my opinion, this election is not about choosing a candidate based on their political views," she said. "This election is about preserving democracy."
To many students, this year's election feels especially weighty because of the drastically different belief systems of the two candidates. Clark feels as though if youth voters see policy they don't agree with, it's up to them to lead the change.
"If you don't like what you're seeing in this place and in this world, and you don't like what's being said on the news and being directed towards you, and you don't do anything to vote or get into it, then that's kind of your fault," Clark said. "A lot of people don't realize their vote counts … people need to vote and that's how this country runs and works"