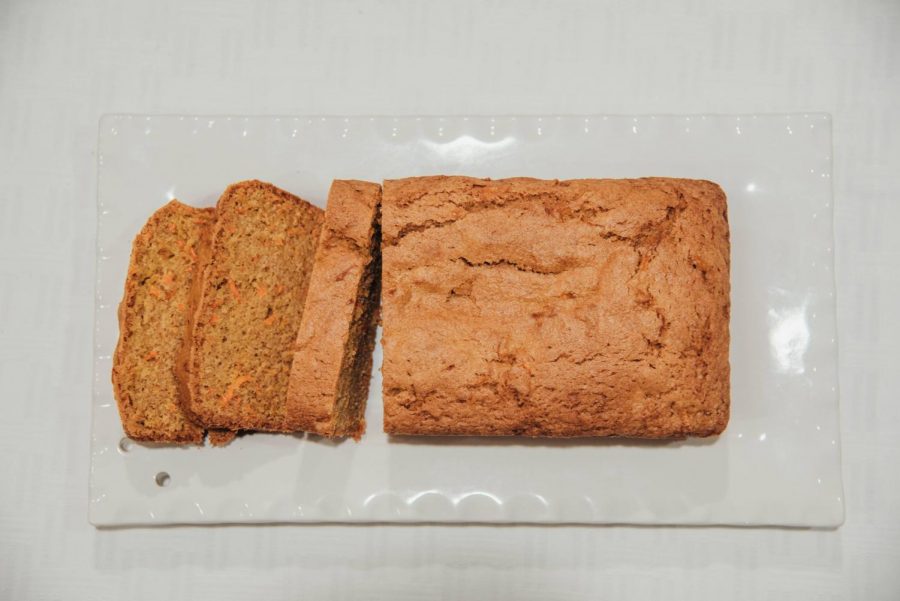 Carrot loaf cake
This flavorful carrot loaf is simple to make and perfect to enjoy on a chilly fall day.
Yields 1 loaf cake
INGREDIENTS:
3/4 cup vegetable oil, plus more for greasing pan
1 cup packed brown sugar
2 large eggs
1 teaspoon ground cinnamon
1/2 teaspoon ground cardamom
1 teaspoon kosher salt
1 ¾ cups all-purpose flour
2 teaspoons baking powder
1/2 teaspoon baking soda
1 ½ packed cups peeled and grated carrots
GLAZE:
1 lemon
1 cup powdered sugar
1 tablespoon finely grated carrot (optional)
•
Heat oven to 350 F. Oil a 9-by-5-inch loaf pan and line it with a strip of oiled parchment paper that hangs over the two long sides. Add the brown sugar and eggs to a large bowl and whisk vigorously for about 2 minutes or until pale in color. Add the oil, cinnamon, cardamom and salt. Whisk until smooth, slowly incorporating the flour, baking powder and baking soda until everything is well-combined. Fold in the grated carrots, switching to a rubber spatula if necessary. Scrape the batter, which will be very thick, into the prepared pan and smooth the top. Tap the pan on the counter a few times to remove any big air bubbles.
Bake about 50 to 60 minutes, or until golden. A toothpick inserted into the center should come out clean. Set the pan on a rack to cool for 10 minutes. Lift the cake out of the pan using the parchment paper and cool completely on a wire rack.
When the cake has cooled completely, it's time to make the glaze. Finely zest the lemon into a medium bowl. Juice, and set aside lemon juice. Add the confectioners' sugar and finely grated carrot (if using for glaze) to the bowl with the zest, along with 4 teaspoons of the lemon juice. Whisk vigorously until smooth. Add more lemon juice as needed to make a thick but pourable glaze. Pour the glaze over the cooled cake and let it set for a few minutes before slicing.