Christine Rohret & Mary Mascher
January 4, 2021
It all started with a seemingly typical family gathering— sisters Christine Rohret and Mary Mascher, along with the rest of their female siblings, had met up to build birdhouses together out of wood from their father's broken-down barn. It was a way to pay homage to him, and take a piece of their family back with them to their respective homes and communities.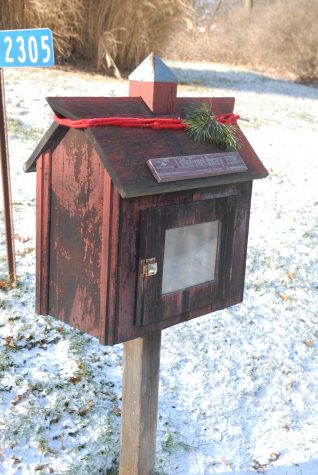 Shortly after, one of Rohret's sisters in Minnesota read an article about Little Free Libraries in her own community. She passed it on to Rohret, thinking it could be a potential use for some of the leftover wood. With a little planning and construction help from her husband, Rohret became the first LFL steward in the state of Iowa. 
Located down Banbury Street in northeast Iowa City, the miniature library still stands eight years later, commemorating her father's legacy. 
"I'm an educator, and I've always been interested in literacy. My dad was kind of a self-made person too. It's just great to celebrate that love and passion for learning throughout his life by continuing to provide avenues for people to get books, free of charge, to enjoy at any time," Rohret said.
From there, the number of LFLs only multiplied. Mascher herself was inspired by her sister's work, and when South District Community Organizer Angie Jordan reached out to ask if she would like to host a LFL of her own, Mascher readily agreed.
Like Rohret and two of her other sisters, Mascher had a job in teaching. With education being a key focus growing up, spreading knowledge in the community with the libraries is all the more meaningful.
"[My sisters and I] played school all the time; that was kind of our fun thing to do in the summertime. Our arguments became [about] who got to be the teacher and who were the students," Mascher said. "Teaching has been a part of our families for quite some time, and it's really an important part of our family, so that's something that has been a motivation for me."
Because of Mascher's connection with elementary education, she most often puts children's books in her library.
"I want kids to read, and I especially wanted kids to read over the summer with COVID and all the things we're dealing with," Mascher said. "I certainly get adult books that people put in there too, and I'm fine with that, but I especially focus on the kids."
"
It's just great to celebrate that love and passion for learning throughout his life by continuing to provide avenues for people to get books, free of charge, to enjoy at any time."
— Christine Rohret, teacher & LFL steward
Mascher believes reading is not only essential for academic growth but also for entertainment and solace.
"I see books as an escape from the world that we live in, and right now, the books have been my salvation. I've probably read more books since COVID than anything, just because it gives me a chance to escape and get away from what's going on in the real world," Mascher said.
The libraries have been a great way for the community to stay connected even when everyone is far apart, according to Rohret. During the pandemic, community members have found new ways to help their fellow neighbors using the libraries.
"People have been able to add their own twist to it too, which is great in terms of art. I know some people switched theirs to food. They would put cans of food there with this whole COVID thing for people when they stopped, or they have a little dog treat area so that people walking their dogs can give a treat to their dog. They've added such fun additions to the whole idea," Rohret said.
With all these new features, the buzz about LFLs has only grown over the years.
"I would say the activity in our library and the interest in Little Free Libraries has continued— we put ours out in February 2012, and that was the first one in Iowa … Every year I get more comments, questions about it," Rohret said. "Questions are one thing that I always loved. And [my husband] responded to this [question] really well—'What if people steal the books?' And we said, 'Well, there's no stealing because they're there for you. We aren't expecting you to bring them back; that's the whole idea.'"