Missed connections 2021
West students proclaim their love for their peers in this annual WSS tradition.
Cupid works in mysterious ways. Perhaps while out of breath from climbing the stairs, your glasses unfogged just in time to lock eyes with your soulmate from behind masks. Maybe Cupid's arrow struck in a breakout room, forcing you to abruptly turn off your camera so your newfound sweetheart couldn't spot your crimson-colored cheeks. Here are some Cupid-approved messages from hopeless romantics anonymously telling their special someone how they feel.
To the class of '19: I wish I had tried to skip a grade, or two because I can't stop thinking about your illustrious, in-person, senior year. XOXO, a Zoom-prom hopeful.
The one thing I hate about online school is that I cannot see your tall figure in the hallows anymore. I can't laugh with you like I used to before. I miss you a lot, that is for sure. Tell me, do you still pass through that door and think of me, mi amor?   
To my boyfriend: You are the best person I know and never forget how much I love you, babe <3! From: Your cutie 🙂
To the boy that sits behind me: when I sat in my seat on the first day of school, I felt the tension between us as if we were both feeling the same tingling sensations that I still hold onto as if there might be a change. As if one day, you'll walk up to me in the cafeteria and ask for my number. None of that Snapchat crap. Anyway, I'll never be brave enough to talk to you, so I'll just suffer in silence. From: Hopeless Romantic 
To the girl with pink eyeshadow I ran into in the social studies studies wing: I think I might have to report you to the administration as a thief because you seem to have stolen my heart. From: Lost w/o You
To: the X to my A, you have taken my breath away; you're too hot for me to shoot my shot; you will be forever in my heart. From: the potato to your lemon
It's been so long since I felt the warmth of a man. Oh Damien, wherefore can't thee beest mineth!
This may be a long shot, but to the girl who goes to Liberty in my French class: vous êtes très BELLE.  
To the boy with blond hair and blue eyes I always run into sometimes with Jake in the West High cafeteria near the commons: I might just have to report you to the police station as a criminal because you have stolen my heart. From: can't be without you.
To the guy that never changes his profile picture on Zoom or email: I would say you steal my breath away, Winter, but that's not quite right. You steal my entire lungs and my heart along with them. From: Lost w/o You.
To the person who looks like Nishinoya 2.0, you're so pretty I'm in love soulmate things yeah yeah. From: The Asahi to your Nishinoya
To the person who I caught staring at me very blatantly, do you wanna fight? Because you can catch these hands, but then again could I get your number instead? From Nishinoya who's trying to find their Asahi.
Hey hey hey. Maybe in another life we could've been soulmates. I'm glad that I found you. From: Owl Boy
I feel like you're the only one who understands me. I hope that even if we don't see eye to eye now that in another life we can be together. I'm glad that you found me – anonymous
Dear Josh, I got my driver's license last week just like we always talked about cuz you were so excited for me to finally drive up to your house 🙂
JTB: I know we weren't perfect but I've never felt this way for no one <3 
To the brown-eyed boy with the messy hair: all my friends are tired of hearing how much I miss you, but I kinda feel sorry for them cuz they'll never know you the way that I do
To the girl with the golden hair; Your beauty is beyond compare; I wish I could have had your love; But you'll always be my first love. From the girl who loved you first
To my best friend: You are the strongest person I know. You've been through so much, but you still manage to smile for me. When you do, I can't help but smile back. I love how you ruthlessly make fun of my obsession with BTS. I love how your laugh sounds more like a dying parakeet than a sound that a human would make, and I love how you always seem to understand. Remember when we first met? It was in 7th grade, and I wanted to be part of your made-up society, the Chaguanian Nation. Remember when we stayed for an hour after school, watching vines and dying of laughter? Remember when we almost caught a squirrel and failed at making a campfire? I guess I'm too young and I shouldn't be saying this, but I think I'm in love with you…Love Agent Gecko
To the third urinal in the top floor math hallway: although it has been nearly a year since we have seen each other… you were always my favorite. <3
To the person from my bus stop who always asked me about my day after we got off the bus: I wish our houses were further from the bus stop so I could walk with you a little longer.
To the blonde boy in my first period class: will you be the Jeffree Star to my Kanye?
To the girl with the scribble self-portrait Zoom profile picture in AP Stats: I have calculated the probability of us working out, and it's one. I thank normalcdf for that. From: A Lonely Statistician. <3
To the black-haired girl who sat diagonally in front of me last year in geometry honors: you set the snow on fire. We've been talking for a while now, maybe you should give us a chance? From: you know who 😉
To the black- haired girl who sat diagonally in front of me last year in geometry honors: you set the snow on fire. We've been talking for awhile now, maybe you should give us a chance? From: you know who 😉
To the kid who called me cute in Spanish, I couldn't understand you at first, but you made me blush :))
Leave a Comment
About the Writer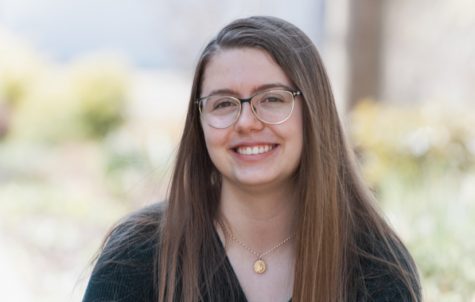 Marta Leira, Print Editor-in-Chief
(she/her) Marta Leira is a senior at West High and editor-in-chief of the print publication. Marta enjoys running (sometimes), creating a an embarrassing...