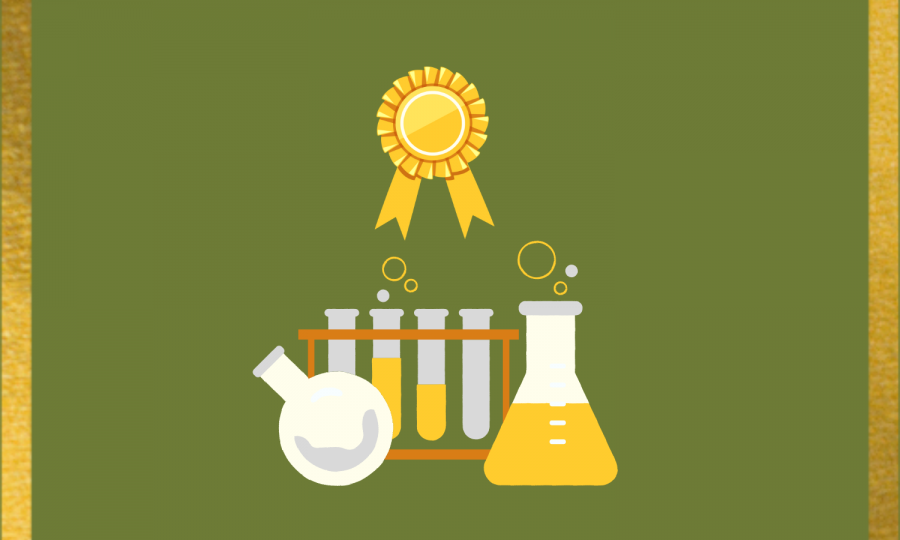 West Side Story: How did you feel when they announced that you were in the top 40 finalists?
Dasia Taylor '21: "I was not expecting to get the news when I did … I thought this random number from Washington DC was my cousin. So I answered it and I was like 'Hello' and it was the Regeneron people talking about some 'You made the top 40. Do you know what this news is concerning?' and I was like 'Oh my god you're joking'. It was so crazy … I just started freaking out in [Taylor's friend's] kitchen. It was absolutely crazy. I couldn't believe it. It was the same day that the Gazette article came out, which was so exciting. It was my first time being in the actual paper. On top of that, it was Inauguration Day, so there were just so many high emotions."
WSS: What did you do to get to this point? 
Taylor: "I started research in October, maybe late September—early October of my junior year. So, I entered the project into the Junior Science and Humanity Symposium which was at the university this year—that was regionals. I got first place in that. Then, I entered my project in the Eastern Iowa Science and Engineering Fair, and I swept a bunch of categories like senior division, class 1 division, most outstanding project … Since I swept so many categories at the Eastern Iowa science fair, I was already cleared to go to the international science fair, but my over-achieving self was like 'No you're gonna go to state, too' so I entered my project into state and I got second place in the state. Then, I went to the international science fair which was canceled due to COVID and they didn't do any competitions, so I just finalized. I did like four different fairs."
WSS: What is your science fair project?
Taylor: "My project is that I created sutures, so medical stitches, that alert patients that their wound is infected by changing color. It literally relies on the most basic principles of pH balance in the body. It's pretty dope."
WSS: Who or what helped you the most during your process with the project or entering competitions, etc.?
Taylor: 'I would say hands down Mrs. Walling helped me the most … She was always there for me. She was always willing to step in and help. She was always willing to explain a topic. She was just always there. So having her for chemistry honors and having her as a science fair mentor was even better because in chemistry you learn things like pH balance and stuff like that, so this was stuff that was being taught in class that I would also just apply to my project … She was also the person that told me about Regeneron. I was starting to get results on my science project around December [and] January. Around the time that I was applying to JSHS, and she was like 'You know when you're a senior you can apply to this Regeneron thing. It's only for seniors but I think you have a really good shot of winning.' I vividly remember her saying this. And this was a little over a year ago now.  Now, I'm here in the top 40—it's kind of crazy how she manifested all of that and actually believed in me from the very very beginning. I can't say enough amazing things about her, I'm not even gonna lie."
WSS: What do you think your finalist status says about you and your identity?
Taylor: "I think it confirms what I've been saying about myself for a really long time. That is: I'm just intellectually curious. That's really the only way that I can describe it because I don't just stay in one field of study at all. You can see me on a bunch of different committees at the district talking about equity and how to change our systems to be more equitable for our minority students. And you can catch me doing science experiments in the lab. You can see me doing all these different types of things. Like public speaking, having speaking engagements outside of school [and] being an entrepreneur. I don't believe in being held down by one field of study or one area of study … My mom always told me you can do anything you put your mind to and that is the thing that's been ringing in my hand throughout my entire seventeen years on this earth. I can do anything that I put my mind to. That's just been proven time and time again." 
WSS: What are your plans moving forward with your project?
Taylor: "This year is solely based on testing, so I'm gonna use like the next … six months to test different bacteria—the most common surgical site infections, which is what my project is geared towards … The goal of my project is to decrease the number of … deadly surgical site infections in developing countries because developing countries suffer from the most number of deaths due to surgical site infections. I was like there is no way that that should be happening. The equity part of my brain and all the work that I do around equity was like 'That shouldn't be happening. They should have the resources to save their citizens in their country.' So, my goal is to work on that and make sure that it can actually detect those types of infections and stuff. The next six months would be dedicated to testing the sutures on those different types of surgical site infections. There's like a spectrum or whatever. And making sure that they work and then once I know for sure that they work, which I have no doubt in my mind, I plan on getting a patent, which I assume I will be starting that process later on in the year."
WSS: What do you plan on doing after you get the patent?
Taylor: "I guess put my sutures on the market, figuring out a way to package…figuring out a way to actually get those sutures to developing countries that need it."
WSS: Would that be done through creating your own company, selling it to other companies?
Taylor: "That is a great question. I don't really know. I don't know if I wanna start my own … I need to think about that."
WSS: Do you feel like you've inspired other people, especially other Black women?
Taylor: "I'd like to think that I did or do … I hope that with everything that I'm doing that I've at least touched one person. Also, just my background [of] coming from a single-parent home, there are a lot of stereotypes around that. I need people to know that those stereotypes are not true. Just because you come from a single-parent household doesn't mean you get put in this box and you have to stay there. I like to debunk that stereotype in any way that I can. Also, just being a black student, and a black student in white spaces — that's really hard. I try to inspire other black students in the district [or], I mean, really anywhere. I hope that I've done that. I don't know for sure. This April, I will be doing a program with 3rd through 6th graders at the Iowa City Public Library. I haven't worked out all the details yet, but I'll be talking about my project and trying to get students involved in STEM. Then, we'll do some sort of hands-on activity and stuff like that. I will also be doing some stuff with Hills Elementary, which when I moved here, that was the school that I went to, so I still have a lot of connection there. They love the articles that have been published, so they hope to get me back there and speak to the students as well. There's a lot of inspiration going around in the high school community and junior highs, but even down at the elementary level, I still try to give back and give my time and make sure that people can see all these awesome things."