The Quiz Coup
March 3, 2021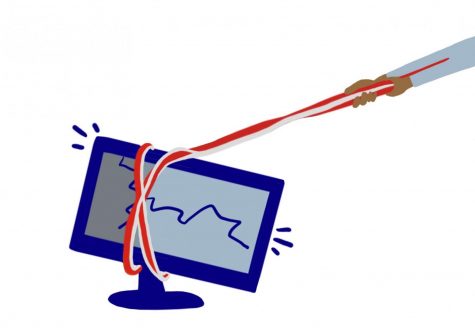 West High School history was made Feb. 19 when students in American studies teacher Peter Frank's third period class attempted to take control of the Zoom lesson for themselves. 
After announcing a pop quiz, Frank put his students in breakout rooms, giving them 10 minutes to help each other study. One breakout room, consisting of four students, decided that the pop quiz simply should not happen.
"I've never had a pop quiz in my life. I thought they were a thing that only happened in movies," said Anna Chris '21. "My group decided that we must prevent the quiz at all costs, so instead of studying, we brainstormed tactics to get him to move the quiz back."
Once the students reentered the main room, Chris shared her screen, preventing Frank from giving his instructions. The four students attempted to hold the screen share feature hostage in exchange for the pop quiz being moved to Monday, but Frank swiftly turned off participant screen sharing, effectively nullifying their advantage. 
The next assault was an auditory one, with the students unmuting themselves to blast different songs, each one louder than the last. While this was easily countered by Frank restricting their ability to unmute their mics, it was highly effective. Frank suffered mild hearing damage, and many of the students turned their volume off, entirely severing the communication between Frank and the class.
"I turned the sound off as soon as the music was turned on to save my eardrums. I don't know how long it took for Mr. Frank to get the situation under control, but I didn't turn my volume back on until I saw he'd sent a message in the chat five minutes later," said Bia Stander '22.
The lesson resumed 10 minutes after the disruptions began.
"We had more tactics planned, but he had disabled our ability to do pretty much anything besides watch him talk at this point, but we had stalled long enough," said Chris.  
Frank realized that there were only 20 minutes left, and the quiz required 30 minutes of class time. It was moved to Monday.
"I honestly don't know what to think about the whole situation," said Frank. "I've made it so the students responsible are unable to score higher than a 75% on the assessment, so I doubt the extra preparation time they earned was worth that. Hopefully everyone learns their lesson and this never happens again."
While the attempted coup ended poorly for the rebels, the rest of the class regards them as heroes.
"I don't think any of us were prepared to take the quiz. I'm really thankful that it was delayed until Monday," Stander said. "I kind of view the four as martyrs, sacrificing their grades for the good of the class."