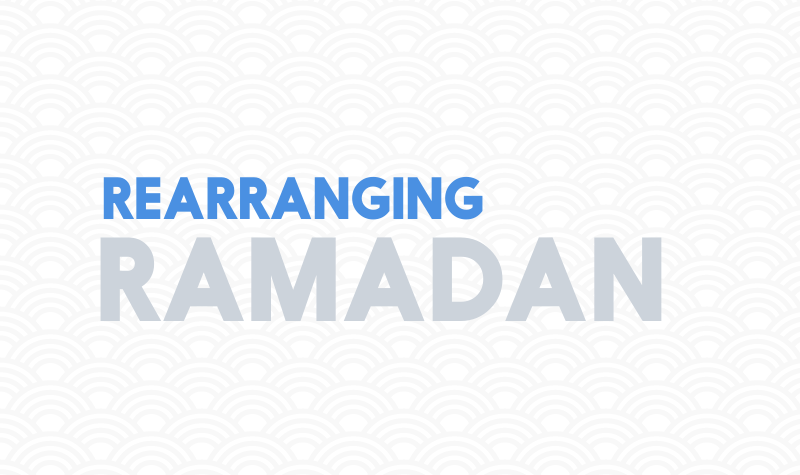 Kailey Gee
This article is part of a series about Ramadan celebrations during the COVID-19 pandemic. Read the first edition about what Ramadan was like in 2020 here.
Breaking the fast together, praying together, celebrating together — there's a common theme. A large part of Ramadan festivities center around the community. According to Nadeen Mohammed '21, a lot has changed in the age of COVID-19. 
Last year when the pandemic hit, preparations for both Ramadan and Eid al-Fitr, which is a large celebration at the end of Ramadan, had begun. 
"[Normally] everybody goes to this specific place and prays together; it's all together. But then it was canceled, and it was the beginning of COVID, so everybody had shut down, so we were just celebrating at home with the family," Mohammed said.
Mohammed expects that celebrations will once again be mostly confined to family gatherings at home, as well as via Zoom calls with family members who are far away. For Hala Saeed '22, virtual celebrations don't match the energy of being with the community during Ramadan.
"It's really sad because before, it used to be kind of like Thanksgiving where you would eat a big meal and celebrate together," Saeed said. "Now, it doesn't feel the same at all."
However, community leaders are trying their best to make Ramadan as fulfilling as it is under normal circumstances. Molhim Bilal is the imam at the Iowa City Mosque. He leads worshippers in prayer, meaning he is especially busy during Ramadan giving lectures, reciting the Quran and planning activities. According to him, Ramadan celebrations this year will get to be a little more involved since there is now more information out about COVID-19 compared to last year.
"This Ramadan is an improvement. We know more. People take things more seriously. So instead of next to each other, we're praying six feet apart, because usually in the congregation in Muslim prayer someone will stand and another person will stand right next to them. It's still not normal, but it's better than nothing," Bilal said. 
Along with praying six feet apart, hour-long nightly prayer times have been shortened to a maximum of 30 minutes to limit the time people spend inside. Breaking the fast as a community is still not possible, but bottled water will be available for members to take and drink. 
However, some people still may not feel comfortable going in person to the mosque, so Bilal plans to continue uploading videos during Ramadan to the mosque's YouTube channel as he did last year. At the beginning of the pandemic, the videos were able to provide comfort for a lot of Muslims.
"I've received a lot of feedback from people — they needed stuff like this to boost their faith and help them, especially in the times that we were in with the virus," Bilal said. "They were very happy for it, and they benefited a lot from it."
This is one of the many reasons Bilal loves his job. 
"What I enjoy the most is seeing when people come to me when they're distressed, and they're having worries. And after I speak to them, they're happy. That stress is gone and that worry is gone, and they can live a happy life with their families again. That makes me very happy," Bilal said.
As Ramadan starts, Bilal wants Muslim students and community members to know that they can get the COVID-19 vaccine without breaking their fast. Because part of Ramadan involves fasting, or not putting anything into the body from sunrise to sunset, this question might come up.
"I talked to some medical professionals about this and they said that the [Pfizer] vaccine goes on the muscle. It goes on the muscles, and not into the blood system. So in that case, they can take it, and it won't break the fast, so they can feel safe about that," Bilal said.
Meanwhile at West, the Black Student Union is planning a Ramadan-themed AFT session to follow up their previous lessons on the history of Black Muslims in America. Mohammed, who is a part of the BSU and will co-host the event, believes education about the holiday is crucial.
"Some students are like, 'Oh, you just don't drink or eat for the whole day,' but that's not really what it is; it's not really all we do. We want to talk about what's the meaning behind it and why we do it, how many hours and times of the day we fast," Mohammed said. "It's important to teach everyone about our differences … I think students should just learn about different cultures and different celebrations that people celebrate."
Recently, the ICCSD declared that there would be no school on Eid for the 2021-2022 school year. The movement to have the two days of Eid off, Eid al-Fitr and Eid al-Adha, was led by Reem Kirja '25, a Northwest Junior High student. Saeed is ready for the change.
"I feel appreciated that people are understanding and giving us this day off. I used to skip school on Eid day before this decision and come back and find a load of work I missed from school, but I don't have to go through this again, thankfully," Saeed said.
Overall, Ramadan next year is looking up. For Bilal, this is a good time to practice being grateful.
"I'm hoping that next Ramadan, everything will go back to normal. And today, this Ramadan, we have something that we didn't have the previous Ramadan. So I would say, the first thing is we need to be grateful. Because we never knew what we had until we lost it … but now we're starting to get it back so we can be more grateful for what we have," Bilal said. "We need to be thankful to Allah for allowing us to come to the mosque and meet with people and do some gathering, break fast with other people, share meals with other people and stuff like that. Be hopeful, because whatever is coming next is better than what has happened. The future is good."