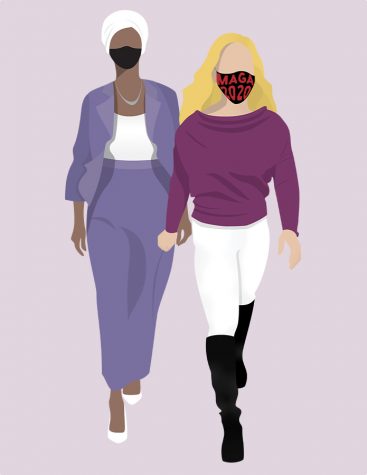 The pandemic has proven that anything that can be turned into partisan politics will be turned into partisan politics. This has gotten to the point where stopping the spread of the COVID-19, more specifically wearing masks, has become a supposed fight over individual freedoms. 
"We simply can't have members of the Congress waltzing around without a mask on," said Senate Majority Leader Chuck Schumer. "It's just not safe for the rest of us."
Desperate times call for desperate measures, so Democrats and COVID-19-cautious Republicans banded together to find creative ways to get anti-mask representatives to stop the spread while vaccine progress slowly advances. 
"It's no secret that some of our peers who refuse to wear a mask are really into conspiracy theories," said Rep. Ilhan Omar. "And while I absolutely abhor those kinds of lies, we figured we could use them to our benefit." 
The plan involved convincing Rep. Marjorie Taylor Greene that Antifa was responsible for the anti-mask narrative so she would relay this info to other conspiracy nuts. Representatives would have hushed conversations in front of Greene about weakening the conservative voter base with COVID-19 and anti-mask policies. Greene and many of her colleagues came to work with a mask the next day.
Of course, only a very small percentage of the Congress is that gullible, so other measures had to be taken as well. Omar once again came to the rescue with another brilliant idea. 
"We found out that if we put out free masks with stuff like 'MAGA 2020' and 'STOP THE STEAL' on them, they couldn't help but pick one up and put it on," Omar said. 
The newly designed masks were completely gone an hour after they were laid out in front of the Senate and House chambers.
Thanks to these few safety measures, no new cases of COVID-19 have been reported in Congress for well over a month.