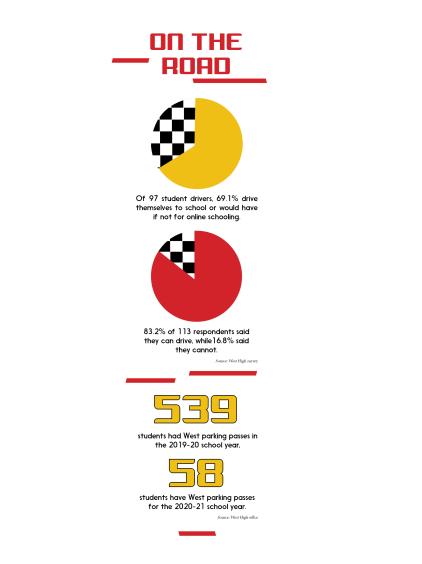 The feeling a teen experiences when driving alone for the first time is often one of liberation. On the other hand, some question if teens are ready for this amount of responsibility.
Being a largely rural state contributes to why Iowa allows teenagers as young as 14 to obtain a learner's permit, as families rely on them to operate farm machinery. However, in more urban areas such as Iowa City, some feel this age is too young to safely navigate the roads.
According to Corinne Peek-Asa, director of the University of Iowa Injury Prevention Research Center, the teenage brain lacks the development necessary to make the safest decisions while driving. 
"It's really difficult neurobiologically for teens to turn off the emotions and turn on the frontal lobe, which is something that has to happen when you're making quick decisions when driving," Peek-Asa said.
Ali Burgess '21, who doesn't have her learner's permit, believes 14-year-olds aren't ready to take on the responsibility of safe driving.
"I don't think that [14] is a good age to start driving … I feel like a lot of teens in that age range get into drugs and [bad habits]," Burgess said.
However, Ashley Seo '23, who is 16 and has also yet to obtain a learner's permit, sees the ability to handle this responsibility as dependent on individual drivers.
"I would not trust a 14-year-old to drive me … because I think it's generally unsafe and a little young in terms of maturity or responsibility," Seo said. "But people who do [drive] at 14 and choose to take on the responsibility, they can probably handle it."
As a 14-year-old herself, Kuchhal believes there is still risk involved with letting people her age drive.
"I get a lot of anxiety because there are just so many things that could go wrong, especially knowing that there are people out there my age who might be handling a car," Kuchhal said. 
Kurt Crock, who has been teaching at Mount Vernon Drivers Education since 2018, believes teenagers as young as 14 are capable of driving but with limited privileges.
"I would not be in favor of 14-and-a-half-year-olds being allowed to drive anywhere anytime," Crock said. "[But] allowing them to drive to school is a great training ground where they [get] safe hours behind the wheel."
Cher Carney, a senior research associate at the National Advanced Driving Simulator at the University of Iowa, found through her studies that experience is more important than age in terms of safe driving. In one study, Carney compared 14-and-a-half year olds who had just gotten a school permit with 16-year-olds who were getting their license, and 16-year-olds who had a year and a half of experience.
"What we found was it's not really how young or old you are, it's the amount of experience you have," Carney said.
Emma Caster '21 has been driving for three years and feels her experience allows her to make riskier decisions with a slimmer chance of facing negative consequences. 
"I have driven with distractions because I was confident in my abilities as a driver to keep everyone in my car and outside my car safe," Caster said.
However, driving experience may lead to overconfidence in some teens. According to a 2015 study by the AAA Foundation for Traffic Safety, it is drivers aged 16 to 17 that continue to have the highest number for crash involvement rates.
Crock believes this is because as teenagers become more comfortable with driving, risky behaviors become less of a concern.
"By the time they're 17, hanging out with their friends on a Friday night … they're not the same type of driver they were when I'm sitting right next to them," Crock said.