Along with straining mental health, sports can take a large toll on physical health. According to Johns Hopkins Medicine, almost a third of all childhood injuries are sports-related.
Villarini believes much of the physical stress her tennis players face comes from not wanting to let down their teammates. 
"I have had players push their bodies to the max because they are extremely competitive and don't want to let the team down," Villarini said. "The consequences of making an injury worse and not being able to play are far greater than the consequences of sitting out one match or a practice."
During her first year on the track and field team, Loussaert suffered injuries which she attributes to exhausting her physical health in a long indoor season.
"Freshman year, I definitely did not know that I was pushing myself to the point of stress fractures because I didn't know a single person on the team … that wasn't suffering from shin splints," Loussaert said. 
Along with this physical hardship, Loussaert found it difficult to voice her concerns regarding her stress fractures. 
"I was trying to say 'No, my shins hurt' and 'I've had stress fractures before' because I know this feeling, and I know what's pushing my body too far," said Loussaert. "But then to hear like, 'Oh, you can keep pushing through' … It was really challenging to keep advocating for myself and it made me question myself a lot."
As a coach, Hartwig believes it is his responsibility to monitor the health and well-being of his athletes. 
"Pushing limits is important, but not to the extreme," Hartwig said. "It's critical to identify the 'breaking point,' and I feel my coaching staff and I have a decent handle on this, but it is always a concern." 
Girls Varsity Track Coach Mike Parker believes the best way health can be monitored is through two-sided communication. 
"There is one thing that will help a program year after year," he said. "Figure out a way to get student-athletes to communicate to [coaches] and [coaches] to communicate with them."
While injuries are tough on athletes, many have found ways to make the most of it. Erica Buettner '21 found positive ways to channel her energy during recovery. 
Buettner's hip injury originally began as a dull pain that didn't improve with stretching and ice. As her injury progressed,  Buettner found it hard to not be able to directly contribute to the team's successes. However, the extra time allowed her to pick up hobbies she previously did not have time for.
"I realized that I needed more balance in my life because running was such a big part of my identity," Buettner said.
Nock agrees that while not competing alongside teammates can be frustrating, it can allow athletes to gain more appreciation for their sport. 
"Mentally, it's really hard to be injured, because you put in all this work and then your body gives up on itself,"  Nock said. "The one good thing about injuries is that when you're not doing the sport and when you have to sit on the sidelines, you start to realize how much you miss it."
To prevent future injuries, Buettner has implemented some new techniques into her training routine by gradually building up in mileage when she starts running, and maintaining consistent sleep and stretching schedule.
West High Athletic Trainer Sheila Stiles notes that rest is one of the most essential components to ensure athletic success during the season."Our bodies start to break down when we do repeated motions," Stiles said. "Rest is as important as the weight room or shooting 100 free throws a day or running 50 miles per week."
Body image and maintaining a healthy diet while training can also prove challenging for athletes, affecting both their physical and mental health. Within the athletes' world, DeYoung believes social media is a large contributor to athletes' body image issues. 
"It's so hard to not pay attention to social media and any kind of media [when] they're always showing you the 'perfect body,' which is really skinny," DeYoung said.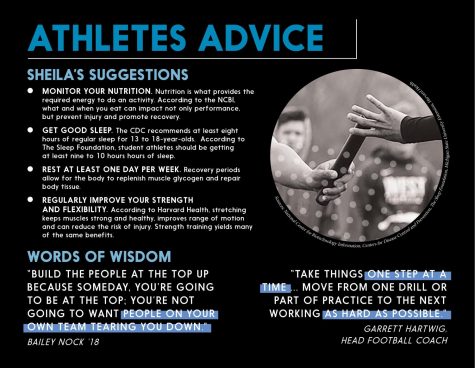 Nock believes this unhealthy mindset has become increasingly prevalent in the running community. 
"'If you are thinner, you're going to be faster.' And that's like drilled into your mind," Nock said. "[The running community] thinks if you don't eat, you're gonna do better." 
After personally experiencing this struggle before participating in high school sports, Woods has found that improper nutrition had made her more susceptible to injury.
"When I didn't get enough food [and] when I was pretty malnourished, that's when I really started getting injuries," Woods said. "I never had shin problems until I wasn't eating enough."
However, Woods believes that her coaches at West have had a positive impact on athletes' nutrition by promoting healthy eating habits and the importance of a balanced diet.
"[My coach] did a really good job promoting just getting a lot of fuel and food … making sure he doesn't ever pressure us to eat too little," said Woods. "[They] also had a dietitian come talk to us about food … so I'm just glad that they're smart about it."