Through wins and losses, practices and competitions, coaches are there with the team through it all. Loussaert believes that maintaining an understanding and positive relationship between players and coaches is vital in establishing a successful team environment. 
"The coach has the ability to determine the success of the team," Loussaert said. "I think it's really important for coaches to establish open communication with injuries and mental health."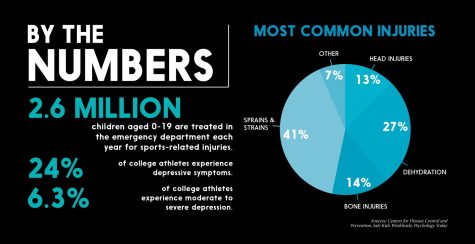 Nock agrees that coaches have a major impact on helping athletes stay engaged in their sport and creating a positive team environment. 
"If you can't keep your athletes in love with the sport and working hard, you're never going to win," Nock said. 
Finding ways to connect with his teammates off the field has helped Houston cultivate a positive team culture.
"We do a really good job of just talking with each other and catching up on our lives," Houston said. "It's all about that system you have in place with your team and making sure you're like a close-knit family." 
To facilitate a healthy team environment, Hartwig recognizes that football only accounts for one aspect of athletes' lives.
"We forget we are dealing with young athletes who have a life outside of our sport," Hartwig said. "I often have to remind myself that football is only part of a students' day, and it is not the most important part to many."
While winning is satisfying, Villarini believes sports have the ability to teach important lessons, and coaches play a vital role in doing so.
"It's more than winning. Sports can teach us a lot about life, [its] struggles and how to cope and deal with pressure," Villarini said. "I think the ultimate goal of coaches is to teach life lessons and to teach [athletes] how to cope with pressure, success and failures."
 One of these lessons that Nock has learned as an athlete is to maintain a healthy balance between all parts of her life. 
"We are people before we are students, and we're students before athletes," Nock said. "We're all trying to balance everything going on in our lives, and if we can't give 100% every single day, it's not a cause to bring us down."