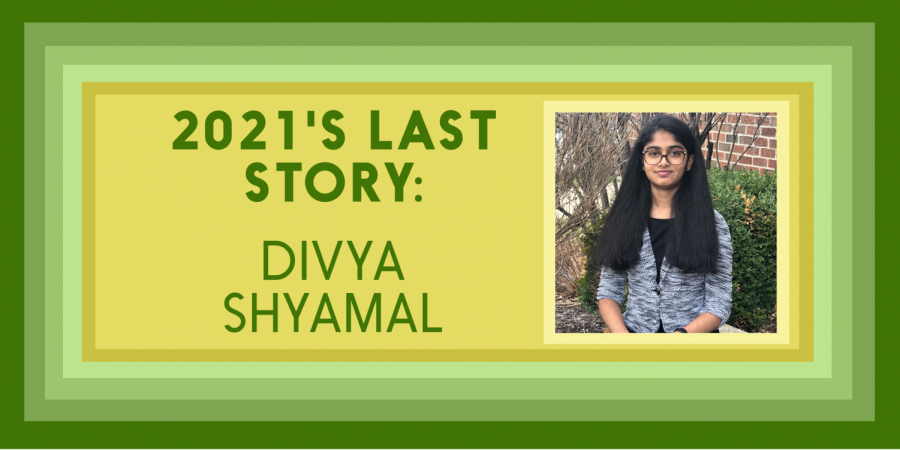 Alex Carlon
2021's Last Story is WSS' senior profile series. To view all installments in the series, click here. 
Strolling into the room at the prestigious Massachusetts Institute of Technology, she takes a quick look around. The best and brightest mathematicians in the country have all arrived for the annual Math Prize for Girls. Taking a deep breath, she continues with poise and presents her answers confidently. Little did she know, just a few hours later, she would place 16th in the nation.
Divya Shyamal '21's math career began in sixth grade when she took geometry at Northwest Junior High. As one of the youngest students in the class, she was encouraged to join the math club by her teacher, Mark Norton. Through countless competitions with Math Counts, she worked on her problem-solving skills and critical thinking using her math prowess.
In addition, Shyamal took this time to get to know those around her. "It was more than just math: it was a social activity too, and Mr. Norton made math club fun. Another perk of math was that I got to meet a lot of people through it," she said.
Shyamal has competed in countless competitions since, often placing in the top ranks in competitive categories. She expressed the American Regions Mathematics League competition as one of her fondest memories from her time at West. In the two-day event held by the University of Iowa, she met new students from all over the Midwest and bonded over shared experiences.
However, it has not all been a smooth journey for Shyamal. She has also faced her share of unsatisfying results in these competitions.
"I would dwell on my poor performances for days to come, agonizing over mistakes I had made. However, it gradually began to dawn on me that while my efforts in the immediacy of competition appeared to be in vain, they were far from fruitless," Shyamal stated.
After a while, she began to focus on the satisfaction of solving challenging problems. More importantly, she started to share her love for math with younger students through the Iowa City Math Circle, an organization she co-founded.
"I went on to flourish in other math competitions – the awareness that success did not have to be defined by results had set me free from the fear I had held in the past. My focus now is on the effort I put in and the joy I gain from doing so."
Currently an online student, she is taking AP Psychology, AP English and orchestra while also taking intermediate mechanics, functional algorithms and logic in computer science at the University of Iowa. She always makes sure to end her day playing table tennis with her twin brother, Ananth Shyamal '21. Furthermore, she enjoys biking with her family and playing basketball with Ananth, jokingly expressing that her height makes playing quite uncompetitive. Outside the world of academics, Shyamal is a violin player, having taken lessons for 13 years and participated in the All-State music festival earlier this school year.
After graduation this June, Shyamal will be attending MIT with an intent to major in computer science.
"One thing I'm excited about is living in a big city. I've lived in Coralville for most of my life and I know it will be a big change, so I'm excited," Shyamal said. "I've been pretty reserved during high school, so I'm excited to start putting myself out there in college. Having unique experiences, challenging myself intellectually, meeting new people – I'm looking forward to it all."
The future shines bright for Shyamal as she plans to utilize her knowledge of math and computer science to bring solutions to real-world problems. "With the availability of new sources of data, areas such as artificial intelligence have the potential to offer solutions that can greatly impact many areas, including healthcare," said Shyamal. "Outside of my career, I want to join outreach efforts to share the joy of math with K-12 students, be it as a volunteer math coach in schools or through efforts similar to my co-founding of the Iowa City Math Circle. Having enjoyed being part of the Iowa City music community, I hope to continue my involvement in music by participating in community orchestras as a violinist."