Sporting benefits
September 28, 2021
A large and diverse school such as West High can initially intimidate almost any student, so a sense of belonging is necessary for individuals to feel comfortable at school. Learning English while adjusting to West only exacerbates this challenge. Athletics offer a welcoming place for those who participate, including many ELL students. Soccer helped former ELL student Ben Nkolobise '22 find a place in the West High community.
"Playing sport made me actually connect with people," Nkolobise said. "When I joined sports, I started to make new friends. People started knowing me." 
Similarly, joining track opened social doors for Hebah War '23. The sport allowed her to branch out and make new friends even beyond West's boundaries.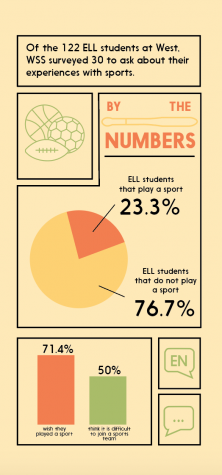 "I make a lot of new friends. Every time we go to a track meet, I like talking to the people there and getting to know what they like doing," War said. "It just makes me feel like I'm out there and making new friends." 
ELL student Juan Martinez '22 looks forward to also meeting new people, as he plans to participate in West athletics and play soccer for the first time this spring. 
"I'm excited to meet new people and just build a community with people," Martinez said.
When ELL students actively participate in sports, ELL teacher Jessica St. John notices an improvement in student behavior and mood due to team interactions on their sports teams. 
"They have a sense of belonging; they've met friends outside of the ELL program and their demographic," St. John said. "They [feel] they're a part of the West High family."
Matt Harding teaches physics and ELL science at West in addition to being a soccer coach. He recognizes the importance of extracurriculars in fostering a sense of place for ELL students. 
"Whatever extra activities they can participate in … really help with that sense of belonging," Harding said. 
Additionally, being on a team fully immerses ELL students in an English-speaking environment, pushing them to improve language skills through communication.
"It's a great thing to motivate them to get out of their comfort zone a little bit, turn on language and really have to practice English," Harding said. 
According to the 2014 ICCSD ELL program analysis report, 63% of the 283 ELL students surveyed said that talking with a partner in English improved their language skills the most. This is reflected in St. John's classroom. 
"Students are more talkative [during the sports season], and depending on their English level, that might be huge. They just have a lot of confidence, and honestly, they're just overall happier," St. John said. 
St. John's perspective stems from real athletes' experiences. Nkolobise felt improvement firsthand while playing soccer and communicating with more people. 
"When I was around people, I was learning new words and making friends. [Playing sports] really helped," Nkolobise said.
War believes that improvement in language learning is one of the most beneficial parts of playing a sport. She encourages her ELL classmates to join for this reason. 
"I know speaking English for some people is really hard, but talking to people and making new friends helps. It makes [students] feel comfortable around people [while] practicing English," War said.