The BSU leaders, including Co-President Maria Kazembe '22, stress its necessity at West High. 
"I felt that a lot of us felt like we had no control or no power, and so by establishing the BSU, we were like, 'Okay, well, obviously, we can't rely on the people to give us power, so we're going to empower ourselves,'" Kazembe said.
After a video of a student making threatening, racist remarks surfaced on social media, West High administration held a meeting in the Little Theatre the following Monday, Nov. 8,  to provide a "safe space to discuss and process the harm this has caused," according to a schoolwide email sent out the Sunday before. However, for students like Rawan Babiker '25, the meeting was not enough.
"It got to a point where people had to physically show their anger and how frustrated they were and take matters into their own hands," Babiker said.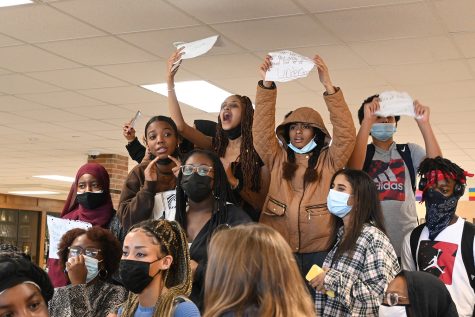 After Co-President Elgaali initiated the poster-making and protesting, the group grew. With posters ready, they began marching around the school, shouting "Black Lives Matter" and calling for justice. The group of students continued to grow as they marched through the school, went to the front lawn and made their way to the cafeteria during A Lunch. They used lunch tables as their stage and made their voices heard. BSU's Athletic Affairs Advisor Talyia Ochola '22 describes how she felt throughout the march.
"It was empowering, walking around and knowing that people had to be hearing us. Even if they were ignoring us, they had to [hear us] because we were all right there," Ochola said. "[People] could no longer say, 'We didn't know what's happening. We don't know what's going on. You guys aren't actually being targeted or anything,' when we all get together and show how many people are actually affected and hurt by these things."
After gathering in the cafeteria, the protesters met in the Little Theatre again for B Lunch. The congregation of Black students in the school for the protest created a sense of unity that Kariuki, Social Media Coordinator of the BSU, had not experienced before.
"That was like the first time I actually felt unified in this school because I've never really felt connected … to other students," Kariuki said. "I was just really proud of us." 
After the protests, members of the ICCSD Equity Board met with the students in the Little Theatre to listen to their experiences. Hearing these testimonies made the soon-to-be BSU leaders realize there was more to be done. Kazembe brought up the idea of reforming the BSU, and she and Elgaali, along with Kariuki and Ochola, united to take action.
"I guess we were all just filled with emotion. We actually realized things need to change at that moment and the only way that it's going to change is if we continue to do things like protest and use our voice, and we can't just leave it up to the administration and going to our teachers," Kariuki said. "We have to do something ourselves as a student-led organization." 
Throughout the day, some students viewed the protest in a negative light. Fights broke out that afternoon, leading to rumors linking them to the protest. However, these conflicts were unrelated to the protest.
"None of us were violent, and I think that sometimes, yes, it was a little bit disruptive, but has our learning not also been disrupted?" Kazembe said. "Through threats in the hallways, online — it doesn't matter where Black students go, we are always just being threatened."
Shortly after the first November protest, the four leaders took their work and ideas and met with the West High administration. They laid out expectations regarding meetings and communication with administrators and connected with other community members, such as the Northwest Junior High BSU adviser, Taylor Scudder.