After the video surfaced and the protest occurred, it was difficult for some to return to the mindset needed for classes due to their mental well-being and discomfort around certain teachers and students. Kariuki feels teachers were more focused on the fact that students had missed their classes than supporting students' efforts and checking in on their mental health.
"Sometimes you have to put school as a second priority, and coming back to school where teachers are not supportive and they're just kind of taking it personally really does make it harder for us to do things that we need to do," Kariuki said. "Teachers offering that space and letting you know that they're on your side and just also respecting boundaries — that would really help."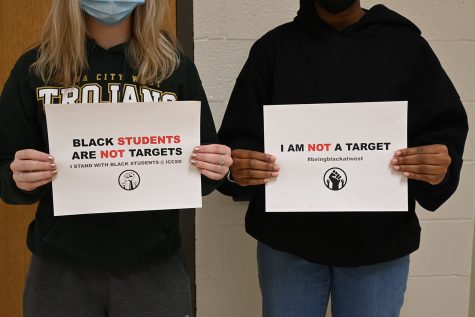 Some of the best ways the leaders believe teachers can support their Black students and show that their classroom is a safe space is to show solidarity by putting up the "Black students are not targets" signs or the sign on the inside cover of this issue on their classroom door. The BSU leaders believe teachers should reach out to Black students and be understanding when students miss classes for protests. Kariuki also hopes they will not fall into the mindset that protests of this nature are excessive or of disturbance.  
"When I hear that [teachers are] just saying it's a disruption, they're really just skimming the surface of everything, and they're not even digging deeper to what we're saying," Kariuki said. "It kind of just seems like they're purposely ignoring us."
The leaders also encourage teachers to share information directly or open a space for BSU members to talk about upcoming protests and meetings. Sharing information and spreading the message of the BSU is something that not only teachers can do but so can students. The leaders encourage raising awareness and promoting the BSU by following their social media account on Instagram, @icwestbsu, and sharing their posts. Anyone can be involved in the movement regardless of race, and allies are appreciated. Babiker emphasizes the importance of not letting racism slip by, especially in the presence of peers.
"Check your friends as a white ally," Babiker said. "You have to check your friends and tell them it's not okay to say racist stuff [including] stereotypes [and] colorism … don't let them get away with it." 
Along with actively standing up against racism, Kazembe feels that just checking in on Black friends, especially in the light of recent racist events, can go a long way.
"I think it'd be really good for everybody to check in on their Black friends because our mental health has not been considered in the past," Kazembe said. "It shows a lot of your character if you're gonna reach out to individuals who have been hurting." 
One of the biggest goals of the BSU is changing the social culture surrounding race in school, the tolerance of racism by individuals, and the internal biases that some staff members have. A big part of this, Kariuki describes, is better equipping teachers with more knowledge regarding race.
"Part of it too is implementing teacher training and racial sensitivity and just learning about that, which they already have, but it isn't enforced well enough, which is why there are still problems," Kariuki said.
Head recognizes that a big part of creating change will be in training and creating culturally responsive educators, which has been something the administration had been working on before the protests. However, an obstacle to this is Iowa Law HF-802, which prevents staff from receiving certain implicit bias training they have had in the past.
Another of Ochola's goals for the BSU is to implement more definitive and specific disciplinary actions for racism. Just like if a student uses their phone three times in class, it gets taken away, there should be a standard set of consequences for each incident of racism. She hopes this will help secure a more safe school environment.
According to Gross, the school follows certain disciplinary actions based on a handbook entitled "Disciplinary Protocols and Procedures," which contains instructions and consequences based on the issue. 
"We're a serious organization and we want to take action. I want to see action taken, and we want to make sure that all schools, not only West High, are actually a safe place for Black students, and it actually does promote equality and doesn't stand for racism," Ochola said.
One of the ways the BSU is working to ensure that West High is a safe and receptive environment for Black students is by working with other schools in the area. The BSU leaders hope to inspire other Black students beyond West High and across the district to start or continue their own BSU. They have gone to Northwest Junior High to connect with the Black students and their BSU as well as Liberty High and City High to help them start or restart their own BSU. They are also working to connect their BSU members to older role models which they can draw their own inspiration from, like students attending Historically Black Colleges and Universities.
"We kind of just thought of it as a large scope of just doing stuff for racial injustice for Black people everywhere and for future generations that are gonna come to West," Kariuki said. "It further inspires us to keep doing what we're doing."
Elgaali is passionate about the work the BSU is doing and emphasizes how important the community has been for her.
"The BSU means the world to me," Elgaali said. "I feel like with the BSU I have been able to help and reach out to the most students I've ever been able to throughout my high school career."
Looking towards the future, Kazembe is determined that the BSU will always be present to provide Black students a platform to speak and not be judged for who they are and the experiences that they've had.
"I want them to know that we are 100% here for them. This is not a show. This is gonna be here tomorrow. It's gonna be here the next day. It's gonna be here in a month, next year, we're still going to be here," Kazembe said. "We are here to make change, and we're not going to stop until we get that change."