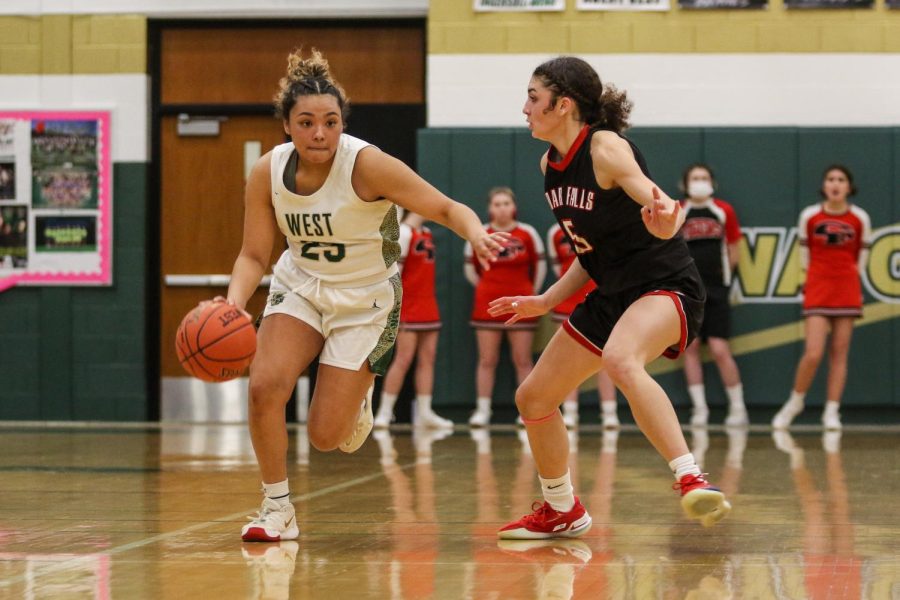 Owen Aanestad
BJ Mayer and the girls basketball team had a chance to do what they do best on Feb. 19 against Cedar Falls: win in the postseason. The Trojans faced off with the Tigers in the Class 5A Region 8 semifinal in hopes of advancing to the regional finals next Tuesday.
Meena Tate '22 started the Trojans off with a layup in the first minute of the first quarter. It took the Tigers nearly three minutes to score. Cedar Falls puts in a three-pointer with 4:22 left in the first quarter to take the lead 2-5. Lucy Wolf '24 made a corner three to tie the game 5-5. Cedar Falls responded with a three-pointer to make the score 5-8 with 3:13 left in the first quarter. Wolf made another three-pointer to reclaim the lead 10-8 to end the first quarter. In the second quarter, Tate drove through traffic to score two for the Trojans, making the score 12-8 West. The Trojans and Tigers went back and forth throughout the quarter, after yet another Wolf's three-pointer, Cedar Fall's Mya Crawford '25 tied the game to 15 with 4:24 left in the opening half. The first half ended with a floater from sophomore Melae' Lacy to make the score 17-22 going into halftime.
Fouls on Tate put her on the free-throw line multiple times during the third quarter. Tate successfully made all her free throws to tie the game 25-25 with 4:30 left in the third quarter. Tate connected with Wolf for a two-pointer 28-29 Cedar Falls. Wolf connected from beyond the arc to retake the lead. The Trojans led the Tigers 31-29 at the end of the third quarter. In the fourth quarter, Ono-Fullard found Tate in the paint to make it 33-30 West. Head Coach B.J Mayer called a timeout to regroup the team during the intense quarter. West then gained momentum late in the final quarter to widen the score gap between Cedar Falls. Tate scored to put two more points up on the scoreboard for the Trojans with 5:15 left in the final quarter 37-30 West. On the defensive side, Lacy had two major blocks, but the Tigers were able to put in a layup to make the score 37-32 West. Anna Prouty '23 took the rebound and turned the score to 41-32 with 2:44 left in the game. After another timeout, Tate scored four more points to extend the lead to 45-32 West. Ono-Fullard made her free throw with 1:02 left in the game to secure the Trojans' win against Cedar Falls 47-32.
The girls basketball team will travel to West Des Moines Valley next Tuesday for the regional final game.