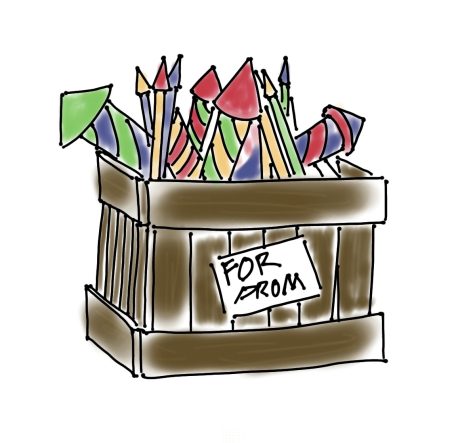 Thinking about asking your crush to prom this year? Many upperclassmen have foregone the traditional pun-filled poster promposal for more elaborate measures. From streaking at a golf meet at Finkbine Golf Course to flying a plane over the courtyard to spell "Prom?" in a trail of smoke, it seems like a classic poster is no longer enough to guarantee a date to West High Prom.
"Listen, I get it — prom is one of the biggest nights of the year for juniors and seniors, and honestly, I think students should make the most of it," said Principal Mitch Gross. "However, I think things have gotten a bit out of hand when we're paying thousands of dollars to fix the front entrance after someone's promposal."
Last week, a student (who asked to remain anonymous) set up a fireworks display on the front lawn to ask someone out to prom during lunch. In a horrible turn of events, the explosives misfired, spiraling out of control and crashing into the "Welcome to West High" sign on the spiral staircase. 
"Students, it doesn't matter who you go with so much as how you make the most of your time," Gross said. "And for the sake of all that is good, please don't destroy our campus just to get a date."