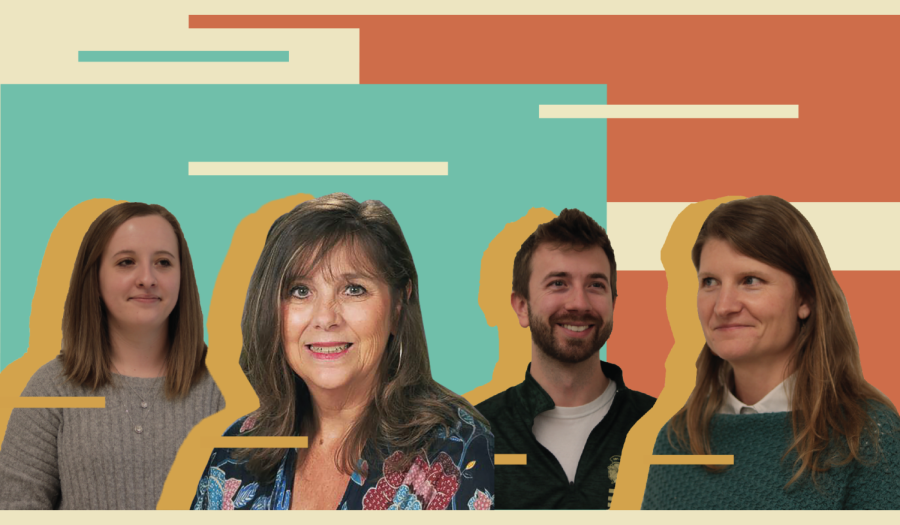 Grace Huang
West High's tradition of excellence spans over five decades, with hundreds of students coming and leaving, and hundreds of teachers departing and staying. It is no wonder that some teachers might have already crossed paths before becoming colleagues. 
The relationship between a teacher and a student can be life-changing. Sometimes, that relatively brief interaction plays a major role in the future ahead. This holds true in the business department for teachers Diane Fickel and Emily Hudachek.  
Coming to West as a freshman in 2012, Hudachek already had a sense of who her favorite teacher would be. 
"My sister … went to West High, and she always told me when I got to West, 'You need to go find Mrs. Fickel because she is the best teacher'," Hudachek said. "I already was walking in thinking, 'Oh my goodness, I gotta make a really great first impression myself. This is a top-tier teacher.'"
Hudachek quickly formed a bond with Fickel and the environment of her classroom due to Fickel's welcoming personality.
"I walked in, and I was kind of expecting business, super strict and rigid, but [Fickel] was so welcoming," Hudachek said. "You felt like she valued having each and every student in the classroom."
At the beginning, Fickel saw Hudachek as an introverted, hard-working student. "I noticed right away that she was a very engaging student," Fickel said. "And I noticed that she seemed very studious and very driven by academics. I also noticed right away that she was loving accounting." 
Hudachek's love for accounting prompted Fickel to invite her to join the business club.
"That was hard for her because she stepped out of her comfort zone to be in that club. But I think her trust in my recommendation helped her take that step," Fickel said. 
Hudachek spent her high school years as an avid student and teaching assistant in Fickel's classroom, taking various business-related classes such as Introduction to Business, Accounting and Professional Pathways. Despite all of this experience, Hudachek had doubts about her true career passions in the field of business. A key influence in her decision to switch to education was none other than Fickel. 
"I just remember sitting down in her office [and] having a heart-to-heart [conversation]," Hudachek said. "That kind of changed my life — that 30-minute conversation we had."
Fickel believed that Hudachek would be a good business teacher because of her characteristics and skills. 
"She's professional. She's very organized. Even as a student, she was coachable and I knew when you have a teaching role, you have to be willing to learn," Fickel said. 
Fickel suggested that Hudachek go into business teaching, which Hudachek pursued for the next four years in college. After that discussion, Hudachek was ready to step into her own path through Fickel's advice.
"She was like a daughter to me. I love her to this day like a daughter. And so we cried and cried and cried when she left," Fickel said. "And I said, 'You know what, Emily? I think someday we're gonna be together again.'"
Little did they know how quickly they would reunite soon. Upon Hudachek's graduation from college, Fickel notified her of a job opening at West. 
"She's the reason why I'm at West," Hudachek said. "[Fickel] goes, 'You need to interview here at West,' so she's the one who first let me know about it. I went through the application process, and that's kind of how I landed here."
From having a student-teacher relationship to becoming colleagues in the same department, Hudachek feels her relationship with Fickel has positively changed.
"Our relationship has just continued to evolve. I consider her still a teacher. She will always in my heart be my favorite teacher I've had, but it turns into colleagues and friends. I consider her a member of my family now," Hudachek said.
Fickel's friendship helped Hudachek adapt as a new teacher in the district. From lesson-planning to casual conversation, Hudachek frequently finds herself in Fickel's classroom. 
"Coming into West that first year, I would use my prep periods to go observe some of Mrs. Fickel's classes just so I could see what she was doing with classes that I would be teaching later on in my career," Hudachek said. "I've really tried to kind of adapt my lessons and adapt my teaching style to be more fluid, flexible, [have] more room for discussion and [be more] project-based. And I do attribute that to mirroring a little bit of [Fickel's] teaching style while also coming through with some of mine." 
Similar to the pair in the business department, the science department also has a group of teachers who share a bond. Biology teacher Andrea Harms and physics teacher Matt Harding, previously had a teacher-student relationship with another science teacher, Marshal Moellers.
"[Moellers] was a very inquisitive kid, and also very concerned about doing exactly everything the right way. He seemed kind of nervous and shy sometimes," Harms said. 
During Moellers' high school years, his true passion was in physics. "I continued to keep in touch with him as he was an upperclassman, and I remember he was super into physics," Harms said. "At that time, he was like, 'I want to be a physics teacher.'"
Moellers remembers his experience in biology similarly. "I think [it's] just my lack of knowledge of biology. I didn't really feel comfortable enough with the material that I could hardly say anything. I don't think that I was as outspoken in [Harms's] class as I was in Harding's class," Moellers said.
When Moellers took a physics course with Harding in his senior year, his personality began to shine. "[Moellers] was funny but he did so in a respectful way … if you got room for a comment, it was usually going to be kind of clever," Harding said. "[He was a] good student, a really, really good student."
In addition to Moellers' humorous personality within the walls of Harding's classroom, physics was also one of his academic strengths.
"I should have, in retrospect, been aware that he really was into [physics], because he … did remarkably well in terms of his ability to take in the materials," Harding said.
At a certain point, Moellers had considered teaching as a career, specifically as a math teacher. However, Harding was the key for him to decide that he wanted to become a physics teacher.
"[Harding] was actually a huge inspiration for why I became a teacher. Seeing how much fun he had teaching up at the front of the classroom, I was just in awe of everything that he was able to do. [He was] obviously a very knowledgeable teacher, but then just very fun, charismatic. [He] cared about his students, cared about what they knew for a subject as challenging as physics," Moellers said.
Moellers graduated from the University of Iowa and became a teacher at Davenport North High School; however, he was only able to teach earth and space science and not physics which proved to be a setback. When Mitch Gross informed Moellers there was an opening to teach both physics and earth and space science at West, he ended up taking it. 
"It always blows my mind when kids go into science," Harding said. "It was really a thrill when that vacancy came available that we would be able to potentially hire him."
Despite having a close relationship with Moellers in high school, Harding still worries about lingering formality in teaching as colleagues.
"I think it's still a little bit of a challenge and I feel bad about it. I'm cool with him pushing back on stuff, but I think there's some hesitation because [he's] still, 'this is my teacher'," Harding said. "I don't want him just doing something because it's how I did it or how I think it could be done. I want him to make it."
In Moellers' first years teaching at West, he had frequent interactions with Harding due to the proximity of their rooms and a new physics curriculum.
"[Moellers] would come in and observe periodically just to see how I was doing things because there was a pretty dramatic shift in how I taught physics that happened between when he graduated and when he came back as a teacher," Harding said. "What was really impressive [was that] he was really brave in tackling teaching physics with a new approach that he hadn't experienced before."
Harding and Moellers share a treasured bond through their common character traits. "It was great when we could interact on a daily basis [and] having somebody that has the same sense of humor and that sort of thing," Harding said. "We were really tight that first year."
Harding hopes to continue collaborating with Moellers in the future through a shared general physics class. 
"I don't teach general physics this year, [but] maybe I will again next year, so it'll be collaborative. He and Mr. Bushkofsky have learned some things this year, so I'll try to take on board some things that they've discovered from doing things a little bit differently," Harding said. "I think, in addition to our personalities working well together, our understanding of how science class should be taught is very compatible as well."
Overtime, their bond has only strengthened. "I felt like our friendships got that much better and that much stronger as a result of me being their colleague now," Moellers said. 
To both Moellers and Hudachek, Harding and Fickel became mentors and inspirations.   
"A big inspiration to come back [to West] for sure would have been Harding because he wrote me a letter of recommendation to the University of Iowa," Moellers said. "So he was really helping me along the way. He was a mentor to me while I was here in school, and a mentor even beyond."