Through her singing and enthusiasm to meet new people, those who know Pammie recognize that she takes pride in who she is. Her Mexican culture and family have played large roles in forming her identity, including her name.
"I go by Pammie and sometimes Pam," Pammie said. "My grandma made it up that sometimes I get called 'P'. Sometimes my mom would call me Pame. That's the Spanish way of saying my name."
In Mexican culture, it is often believed that "what God has united cannot be separated by man." In relation to this, Mexican families are generally very close.
Alex Garcia has been a paraeducator at West for 12 years and worked with Pammie for the past two. She observes the different ways in which family plays a role in Pammie's life.
"In Mexican culture, family is very important, and it is reflected in Pammie [in] the way she's shaped [and] how united her family is," Garcia said.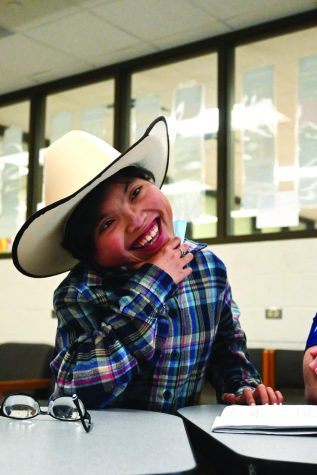 When she was born, doctors told Pammie's parents she wouldn't live to her first birthday. She was born with multiple health conditions, including a dislocated hip, scoliosis, cataracts, heart problems and a weak immune system. Due to this, she has had to undergo many procedures and recoveries in the hospital. Throughout her life, family has taught Pammie strength. Her mom provided encouragement during her time in the hospital and continues to guide her through life.
"I don't think I would've gotten far if it hadn't been for my mom, who did everything for me. [She] supported me when I was in the hospital and had to teach me how to talk because I didn't talk at first and [didn't start] talking until speech therapy. And they told her that she needed to read to me and sing to me," Pammie said. " I feel really grateful that I've gotten this far because my mom helped me so much."
Patricia Rodríguez, Pammie's mom, has been her main caretaker for most of Pammie's life. Patricia believes that resilience and faith were necessary to get through the tough times.
"She believes we [helped her overcome challenges]. But when she was born, with so many health difficulties and so much need for medical assistance, there was no other way. We had to be strong for her and try our best as parents and trust what the doctor was saying," Patricia said.
Pammie's family extends beyond blood relations. When Patricia first moved to the U.S. from Mexico, she met Wayne and Jackie Johnson — an American couple. Patricia asked the two if she could live in their basement as she searched for an apartment. The Johnsons welcomed her with open arms and offered Pammie the same love when she was born.
"When Pammie was born, they started to call her granddaughter. Grandpa Wayne Johnson was the one that was taking me to the pregnancy appointments because I didn't know any English. He learned Spanish and was my interpreter," Patricia said. "Since they showed us all of their love and let us stay at their house, we just became family."
Pammie calls the Johnsons her "grandparents" and visits them after school and over the weekends as they help take care of her. She cherishes the many memories she has with them.
"My favorite memory [with my grandparents] is probably playing hide-and-go-seek around the house because we used to do that a lot. And [my grandpa] also made me laugh when I was younger; he would chase me around their house," Pammie said.
Another core memory in Pammie's life was her 15th birthday. She celebrated with a quinceañera, a special gathering that marks an important milestone in a girl's life with cultural roots in Mexico, Latin America and the Caribbean.
"My quinceañera was really special. Everybody — my friends, my family and some of my relatives — came over. In Mexican culture, there's always a mass before the celebration where the Father gives you a blessing to congratulate you and your 15 years of life," Pammie said.
Surrounded by her family, including her parents and two younger siblings, James and Quetci, Pammie says her quinceañera was one of the happiest, most unforgettable moments in her life.
"Now that I'm 16, it was like a miracle to my family, so they made [my quinceañera] extra special," Pammie said. "I felt proud of myself for sticking up and proving to the doctors what I could actually do rather than what they thought I could do."
As Pammie continues to grow older, she follows her passions and shares her love of music, a big part of Mexican culture.
"I listened to mostly Mexican music because that's what my parents [would] listen to. When I was in elementary school, they had talent shows. I would try out for that every year, and that's kind of how I started," Pammie said. "My culture really played into [my] love for music."