Boys
Bergman's boys are back. The boys' basketball team is back in full swing preparing for their 2022-2023 season. Along with practice every day after school, the team is also learning how to adjust to the season after losing many vital seniors. 
Leadership
After losing important players like power forward Pete Moe and point guard Christian Barnes, the boys are trying to find their footing with new leadership.

"
We miss them and their talents but we have a strong young core coming back this year with lots of scoring power."
— Jacob Koch
"I know I need to be seen more on rebounding so I have been working on that to be more successful," said Koch.
With losing players there are always worries that the team dynamic will change and not be as successful as it was in previous years. " I am not worried about that because I think we are working hard on being together and working together." Soumaila Sanogo said. 
The boys are working hard to fill those gaps in their roster and start the season off as strong.
Changes
The team isn't looking to make any huge changes this year but one main thing they are focusing on is making sure the team is together on the court, "We are looking at running a few new things on offense like most years and we will need to add a few things due to the addition of the shot clock," head coach Steve Bergman explained. 
  The team is hoping that if they work together on and off the court they will get the results that they are hoping for. 
"We have several upperclassmen with good experience. They need to provide leadership," said Bergman.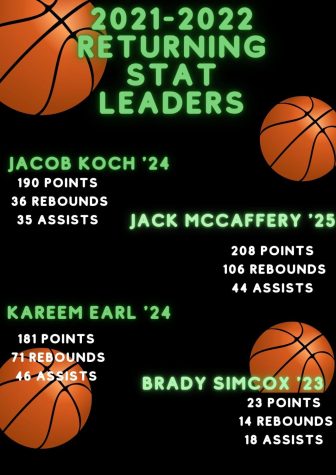 Roster
"I'm excited to watch how our three juniors and our sophomore Jack [McCaffery] work together with all of the high expectations, especially with some of our guys being ranked," explained Koch.
Juniors Taeveon Stevens, Kareem Earl and Jacob Koch are looking to make a difference on the court and step up this season. They also have sophomore Jack Mccaffery who is ranked 51st in the nation for small forwards in the class of 2025. 
But for West, it isn't all about who is going to be playing the most minutes on the court. Although there are many returning varsity players that will be seeing a lot of playing time, Bergman and the rest of the boys' coaching squad are excited to see some of the new names on the varsity roster.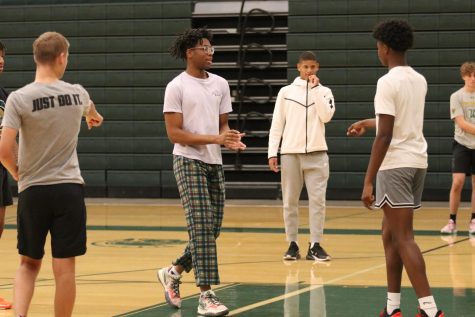 "We have a few new guys that we are hoping can contribute. TaeVeon Stevens '24, Julian (JuJu) Manson '26, Aidan Jacobson '24, Canaan Barnes '24 and Mason Woods '25 are some newcomers," said Bergman. 
 Goals
Koch explained the boys' preseason schedule in preparation for a successful year and hopefully a run at the state tournament.
"We have had lots of open gyms and/or practices with the west team and we have scrimmaged other high schools so we have all the basics down for when our coaches take over. Some of our main guys also play AAU (American Athletic Union) during the summer to keep their skills fresh," said Koch. 
With preparations in place, the boys are looking forward to the season ahead. 
"I am excited to see everybody on the team I'm excited to see all my brothers because we have all been working for this. It's time that we show people we can win," said Sanogo.
Koch echoed that statement, "Our goals are to improve from last season and make it to the state tournament and see what happens from there."
Catch the Trojans in a girls-boys doubleheader at Clear Creek Amana Highschool on November 29th.