Rize up
One of West High's newest staff members, Erik Nelson, shares his main hopes for his impact on the student body.
There is one key thing that newly joined school facilitator Erik Nelson loves about the environment at West High: the diversity.
"Not just in looks, but the things the staff does beyond their job. Staff here are like superheroes, not only do they do what their job title is, but a lot of them do certain things outside of their job that make them very interesting," Nelson said. 
By his own standards, Nelson would fall under the "superhero" category. Outside of West High, Nelson has spent 20 years pursuing his dream of becoming a hip-hop artist. His dream started when he was in college, inspired by old-school rappers such as Tupac and a cousin of his. 
"I had a female cousin who was rapping, I would find her raps and then copy them and put my own little twist on them. That started in high school [or] college. Maybe I should've been paying attention (in class), but I would be writing rhymes about my daily life," Nelson said.
Eventually, Nelson released his first album when he was 29. The album showcased 11 years of dreaming finally coming to fruition with a compilation of 20 songs. Although Nelson has moved away from his original style of rap to gospel and inspirational rap, that first album still holds a special place in his heart.
"I like the music that I make now because it's inspirational. And I don't use profanity, I used to use profanity. My first CD that I ever came out with was a milestone for me and I still look at it as a child, a baby of mine. It was just a thought, then it became reality," Nelson said. "It wasn't like I had made it big, but it was just the fact that I did that and put my mind to it."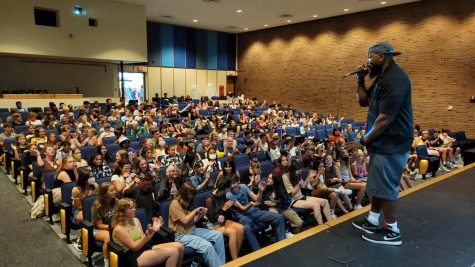 Making it big had been a part of Nelson's original dream of becoming a musician, but now producing music mainly serves as a stress reliever for him. He still performs his music at churches, schools and occasionally bars such as Gabe's in downtown Iowa City. 
"Gabe's was actually the first place I performed on stage, so it has a special place in my heart. I really didn't know how long the song could go on, I was just up there to rap until I was out of breath. I remember it like it was yesterday," Nelson said.
When Nelson wasn't rapping, he was playing football at the division one level. He played for the University of Nebraska for two years before transferring to the University of Northern Iowa for the remainder of his college career. When Nelson was at the University of Nebraska, his team won a national championship. 
"It was hard my first year at Nebraska because they were so good. It was just a major jump from high school to college. In those two years, we went undefeated. The hardest people we played against were ourselves in practice," Nelson said. 
The switch from Nebraska to Northern Iowa was also a tough transition for Nelson. 
"Nebraska was a bigger college and we had a lot of fame. Northern Iowa was a college where everyone goes home on the weekends or to Iowa State or the University of Iowa. There just wasn't a lot going on," Nelson said.
Nelson didn't major in education but worked in elementary schools starting as far back as high school. 
"I would work at Hoover elementary during my lunch break. I would work in the cafeteria during lunchtime then I would help out in P.E. classes. Even though I had some third graders that were rough around the edges, I liked it a lot," Nelson said. 
After college, Nelson worked various jobs but predominantly worked in schools. 
"I became a paraeducator, I worked at junior high schools, I worked at Four Oaks. I ended up doing work in after school programs. I became the director of the before and after school program at Alexander Elementary in 2017. I found that the older I get, the youth keeps me younger. I've always had a passion to work with youth because I know they're the future," Nelson said. 
Nelson also shared the impact that he wants to have on West High in his new position. 
"
I always say, 'Rise up' no matter what. It's basically being the best you can be no matter what"
— Erik Nelson
"I want students to be proud they go to West High. I want to add to the pot. I think I can add fun, I think I can add a twist. I have a thing where I always say, 'Rise up' no matter what. It's basically being the best you can be no matter what," Nelson said. "Get ready, because we are going to become better than what we are right now."
Leave a Comment
Donate to West Side Story
Your donation will support the student journalists of West High School. Your contribution will allow us to purchase Scholarship Yearbooks, newsroom equipment and cover our annual website hosting costs.
About the Contributors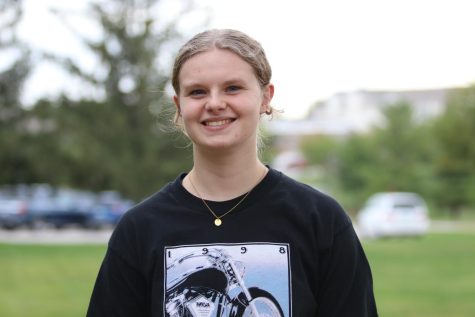 Laney Prelle, Profiles Editor
(she/her) Laney Prelle is a senior at West High and this is her fourth year on staff. She is the online profiles editor and her hobbies outside of writing...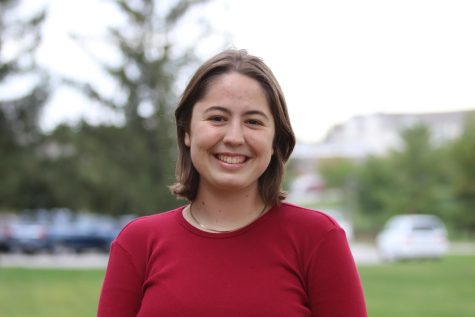 Audrey Parrish, Copy Editor
(she/her) Audrey is a senior and has been on the West Side Story staff for 3 years. She is the Copy Editor for the WSS website this year. For fun, she...