Beminio at West
November 4, 2016
While at West, Beminio was a member of the 1995 state championship football team, all-state football player and an individual wrestling state champion.  He also worked at the Coralville Hy-Vee, where he met current athletic office secretary Lyn Prelle.
"We just became friends and hit it off. He was just the nicest guy to everybody," she said. "He was a big presence but had such a gentle way about him. He was huge walking around the hallways, but he would say 'Hi' to everybody. He always had a friendly smile."
Beminio was on the 1995 homecoming court, winning most athletic, and in his senior year committed to the University of Northern Iowa for football.
For his senior future in the annual West Side Story, Beminio wrote, "I plan on attending UNI. I'd like to receive a good education and be an All-American football player. I also plan on watching West win another state title next year."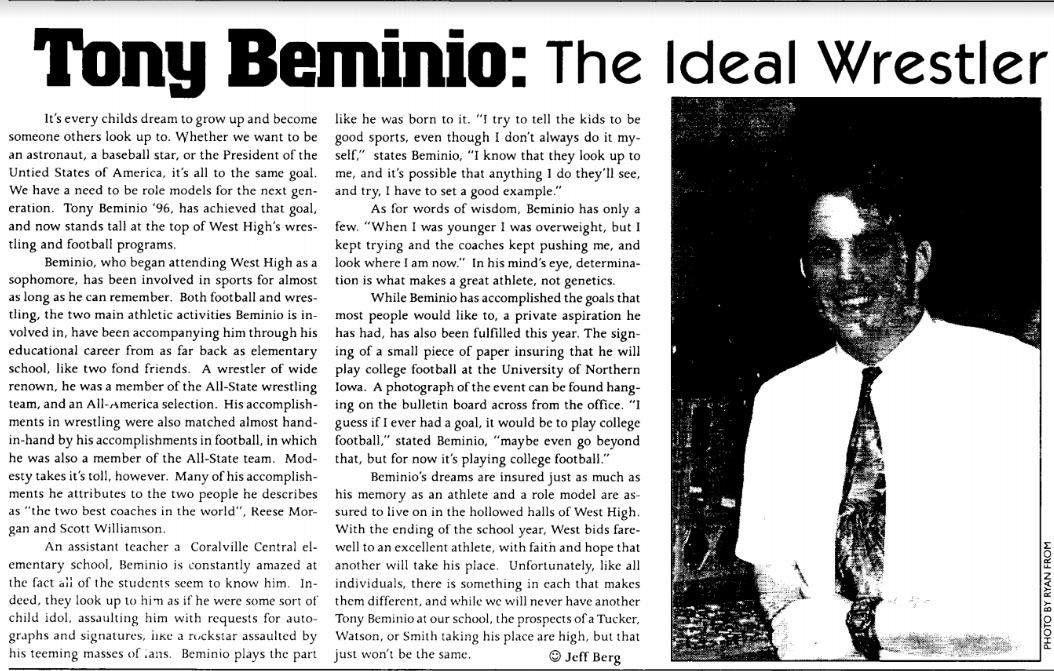 While Beminio was a football player, assistant coach Tyler Meade's father was a head coach for the team. Meade remembers hanging around the players during practice as a kid and looking up to Beminio.
"I looked up to high school players as most kids look up to professional athletes. He was a big guy, that larger than life star athlete," Meade said. "You have certain things you remember, vivid memories, some of them are completely random, but I just remember he worked at Hy-Vee… This big guy you think of as a big intimidating athlete was just this friendly guy checking out the groceries…Obviously he was a great athlete, but like what everyone has been saying the past day or so, he was just a great person, too."