ICCSD students debate a country's obligation to Syrian refugees
Students of ICCSD and German foreign exchange students share opinions on the displacement of refugees and a country's moral obligation to assist them
November 7, 2016
This summer, the world rocked to see a boy caked with blood and dust in the back of a marmalade-colored ambulance. This five-year-old boy, Omran Daqneesh, had just been uncovered from the rubble of an airstrike in Aleppo, Syria, and was sitting in shock.
"Dear President Obama," Alex, a six-year-old from Scarsdale, New York, wrote in a letter a few months later to Barack Obama. In this letter, he detailed his wish for Omran to be brought to his family. "Remember the boy who was picked up by the ambulance in Syria? Can you please go get him and bring him to my home? We will give him a family and he will be our brother."
The White House
"Those are the words of a six-year-old," Obama said in a Summit meeting in September. "He teaches us a lot." Obama went on to say that the humanity [Alex] displays, "who hasn't learned to be or fearful of others because of where they're from or how they look…who understands the notion of treating somebody that is like him with compassion," is a lesson each sentient being on this planet can learn. He then delivered a vignette of the world he envisioned: "Imagine the suffering we could ease and the lives we could save…if, seeing a child who's hurting anywhere in the world, we say, 'We will give him a family and he will be our brother.'"
"
Imagine the suffering we could ease and the lives we could save…if, seeing a child who's hurting anywhere in the world, we say, 'We will give him a family and he will be our brother.'"
— Barack Obama
Obama called this summit, bringing together leaders from around the world, to discuss the refugee crisis. "This crisis is one of the most urgent tests of our time- our capacity for collective action. To test, first and foremost, our ability to end conflicts, because so many of the world's refugees come from just three countries ravaged by war- Syria, Afghanistan and Somalia," Obama said.
Within the past few years, approximately 60 million people have been displaced from their homes, with about 11 million coming from Syria. In June of 2000, Bashar Al-Assad became president of Syria after parliament lowered the minimum age for a presidential candidate from 40 to 34. Shortly after president Bashar Al-Assad took office, unease fanned, like the whispering of shadows after dark. Reform movements burgeoned in March 2011, as part of the Arab Spring. Rebel fighters consisted of those seeking political democratic change, the reinstatement of civil rights, as well as those with personal religious opposition to the regime.
President Assad ordered crackdowns and military sieges on Arab spring protesters, and so the Syrian Civil War was sprung. The bombings left the streets little more than rubble and empty bags, floating listlessly. Cars sputtered and the bones lining the walk spoke of 2,190 sadnesses, 2,190 suns that Syrians awoke to fighting.
An influx of Syrians continue to flee their home, and many walk for miles at night, avoiding snipers. Many seek to reach Sweden and Germany, both countries that are proponents of democracy. After trekking through Turkey, they pile onto dinghies, boats, and ferries and haul away from shore, leaving the searing images of death and loss in the Aegean sea. They huddle together and turn to a new sun that rises upon a new land.
The water and distance between Turkey and Greece are deceiving, as storms and high winds cause for perilous conditions. "Many oversized boats capsize," Mr. Coghill-Behrends, West High German teacher, said, "and many refugees drown before making it to shore." Reportedly, Behrends said, traffickers charge refugees crossing the Turkish and Grecian borders an entry fee of up to tens of thousands of dollars. Challenges to security thus stem from refugees paying traffickers to escape, and traffickers then smuggling arms and drugs. A majority of refugees travel into northwest Europe, some hiding in crates in the back of trucks bound to Germany and Sweden.
Many nations around the world are conflicted; they seek to help refugees, but want to protect their citizens against potential terrorists that slip in with the influx of refugees. The refugee crisis remains a test of the world's international system, where many nations seek to share collective responsibilities. In the past few years, however, a few countries have carried the weight more than others, with over 4.5 million refugees inhabiting Turkey, Lebanon, Jordan, Iraq and Egypt, and Germany, Sweden, Ethiopia and Canada sharing the toll. Many of these countries have fewer resources than those countries participating very little in ameliorating this crisis; six of the world's most affluent countries (such as the U.S., France, and Japan) have received only 1.8 million refugees, 7% of the total refugees being displaced. In Turkey, Thailand, Chad and Jordan, however, approximately a million refugee children are to receive an education, and will acquire skills to eventually find a job.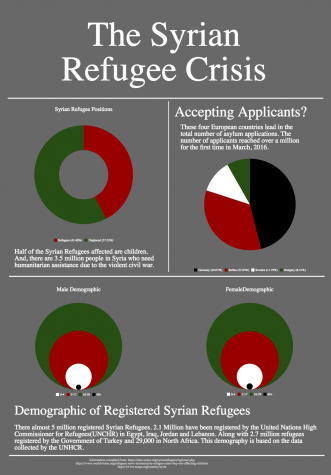 Edie Knoop '18, Iowa City High School student, believes that to close our borders to refugees due to their background would be an affront to this nation's values of diversity, as well as a denial of U.S. heritage, which was built by immigrants. "To me, the fact that this is even a debate is emblematic of people's cowardice and hypocrisy. We are so afraid that by accepting refugees, we are accepting violence into our country. That fear is the goal of terrorism, and by allowing it to rule us, we are allowing the very people we are so afraid of to rule us. We cannot allow terrorism to work, and we cannot do the terrorists' dirty work for them by refusing their victims. As a people, we need to rise above our baseless fear and xenophobia to help these people."
Lauren Ernst '18, West High student, believes that the mindset of turning a blind eye is inexcusable, as it procreates a world that acquits violence. Ernst had the privilege of interacting with Syrian refugees detained in camps, who were applying for refugee status. "I talked with a refugee from Syria [in the summer of 2015] who was awaiting his papers. He said he watched his entire family murdered in front of him, and was then captured by a terrorist group, tortured and starved for weeks. [He] had no other option but refugee status because he had nowhere else to go; [he had] no home, no family, and even if he went back, he would be killed."
"
Countries have the tendency to view refugees not as people, but rather [as] numbers."
— Lauren Ernst
Ernst went on to say that countries have the tendency to view refugees "not as people, but rather [as] numbers." Ernst also believes that most anti-refugee rhetoric and fears are based off of not knowing who we let into the country. "There are, however, rigorous screening processes," she said, "that allow a person's background to be revealed."
Yiwen Gao '17, believes that most people agree Syrian refugees should be helped, but disagree on how to attain this goal. "I think accepting a set number of refugees is a good way to alleviate the suffering in the Middle East. We should increase our admittance of Syrian refugees but [perhaps] not as dramatically as Secretary Clinton's policies call for," she said. While admitting the challenges of carefully screening so many refugees, "especially with uncertain background information from Syrian", Gao is a staunch proponent of increasing the number of accepted refugees once a more rigorous vetting system is developed.
Following the Paris terrorist attacks in November 2015, Iowa's Governor Terry Branstad proclaimed he would no longer support the Obama administration's' goal of accepting 10,000 Syrian refugees in the oncoming years. He, along with nineteen other governors, said he would not allow refugees from war-torn countries into his state, as there was no guarantee against terrorist activity. Following this decision, Governor Branstad said, "We have welcomed refugees from around the world into Iowa. We must continue to have compassion for others but we must also maintain the safety of Iowans and the security of our state." He then ordered state agencies to stop work on Syrian refugee resettlements "until a thorough and thoughtful review [was] conducted by the intelligence community and the safety of Iowans [could] be assured."
Although there is certainly something to be said for valuing the safety of our citizens, there remains also the dilemma of being stained a bystander in times of crisis; in instances such as the Holocaust and Rwandan genocide, the U.S. was impugned for not providing enough assistance to those fleeing persecution. For example, in June 1939, the State Department and Franklin D. Roosevelt, in an action to "protect U.S. national security", barred the German ocean liner, St. Louis, along with its 900-some Jewish passengers from the port of Miami. The ship, having been barred from asylum, sailed back to Europe where approximately one quarter of the passengers died in the Holocaust.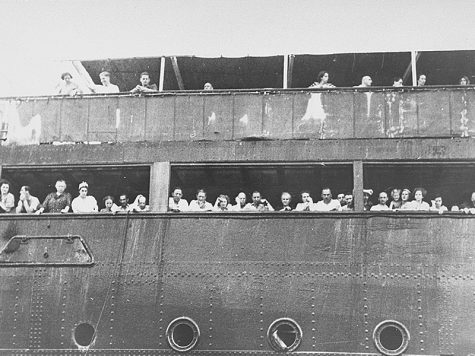 FDR and the State Department justified their actions due to people such as Herbert Bahr, a 28-year-old from Germany; he was seeking asylum in the United States in 1942. An interview with government agencies revealed that Bahr was a Nazi spy, planning an act of subterfuge: stealing American industrial secrets. He entered with other refugees to slip into the U.S. without suspicion. Bahr's legacy was that the U.S. government would deny visas to Jews fleeing the horrors of the Holocaust, on the basis that there may be a Nazi spy in refugee clothing. This occurrence, however, occurred only in rare circumstances, and was later deemed an inadequate argument made by the U.S. government.
Edie Knoop '18, student of Iowa City High, believes that our governments and we, as citizens, have a responsibility to do all that we can for all the people we can. Anything else, she said, is a betrayal of the very thing that makes us human. "Looking back at our inaction in Rwanda and our refusal of Holocaust refugee ships, and condemning them is easy. It's harder to admit that we are complicit in the same thing now, and even more difficult to actually do something about it." Knoop concluded that all beings upon this earth have a duty to one another and to human dignity.
In September 2016, West High hosted a handful of German foreign exchange students who commented on the effects of such a large number of people being displaced. Joshua Grosserlwing, 15, from Bückeburg, said, "This topic [has been] highly discussed in the media for about a year now. About 400 people have arrived in our town. Some of the kids have enrolled in our school and there's extra classes for them to learn German." He commented that with the mark of the half year anniversary, people noticed that [the refugees] spoke German quite well. "Once we speak the same language, it's not difficult to have conversations with one another; we learn a lot from each other."
Liz Mitzkat, 15, from Stadthagen agreed with Grosserlwing. "There is no huge [predicament] that so many refuges have enrolled in our school," she said. "We do have bigger classes, and [it's true] they don't understand the language as well, but they're all nice and we've become friends with each other."
Julius Abel, 15, from Bückeburg, said that many refugees are interested in contributing to society. "Where I'm from, you can see that there are more people going into town, that it is not just Germans, but this is life as it should be, with diverse cultures and peoples." These people live their lives, Abel said, trying their utter best to learn the language, and most are really nice. "Some people feel that it's a big problem, with the government wanting to do something, looking to help [refugees] with clothes and aid, but I think [the refugees'] influence is positive, because we can all learn something from them."
"
Some people feel that it's a big problem, with the government wanting to do something, looking to help [refugees] with clothes and aid, but I think [the refugees'] influence is positive, because we can all learn something from them."
— Julius Abel
At the September summit meeting, Obama acknowledged that although governments were expending resources to help refugees, there was more to be done. He outlined a plan in which more nations would aid refugees, NGOs would offer additional resources, faith groups would make this their cause and younger generations would become more impassioned about this issue.
He stated that the U.N. would contribute $4.5 billion, with about $1 billion coming from the U.S.; this money would be funneled into providing food, clothing, shelter and medical supplies to refugees. Most importantly, he announced that in the coming fiscal year, the U.S. would accept about 100,000 refugees from around the world. The implemented extensive screening and security checks, abating many fears over national security, would induce a greater percentage of refugees to settle in the U.S.
With the election swiftly approaching on Tuesday, November 8th, high schoolers in 2016 must ask themselves whether they want their nation to promulgate the idea of barring those seeking a better place because of where they come from, what they look like, or what religion they practice; for in the words of Ted Waitt, University of Iowa graduate, "We're all immigrants in this country, just pulling people together."
Infographics and art by Ian Prescott