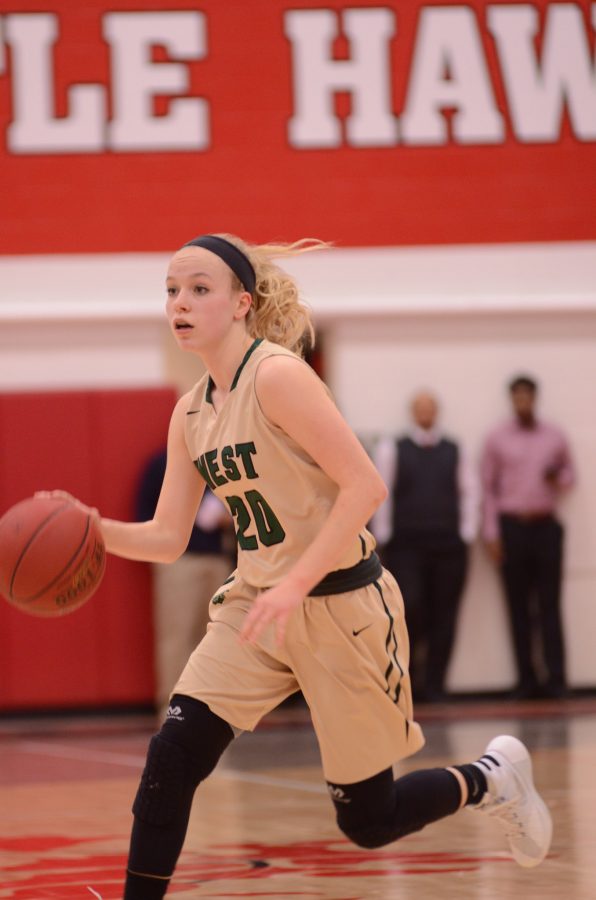 Maddie Huinker '17
West Side Story: Why did you start playing basketball?
MH: I started playing basketball at a really young age, probably just because my parents signed me up for it. My brother played it and I always went to the gym with [him] and my dad.
WSS: How long have you been playing for?
MH: Like forever, as long as I can remember. As soon as I could start playing I did, so a really young age.
WSS: Do you play on an AAU team?
MH: I do, I play on Team Iowa.
WSS: What are you looking forward to this season?
MH: This season, I'm looking forward to a lot of things. I think [one is] senior year; it's always really exciting because it's the last time to do everything. Obviously I'm most looking forward to getting to the end of the season, getting to the state tournament [and] regional games, because I think we have a really good shot of making it and that would be something I'm really looking forward to.
WSS: What do you like about basketball?
MH: I love everything about basketball: I love how competitive it is, I like how you have to work as a team, I like how fast-paced it is, I like how hard you have to work and I like how your hard work shows off.
WSS: Describe your personal goals in basketball.
MH: I want to have a better shooting percentage than I did last year. I think overall [I want] to just get better. I'm looking to play at the next level so I think overall just to improve my game.
WSS: Who are your major influences/mentors in basketball?
MH: My dad has probably been the biggest influence in basketball. I started playing basketball when he was diagnosed with cancer so I chose my number 20 for his birthday; I've always played for him but it kind of became my sport. I'd definitely say my dad because he's the one who always takes me to my tournaments and takes me to the gym and pushes me to get better.