Modern mathematician
Casey McClenathan '17 is paving her own path in the world of STEM.
March 5, 2017
Casey McClenathan '17 holding up her collection of medals is a sight to see. Held by the straps, they take two hands to hold up and even then they are strenuous to lift more than a couple feet. The multicolored array of ribbons represent different competitions and, for McClenathan, various victories; the deafening clanking of the metal surfaces are a loud reminder of her talent for mathematics.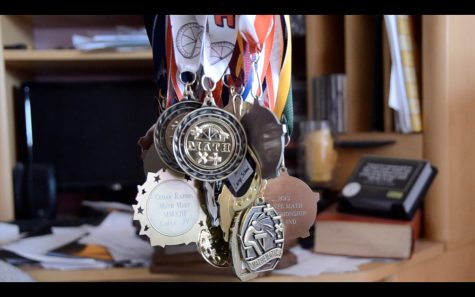 All in all, McClenathan has won twenty-four medals, at least six plaques and too many certificates to count.
"I've always liked math," McClenathan said. "Everything just works.
Her love for mathematics matches her talent, and neither has gone unnoticed. Kerri Barnhouse, McClenathan's British Literature teacher, recalls when she realized McClenathan's skill.
"I remember the first time we got results from one of the math competitions and I saw Casey's name at the top of the list; I said something to her right away," Barnhouse said. "I talked to some teachers and they all said 'Oh yeah, she is amazing.'"
Although mathematics could be considered McClenathan's strong suit, it is not her only strength. At one point, she even saw herself becoming a writer.
"It doesn't matter what it is, she's just voracious. She's like [a] sponge [and] just wants to absorb everything she can out of every academic experience," Barnhouse said. "She's just a student of life; she just loves to learn."
Currently she has chosen to study mathematics or computer science at Massachusetts Institute of Technology. Her interests are a part of a range of fields that include science, technology, engineering and mathematics (STEM). These fields are notorious for their disparity in numbers of women. According the National Science Foundation, 50.8 percent of U.S. residentfs are female but only 261,000 women have doctorates in science and engineering fields while 490,000 men have such degrees.
 McClenathan has noticed the gender imbalance of gender in her advanced classes. She feels being in a room as one of the few girls is "kind of awkward." She recalls her differential equations class
"I only counted about four girls…out of twenty-five [or] thirty people," McClenathan said, "[It shouldn't] matter [that much], but … I [felt] off."
To overcome such feelings of discomfort, McClenathan encourages girls approaching STEM to try to not let it bother them. Despite her experiences, McClenathan looks at the situation in a positive light.
"I think the attitude towards women in STEM has changed a lot," McClenathan said, who believes the situation now is better that it would have been generations ago. One of McClenathan's mathematics teachers, Joye Walker, who graduated in the 70s, recalls such times.
"Women were not typically represented in STEM fields, particularly not mathematics or engineering," Walker said. "It was a small high school and so typically you took biology, chemistry [and] physics…There weren't that many girls that took physics even; most of them stopped after chemistry."
According to Walker, as science classes got more advanced, they became more male dominated. She estimates the number of girls to be as low as three or four in a class.
"It was a little bit more of deal if you were female and good in those areas. That just wasn't what people expected you to be good at. I'm glad it's changed because I could certainly tell in my classes it wasn't that way," said Walker.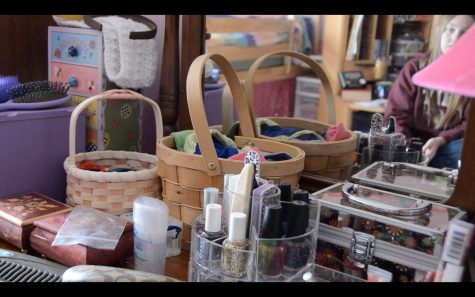 Now, though, McClenathan says women in STEM are highly valued.
"There's a lot of encouragement nowadays," McClenathan said. "There are a lot of programs and [affirmative action] which is good in some ways…"
Although this encouragement has lead to more women are entering the field, their work is at risk of being discredited. Despite her accomplishments and awards, some peers do not acknowledge her talents equally.
"It's frustrating because people will say that a lot of my achievements are [because] I am a girl… I don't have any way to prove them wrong."
For this reason McClenathan believes the situation is far from perfect.
"I think there's still room for improvement," McClenathan said.  "[I wish] the re didn't have to be a differentiation between women and men."
For the time being she encourages other girls in STEM to stay strong.
"Remember you are there for a reason. It's because you like STEM, it's because you are good at STEM,"  McClenathan said "Being a girl doesn't change that."
McClenathan continues to pave her path in the world of STEM with not only her talent but also her determination in her arsenal.