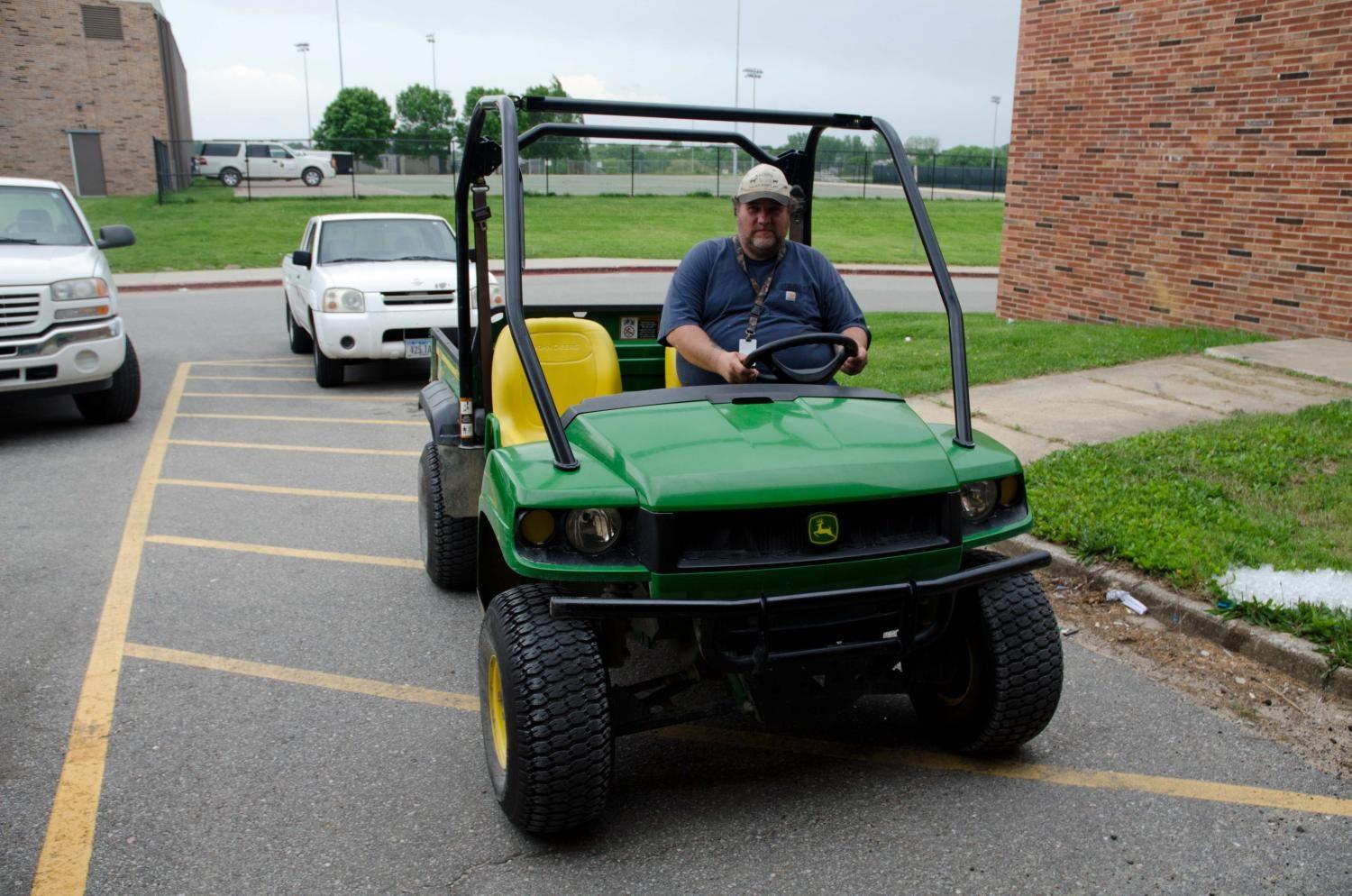 Donnie Binegar: the embodiment of West
When you work at one place for 27 years, you experience a lot of change. Donnie Binegar has been keeping our school clean since 1990 and has plenty of stories of West's past.
As years go by, West high has continued to change. The ninth grade wing was added, the music wing was added, principals have come and gone and left impacts on those around us. Many of the people walking the hallways today weren't around for all of these events, but custodian, Donnie Binegar, remembers all of these moments clear as day. Donnie has been working in the hallways of West High for 27 years, and aside from Principal Jerry Arganbright who retired in 2015, Donnie has been employed at West High longer than any other staff member.
Donnie grew up in Newton, Iowa, where he played football and baseball. Donnie brought these interests along with him when he started working at West High. Coach Steve Bergman, one of Donnie's many friends on West High's staff, has fond memories with Donnie back when the basketball games were broadcasted over the radio. "Donnie was working and listening to the basketball game on the radio, and he said he had a coffee can set up, and he told me that every time he flipped a pencil in the coffee can we would make a basket, and every time he would miss we would miss. So he told me that he really concentrated and tried to make a lot so that it would help us win the game," Bergman said. Donnie is a huge fan of sports, and loves to keep track of how all the teams are doing at West. If he had to pick his favorite sport, Donnie would tell you both football and wrestling.
Throughout Donnie's many years of keeping West High clean, he has experienced many crazy events. "One Saturday, a deer came up to the front steps and looked into the window, and took off running. I didn't think of it anymore that day. Later on Sunday, a deer jumped into the door and shattered the window and jumped into the school and died right there." Donnie expressed how it was a hard project to clean up. Besides cleaning up deer damage, Donnie has plenty of other activities that he does around the school to help. Donnie's favorite part of work is when he gets to strip the hallway and wax it.
Over the course of Donnie's many years at West he has left an impact on many of the staff members and students. "Donnie reminds us all to stop and get to know each other and have a conversation about the little things in life," said English teacher Kerri Barnhouse. "We don't all have to be in a rush and ignore each other, but rather to always stop and acknowledge people, say hello, and ask how people are doing. Everybody has their role here, and has their place to fill, and he fills that place of being really considerate of others."
Over 15 years ago, Barnhouse and a large group of West High faculty got word that the charity, Habitat for Humanity, was working on building a house for Donnie. When the faculty heard about this, they recruited students and everyone they could find to help out. "Everybody wanted to go, and so we drove to North English, and we all got to be a part of building a house for him," Barnhouse said. There were so many people working on the house that there almost wasn't enough work, and the house was finished in two days–according to Donnie.
Donnie has been a key player in the history of West High. When asked about Donnie's impact on West, Bergman said, "We see people go through our area, we might have a custodian working here, and then they are gone and go do something else, they go to a different building, or they don't work here anymore, and Donnie has just been here forever and ever, he is a part of West High." Donnie continues to help make a difference for the students and staff of West high. If you ever see him polishing the floors make sure you thank him, and ask him about his favorite sport or his favorite hobby, fishing.
Donate to West Side Story