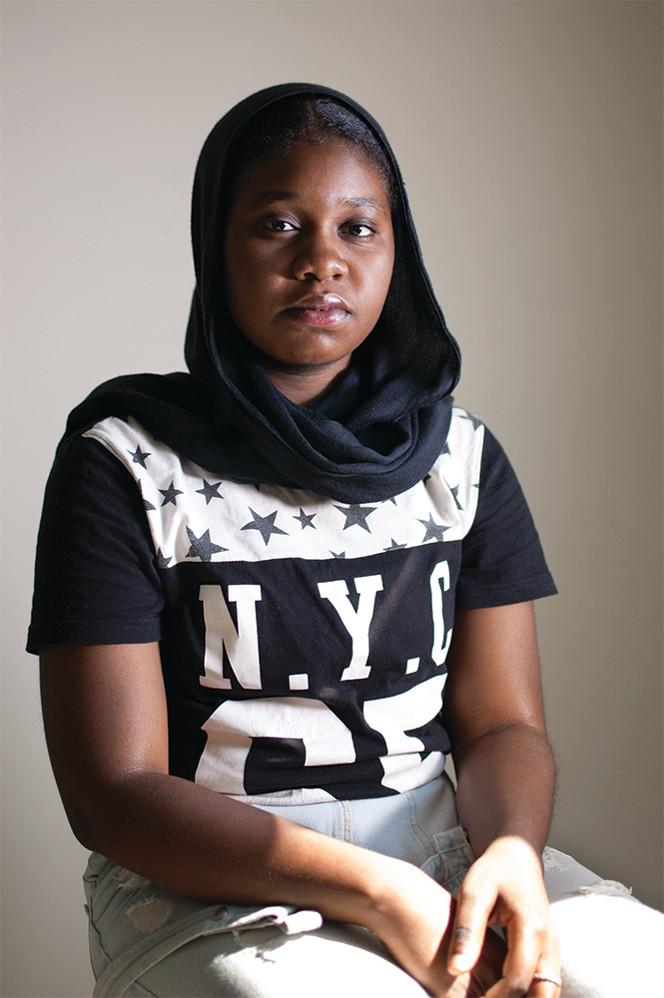 Aibeer Mohamed '19
September 29, 2017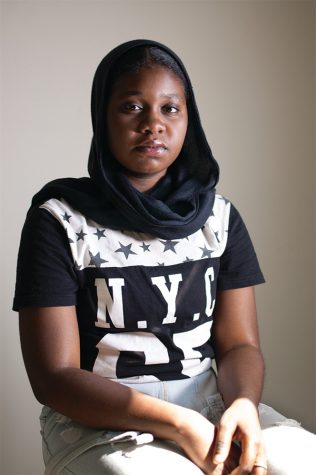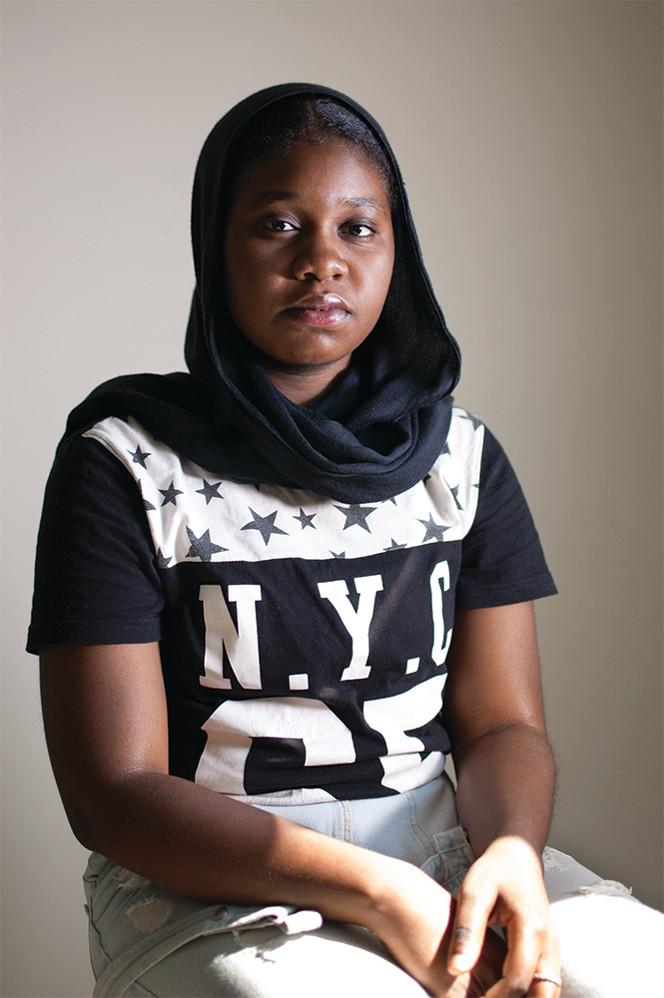 Depression, racism and abuse are only a few of the challenges that junior Aibeer Mohamed has dealt with and overcome before making it to West High.
Born in Sudan to a Fur father and Sudanese Arab mother, Mohamed was often the target of racist comments due to her mixed race and darker complexion than her classmates. One such instance was when Mohamed was in kindergarten, sharing food with her friends. Asking Mohamed's classmates why they would share food with a "dirty child" like Mohamed, the teacher proceeded to beat Mohamed's back, severely bruising her.
Outside of uncontrollable factors like her skin tone and race, Mohamed also faced abuse when she refused to wear a hijab at her strict school.
"I don't think that it's right for me to have to wear stuff I don't want to wear. When I was at that age … nobody cared about what I wore, but in school you had to wear a scarf … If you didn't, you [would] get beaten," Mohamed said. "I used to fight with the teacher a lot."
Eventually, Mohamed's father saw the bruises, leading him to confront the teacher. But this protection didn't solve the harassment Mohamed dealt with at school, let alone all of the other issues her family had to deal with.
On top of the violent school environment Mohamed faced, many of her relatives lived near Darfur, an area affected by genocide. Although Mohamed was isolated from the violence by living in Khartoum, the capital of Sudan, she couldn't escape the poverty and familial issues that wore her down from day to day.
Having four older brothers, Mohamed is the youngest of five siblings. One of her brothers, Alaeldin, was born with sickle cell anemia and a hole in his heart. These life-threatening birth defects came about because of unhealthy environment Mohamed's family lived in––due to their poverty, Mohamed's mother lived in a very dirty area when she was pregnant. Despite her age, the responsibility of caring for her older brother fell upon Mohamed, as her mother had to work long and hard hours to simply provide the bare necessities to her family.
On top of caring for her brother's health, Mohamed herself struggled with the amount of dust and pollution in Khartoum, the lack of resources, the beatings and the discrimination. All of these factors, combined with the lack of stable economic opportunities in Sudan, contributed to her family's decision to move to Egypt.
But in Egypt, things only got worse.
"
I needed attention too. When you keep stuff to yourself … you feel self-conscious. You think to yourself, 'What'd I do, should I kill myself? I want to kill myself.'"
— Aibeer Mohamed
By then, Mohamed was fed up with the lack of support from her mother. With her strenuous family circumstances, she even recalls a time when her mother told her she would never forgive Mohamed if she got sick in Egypt. As all these tensions built up, Mohamed was diagnosed with depression.
"As a child you need someone to hang out with and play with. For me, every day we'd have a new problem. Like my brother is sick and mom would focus all of her attention on [him]. I needed attention too," Mohamed said. "When you keep stuff to yourself … you feel self-conscious. You think to yourself, 'What'd I do, should I kill myself? I want to kill myself.'"
Beyond her family needs, the Egyptians in her community also had a taxing effect on Mohamed's feelings. She recalls being scared to go outside to play soccer because the men would always verbally and sexually assault young girls. Other instances, such as simply calling her light-skinned mother "Mom" in public triggered some Egyptians to question their relationship and even to look down on Mohamed, given her dark complexion. Another time, a boy randomly slapped her uncle, causing an altercation between Mohamed and the boy's family. In any case, all of these daily challenges contributed to her depression.
Adding to the situation, Alaeldin's condition wasn't improving. Consequently, Mohamed's family went to the United Nations to apply to come to the United States and help treat his continuing sickness.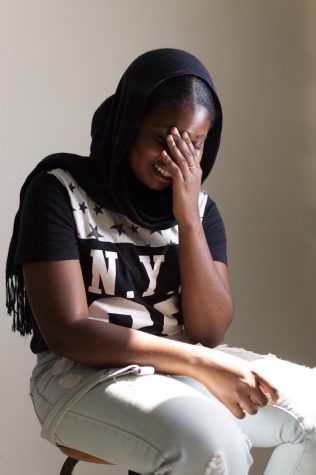 When news of their acceptance came, Mohamed was ecstatic.
"I was shocked. I couldn't believe it. I thought the US was like what you watched on TV," Mohamed said.
Mohamed's family's dream was starting to come true as they moved to Georgia: Alaeldin finally had the opportunity to receive proper medical attention. But that didn't equate to instant happiness for Mohamed herself. Mohamed still had to take care of Alaeldin and regularly took him to the hospital. In addition, Mohamed's mother initially didn't allow her children to interact with Americans, making it harder for Mohamed to make friends which furthered her depression.
"We didn't know anybody … and my mom was kind of scared," Mohamed said. "She didn't let us go outside. … We just stared out the window, and I wanted to go play and interact with other kids."
Eventually, Mohamed's other brother, Sharif, caught on to her depression and started to give her the support she needed.
"He did everything for me, even when I was sick he'd take care of me, give me food, make sure that I'm okay, help me with my homeworkㅡbasically what moms do for their kids," Mohamed said. "I look up to him, he's my inspiration … He helped me overcome my depression."
After defeating her depression, Mohamed's family moved to Iowa where they began a new chapter of life. Now Mohamed plays on West's soccer team and even has aspirations to play basketball.
However, one problem remains for Mohamed in America: racism. So while America has been a means of improving the health of Mohamed's brother, some things just haven't changed wherever Mohamed has lived.
"[America is] good because you have more opportunities. You go to school, you have the freedom to wear anything that you want you have a car, you have good food," Mohamed said. "But for me I don't think America is good … It's just fast. Too fast. And racism is too much, there's too much going on."
These feelings have determined what Mohamed wants to do next. For her, moving back to Sudan to meet with her father again and to avoid the racism in the United States is the best option, despite knowing the poor social conditions in Sudan from her past experiences.
"Women don't have the right to do [a] bunch of stuff," Mohamed said. "They treat the man as the king or the owner of the women, so I want to change that."