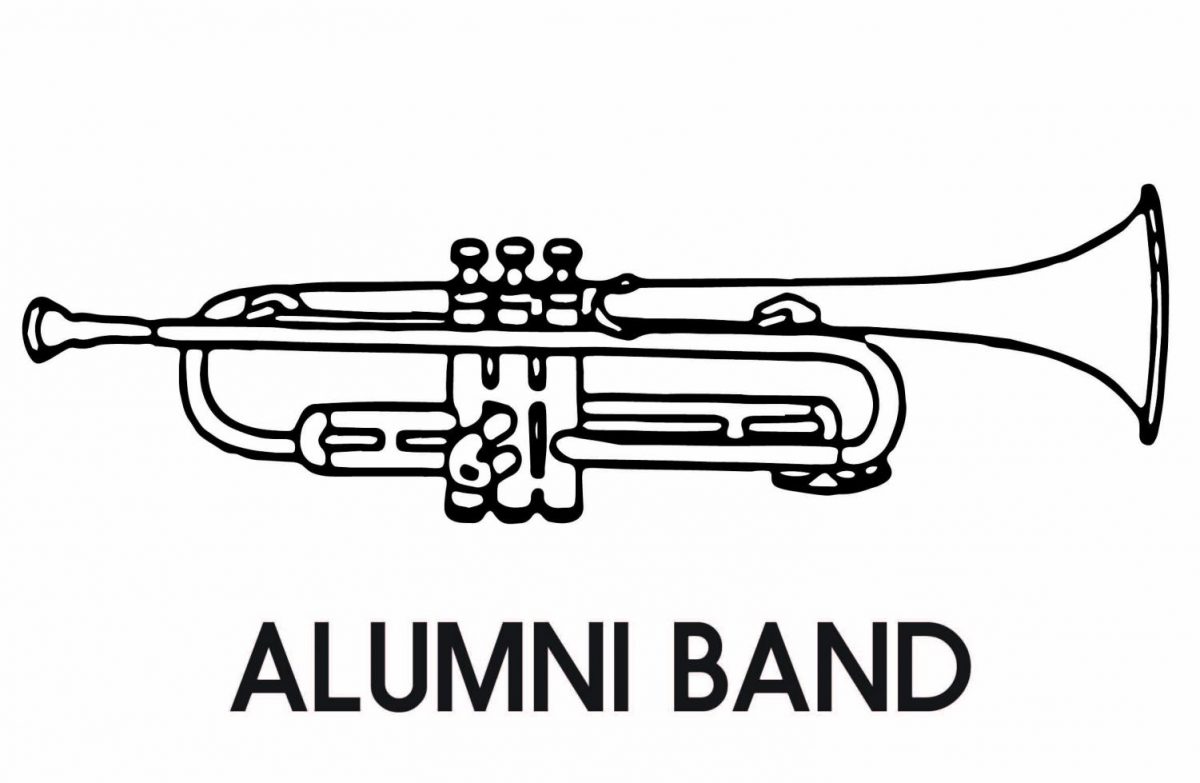 Alumni Band
Hear from the band alumni who came back to West to perform at the halftime show on Sept. 22.
In the last 50 years of West High, over 2,000 students have walked through the West High band program. Of these band alumni, 36 came back Sept. 22 to play "Hey Jude" in the halftime performance of the home football game. Here we take a look at the tales of the band program from alumni young and old.
David Yussen '95
Time and distance have faded my high school friendships, unfortunately, but marching band was a highlight and I have many fond memories. Those experiences and my teachers greatly influenced my love of music for a lifetime. When I heard about the event from Mr. Rob Medd, I knew it would be a special moment and was immediately interested to participate if at all possible.
We took a trip to Orlando and played at Bush Gardens, Epcot Center and Disney World. But mostly, when I reminisce I remember eating lunch in the band room with my friends and teachers. My favorite of the many bands I played in was the pep band for basketball games. That was always a good time.
In College I played in the Lehigh University Concert Band, and Marching 97. Since relocating to the Twin Cities, I played for thirteen years in the Hopkins Westwind Community Band, which is also where I met my wife. Currently I play in the Crosstown Community Band. Currently I reside in Minneapolis with my wife Christine and two daughters.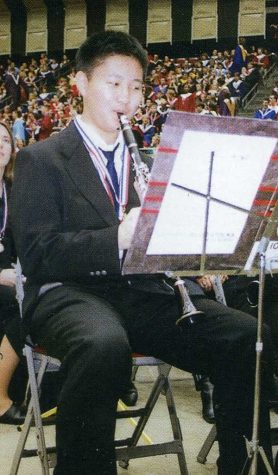 Jo Halsch '01
I have always loved band and have great memories of band in high school and I thought this seemed like a fun chance to revisit my high school band days. I loved going to Disney World on the band trips; they were always so much fun. I was in the Hawkeye Marching Band for three years. Now, I live in North Liberty and I am the Associate Director of Events for the UI Career Center.
Katie Schneider '00
The alumni band performance sounds like a great event and I wanted to come back and play in it because 50 years is a great reason to celebrate. My oldest son just started playing saxophone in junior high and I want him to see how amazing the West High Band Program is.
I have so many fantastic memories from band when I was a student, marching band was my favorite. I was Drum Major for a few years and absolutely loved conducting. I met one of my best friends who happens to be a teacher at West High now, Maureen Head, during band and we had a blast each time the marching bands went to Florida to march at Disney World.
I don't believe I've played in any concert bands or orchestra since graduating West High School but both my younger sister and brother were in Marching Band and I enjoyed watching them after I graduated. Now, I am the Accounting Manager at St. Thomas More Catholic Church in Coralville and I live in Riverside Iowa with my husband and three sons.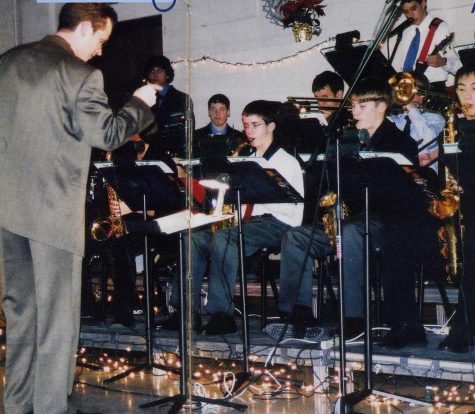 Katie Mons '14
I love the band program at West. The Medds are fantastic directors and made it such a positive experience. I thought it would be so much fun to come back to one of the best parts of my high school career and catch up with many people I haven't seen in awhile.
I was a drum major my senior year, and that was a wonderful experience. I grew as a leader and had a ton of fun doing it. I also made a lot of great friendships in the band program throughout all four years. I miss watching the Medds play pranks on each other as well.
I have been a member of the Panther Marching Band all four years that I've been at UNI. They have an excellent program and I'm glad I could continue playing music. I am now a senior studying Elementary Education at the University of Northern Iowa in Cedar Falls.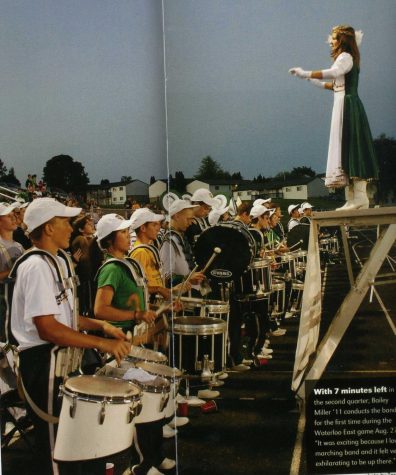 Keri Speidel '99
Music has always been one of my first loves and I continue to play even after graduating from high school and college. It's really important to me that kids pursue the arts – that's why I teach art – and music even after they leave school. Just ask my 12 year old after I've hounded him about practicing his trombone. Fine arts are such an essential part of education and the Medds were so influential throughout my high school career. They fueled my passion for music and continue to be phenomenal music educators. Their enthusiasm and genuine love for the students was a great foundation for me and part of the reason I continued into education. I was so excited to hear they were putting together an alumni band! Once a band nerd, always a band nerd.
My senior year, we started out the marching season by "borrowing" different items from the Medds. From the portable speaker to the cowbell to random things from their offices. We collected them until the very last concert and one by one, we came on stage and handed them each "borrowed" item. The final item was a couch from their office. There were also many heated debates and random uniform searches because we kept trying to smuggle Pixie Sticks into our uniforms. We never won those arguments and came to the conclusion that Pixie Sticks and sweat don't mix.
Band members have a special bond that non musicians sometimes don't understand. We would spend our open hours and study halls down in the band room. From marching band to jazz band competitions to concert band auditions … most of my best high school memories involved band.
I had a music scholarship to Cornell College and played in their wind ensemble, jazz band and orchestra when I attended there. I also currently play repiano cornet in The Eastern Iowa Brass Band and trumpet in a small New Orleans Style band called Backroad Brass. We play all over the midwest. It's so much fun and I look forward to band nights every week, I can't imagine not having music in my life. I live in Martelle, Iowa, a tiny town right outside of Lisbon and Mt.Vernon, and I am the elementary art teacher and head high school girls track and field coach at Lisbon School. I live with my husband Lonnie and two boys Baylor and Brody.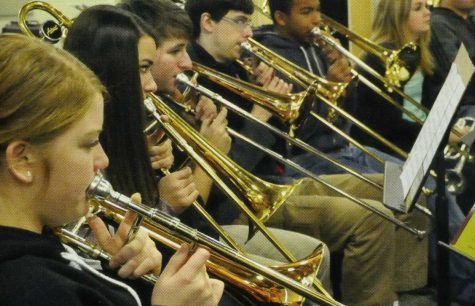 Melissa Pfohl '01
Playing with a marching band again sounded like fun and I was hoping to see some of our friends from marching band. Many of my closest friends from high school were in band and I have many great memories, but the best was meeting my future husband in 5th grade band. I played in marching and pep bands in college at UNI. I also play carols every year at Christmas. I am currently a school administrator in McFarland, Wisc., just outside of Madison.
Bailey Miller '11
I wanted to come back for the opportunity to reconnect with high school friends, play in the band again, and of course, see the Medds! My most memorable year in band was my senior year when I was drum major. My passion for music really took off that year and I also really enjoyed the band trips to Florida. I played trumpet in the Hawkeye Marching Band for four years and concert band for three years. Currently, I am the Box Office Manager at a performing arts venue in Brookfield, Wisconsin.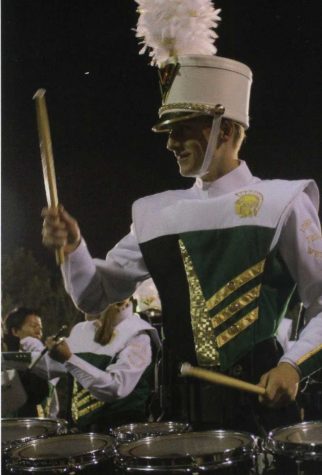 Mary Mysnyk '10
I wanted to come back to West High for the alumni band concert because I love Mr. Medd and was excited to play once again under his direction! My dad, Mark Mysnyk, is also the team doctor, so he was excited to get to watch me play again from the sidelines just as he did while I was a student. I also now have some former students playing in the current marching band and thought it would be fun to join them!
Now that I have been away from full bands for so long, I kind of cannot believe that there was a time when I got to play in a band for an hour every day for four years! Mr. Medd always chose songs that were challenging, beautiful, and fun. I especially loved playing Sleigh Ride at the Winter concert!
I played in the UNI flute choir for two years, but have not played in any concert bands or orchestras since graduating from West. I am currently teaching Science and Literature at Heritage Christian School in North Liberty.
Janice Weiner '76
I've always thought that alumni bands were a great idea; I've watched the University of Iowa alumni band in the annual homecoming parade. I play in the Community Band in the summer under the leadership of Rob Medd, and when I saw this, I thought it would be fun!
Special memories? Morning practices on the field that is now the auditorium. A sopping wet homecoming parade. Getting to be the pep band for early season University of Iowa basketball games. I'm happy that I played a small, very portable instrument that I could just put in my upturned hat when sitting in the stands, which was at City High at that time.
I've played a lot over the years – music is an international language. I played or sang in as many countries as I could during my Foreign Service career; I played chamber music in Belgium, in a flute trio in Poland, a community band in the Washington DC area and now here again. Now, I am a retired U.S. Foreign Service Office (State Department diplomat) and live in Iowa City.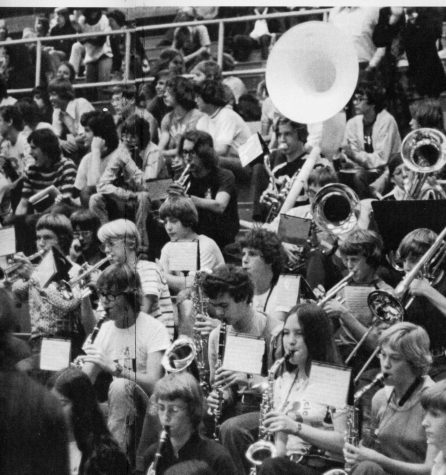 Donate to West Side Story