Wehmeyer's influential environment
February 1, 2018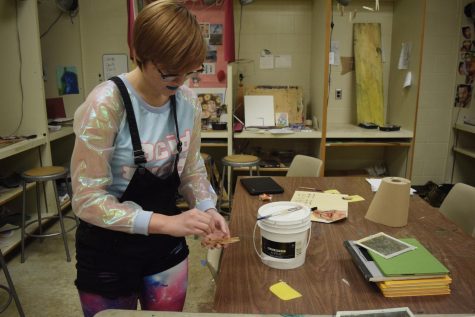 A hum of voices leaks out of an adjoining doorway in the AP Studio Art classroom. The room used to be a dark room which, deemed obsolete due to the rise of digital cameras, was renovated into a workspace. The room was bright but was offset by a musty, unidentifiable smell that was later explained away as cheesy scalloped potatoes. Rows of individual workstations decorated with artwork line the walls and a set of tables occupy the center of the room. This cluster is where most of the room's cheerful denizens congregate; on this particular day, they were talking and laughing about topics that ranged from art to their respective childhoods to male genitalia. Madi Wehmeyer '18 sat in the most colorful workstation in the room.
"It's always been a big part of my life since my mom paints a lot," Wehmeyer said.
Wehmeyer skipped the paper and Crayola and used the readily available art supplies in her own artistic home.
"Even as a kid I would paint with acrylic paints and use canvases that we had laying around," said Wehmeyer.
Her mother's influence goes beyond just her supplies. She was surrounded by her mother's paintings which are hun
g around the house.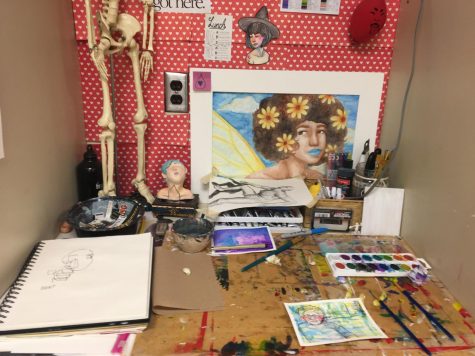 "A lot of [my mother's] art used to be more fantasy based and that's a lot of what I like to do now," Wehmeyer said.
Wehmeyer pinpoints when she became serious about art to kindergarten at Dennis Chavez elementary school in New Mexico. An adversarial friend, Adam, was "better at art than [she] was" according to Wehmeyer.
"I really looked up to him and he kind of got me started. He got me thinking, 'oh, I want to do this too,'" said Wehmeyer.
Adam drew a lot of Pokemon.
"We're in kindergarten so anything, no matter how dorky, was the coolest thing…"
Wehmeyer reveals that these encounters are why she started to draw more and more as she wanted "get to his level."
Wehmeyer is well passed her kindergarten dreams of succeeding her friend Adam.
"Yeah. I don't want to toot my own horn but he stopped doing art a long time ago," Wehmeyer said.