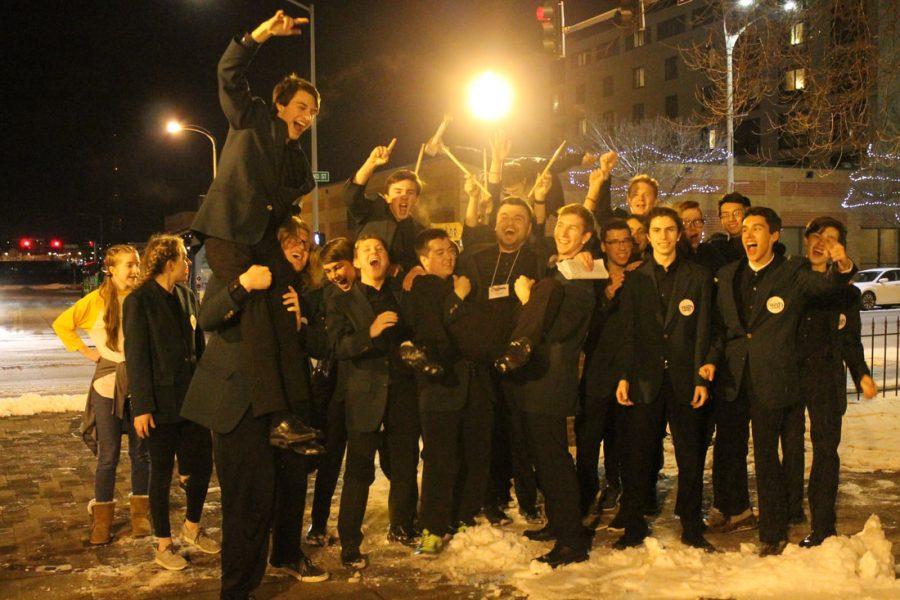 Band
The music driving the dance moves comes from none other than behind them. With their unique musical talents and snazzy green jackets, both the Showtime and GTC bands have competed well this season, collectively winning the "Best Band" award four times this season alone, three for GTC and one for Showtime.
Austin Berry, the band director for both groups, finds what they do very important.
"[The band is] the backbone of show choir," he said. "[It] can completely make or break a show."
"
[The band is] the backbone of show choir. [It] can completely make or break a show."
— Austin Berry
Berry has had a long history in the show choir business. Both his parents have been involved in directing, choreographing and judging since 1989.
"I've been around show choir since before birth," Berry said. "My mom was choreographing 40 groups when she was pregnant with me."
With that experience, Berry knows what to look for.
"In show band, we look for go-getters," he said. "I want kids that strive to better themselves as musicians and people."
One of those people is Thomas Wagner '18. Not only has he performed on Showtime for four years, but he's also been a member of Good Time Company's band on tenor saxophone for two years. Despite the difficulty in time management, he really enjoys getting a chance to hang out with the show band after rehearsing with Showtime.
"The energy and excitement that they exude is contagious," Wagner said. "Everyone in the band are near and dear friends of mine, and they are an absolute blast to play with. They all make the playing not feel like work and more like a dance party behind all the singers."
Aside from directing the band, Berry himself plays several instruments and sings bass and baritone. He's said these have helped how he directs.
"Singers and instrumentalists understand different parts of music and tend to perform differently," Berry said. "It helps when you understand both backgrounds."
He's also part of a tradition known as "Berry's Brew." At Benton's A Touch of Class and the Great River Show Choir Invitational, Berry was given a drink concocted by the band and chugged it down amidst cheers.
"It's completely legal," he said. "I believe it's got [Hee Haw], gelatin, food coloring and a few other things in it. It's quite delicious."
"
Cherish every memory that you make in show choir because they will last you a lifetime."
— Thomas Wagner '18
Whether they're guzzling "Berry's Brew" or just jamming out on their respective instruments, the band always treasures their time together. As a senior, Wagner isn't quite ready to leave the band behind.
"I feel really sad that it's ending because show choir's been my life for four years now," he said.
However, Wagner's learned a valuable lesson from his time dancing and playing.
"Cherish every memory that you make in show choir because they will last you a lifetime."
Donate to West Side Story