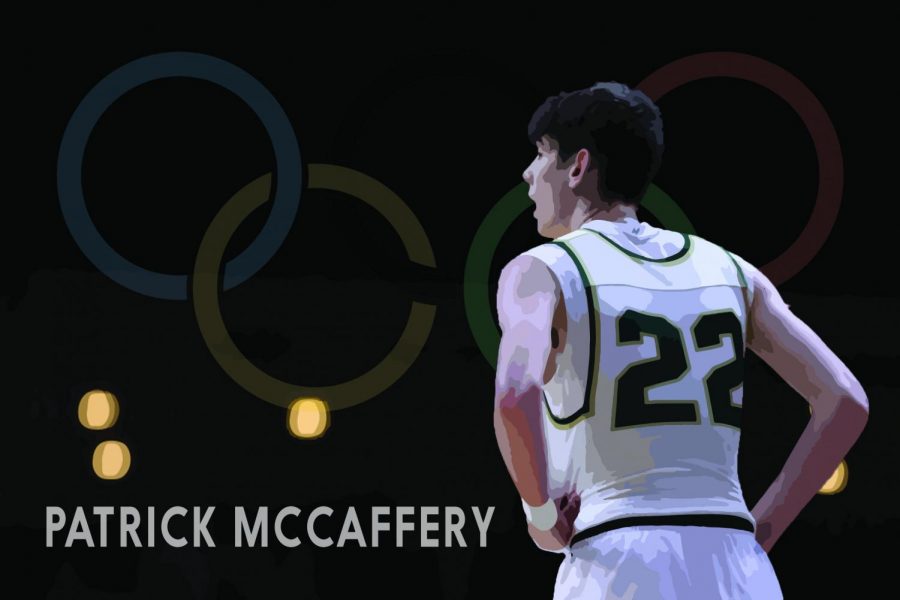 Kara Wagenknecht and designer Crystal Kim
What the future holds
On October 6, West High student Patrick McCaffery will be heading to the Youth Olympic Games. Read on to learn more about his story.
April 30, 2018
206 countries, 32 sports, 3,998 athletes from the ages 15 to 18 years old and 158 days until Patrick McCaffery '19 will be representing the United States of America in the Youth Olympic Games. The games will be taking place this coming October 6 to 18 in Buenos Aires, Argentina.
"Anytime you get to wear anything with USA across your chest, it's pretty much the biggest honor that you can possibly have," McCaffery said.  
The 2018 USA Basketball 3×3 U18 National Championships, which were held March 24-25 at the United States Olympic Training Center in Colorado Springs, Colorado, was not only a competition for a championship title but was also trials for the Youth Olympic Games.
"
It definitely gave me a different perspective on certain things…it definitely showed me that nothing's ever guaranteed, you're never guaranteed another day in life or anything like that. So just make the most out of your time."
— Patrick McCaffery '19
At the end of the tournament, both Quest Teams were victorious with the Team Quest women winning the tournament title with a 7-0 record, and player Hailey Van Lith named the women's tournament MVP. The Team Quest men earned the championship with an 8-0 record, and McCaffery took home the men's MVP honor.
"I was on my way to San Antonio to play something at the Final Four. The guy called me and I was on a plane, I actually declined his call the first time because I didn't recognize the number," McCaffery said.
"He kept calling me so then I figured it was probably important so then I answered. And then he ended up telling me I was invited. He told me who else was selected and stuff like that. That was really cool, really surreal."
The 2018 U.S. Youth Olympic Men's Basketball Team will be derived of Dudley Blackwell from Fort Lauderdale, Florida; Jyare Davis from Hockessin, Delaware; Carson McCorkle from Greensboro, North Carolina and McCaffery. "I got to know all the guys that we were with and I got pretty close with them over the weekend that we were there earlier in Colorado Springs, so I'm excited for the opportunity," McCaffery said.
From being named Most Valued Player to now representing the United States this fall, the pressure on McCaffery has never been more real,
"There's a lot of pressure [with] anything [that] has to do with USA Basketball [and] there's going to be a little target on your back," McCaffery said.
However, being the son of University of Iowa Mens Basketball head coach Fran McCaffery, dealing with a lot of pressure is not a strange concept for McCaffery. "There's been a lot of pressure on me all my life. So I mean I've kind of gotten used to it now," McCaffery said.
"Honestly I like it because it makes it more interesting. Obviously, sometimes you don't want to deal with [it] and there's just sometimes where you just kind of feel overwhelmed, but like, it makes when you succeed. It makes it feel that much better knowing that that's what you had to go through to get there," McCaffery said.
Other than the pressure that McCaffery is accustomed with, he has had to go through tougher obstacles in his life. At the age of 13, McCaffery was diagnosed with thyroid cancer.
"That was a hard part of my life. [It] was hard to get through," McCaffery said. "It definitely gave me a different perspective on certain things…it definitely showed me that nothing's ever guaranteed, you're never guaranteed another day in life or anything like that. So just make the most out of your time."
Still, with all the pressure and obstacles that McCaffery has faced, he will continue to follow his passion for basketball, "I actually play just because I like it. I don't know, I really feel like it sounds cheesy, but I really don't know what my life would be like without it, because I've always played and I've always been around [it] and it's always been such a big part of my life, I genuinely love playing."